When appropriate, the Special Commencement ceremony is held to honor graduating student athletes who have completed degree requirements, and whose successful postseason sports schedule will prevent attendance at the regular Commencement exercises. The date for this possible special ceremony is set in advance in order to accommodate the potential athletic teams' schedules and travel plans. If a team's season concludes any time before the special ceremony date, student athletes will be able to participate in the regular Commencement ceremony with their classmates. Students and families are encouraged to continue checking this web page for the latest details.
This formal ceremony is a warm celebration of the academic achievements of these outstanding graduating athletes. Caps and gowns are worn and remarks are given by the President, Provost and Faculty Speaker. Following the ceremony, guests and the campus community are invited to a reception with light refreshments.
Please contact the Registrar's Office directly with any questions regarding degree requirements and diplomas.
For post-season sports schedules, please follow Gettysburg College Athletics.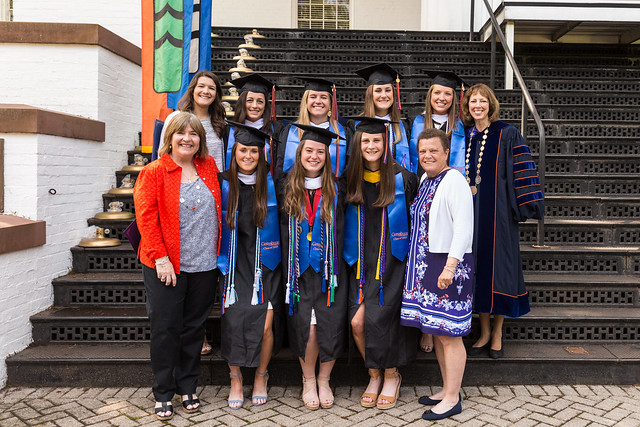 2019 Women's Lacrosse Graduates and Coaches
Back row (left to right): Coach Charlotte Cunningham, Stephanie Colson, Emma Hill, Shelby Fragetta, Brooke Holechek, President Janet Riggs '77
Front row (left to right): Coach Carol Cantele, Bailey Pilder, Lauren Cole, Katrina Niedziela, Coach Barb Jordan
2019 Special Commencement Video
Guest Information:
Campus Map (PDF)
Hotels, Restaurants and Visiting Gettysburg
Parking Visitor parking is available in parking lots throughout campus, including Constitution Lot, Masters Lot, Musselman Lot, and the Admissions Lot. See campus map (PDF).
If you need a guest parking permit for overnight visits, please contact Public Safety at 717-337-6912 for more info.
Photos & Video
Video and photos will be taken and posted on this web page following the ceremony.
Accessibility
Gettysburg College welcomes the participation of people with disabilities. If you plan to attend this event and need accommodation, please contact the Office of Human Resources between 8:30 a.m. and 5:00 p.m. at 717-337-6202 or the Department of Public Safety after hours at 717-337-6912.
Accessibility parking spaces can be found in lots throughout the campus (see campus map (PDF)), including several spaces in front of McKnight Hall, located near Brua Hall. Please take the elevator located on the outside of Brua Hall.

If you or your guests have any questions, please contact the Commencement Coordinator at commencement@gettysburg.edu or 717-337-6012.
Participant Information:
Attire
Graduates and Platform Party members will wear academic regalia. Family, guests and faculty are encouraged to dress nicely for the occasion (business attire).
Instructions for Graduates
Please bring your regalia and meet in Stevens Theater for robing and final instructions at 9:30 a.m. on the morning of the ceremony.
If you have questions, please contact the Commencement Coordinator at commencement@gettysburg.edu or 717-337-6012.
---
Past Special Commencement Ceremonies:
2018 ceremony for the 2018 NCAA Champion Women's Lacrosse team graduating seniors and 2018 Men's Lacrosse team graduating seniors
Video and photos