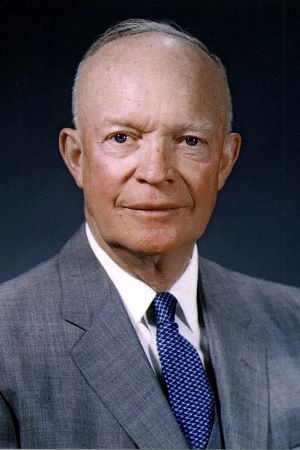 The Eisenhower Institute honors the legacy of Dwight D. Eisenhower, one of the most important leaders of the 20th century. Together with his wife, Mamie Doud Eisenhower, President Eisenhower demonstrated a profound commitment to public service throughout his life. The vast and growing collection of memoirs, biographies, films, documentaries, and scholarship about their lives and times affirms the continued relevance of the Eisenhower legacy in the 21st century.
Born in Texas, raised in Kansas, and educated at West Point, Eisenhower had a distinguished military career culminating in his role as Supreme Commander of the Allied Expeditionary Forces during the Second World War. He became President of Columbia University in 1948, then took a leave of absence to serve as the first commander of NATO's Supreme Headquarters, Allied Powers, Europe. In 1952, he was elected the 34th President of the United States. Among the many accomplishments of his two-term presidency, Eisenhower established NASA and the Interstate Highway System, signed the Civil Rights Act of 1957, and kept America at peace despite the danger and uncertainty of the era. In retirement, Eisenhower was a best-selling author, an amateur painter, and a gentleman farmer.
Throughout much of his life, Eisenhower had close ties to Gettysburg, Pennsylvania. He first visited the town as a cadet during a West Point staff ride in 1915. He returned three years later with his young wife Mamie to command Camp Colt, a tank training camp on the Gettysburg battlefield. During that time, the Eisenhowers lived in the house where the Eisenhower Institute's Gettysburg office is located today. After the Second World War, the couple returned to Gettysburg and purchased a farm that became the first and only home they ever owned. During Eisenhower's presidency, the farm offered a more personal retreat than nearby Camp David, though it did see its share of use for official business. Most notably, the farm served as the temporary White House while Eisenhower recovered from a heart attack in 1955. The Eisenhowers also hosted a number of world leaders in Gettysburg, including British Prime Minister Winston Churchill, French President Charles de Gaulle, and Soviet Premier Nikita Khruschev. After leaving office, Eisenhower became a trustee of Gettysburg College and wrote his memoirs in a campus building that now houses the Admissions Office.