Installation Ceremony
Our Installation Ceremony marks an inspiring new chapter in the proud history of Gettysburg College.
On September 28, 2019, Gettysburg College installed its 15th President, Robert W. Iuliano. The ceremony featured remarks by Harvard University President Emerita Drew Gilpin Faust and President Iuliano.
Ceremony At-A-Glance
Installation Videos
This event was livestreamed on Saturday, September 28 at 2:00 p.m.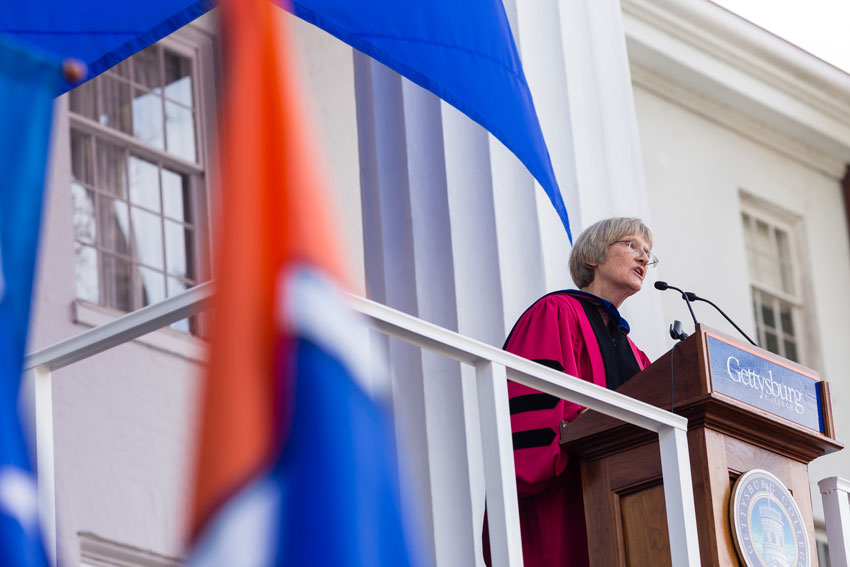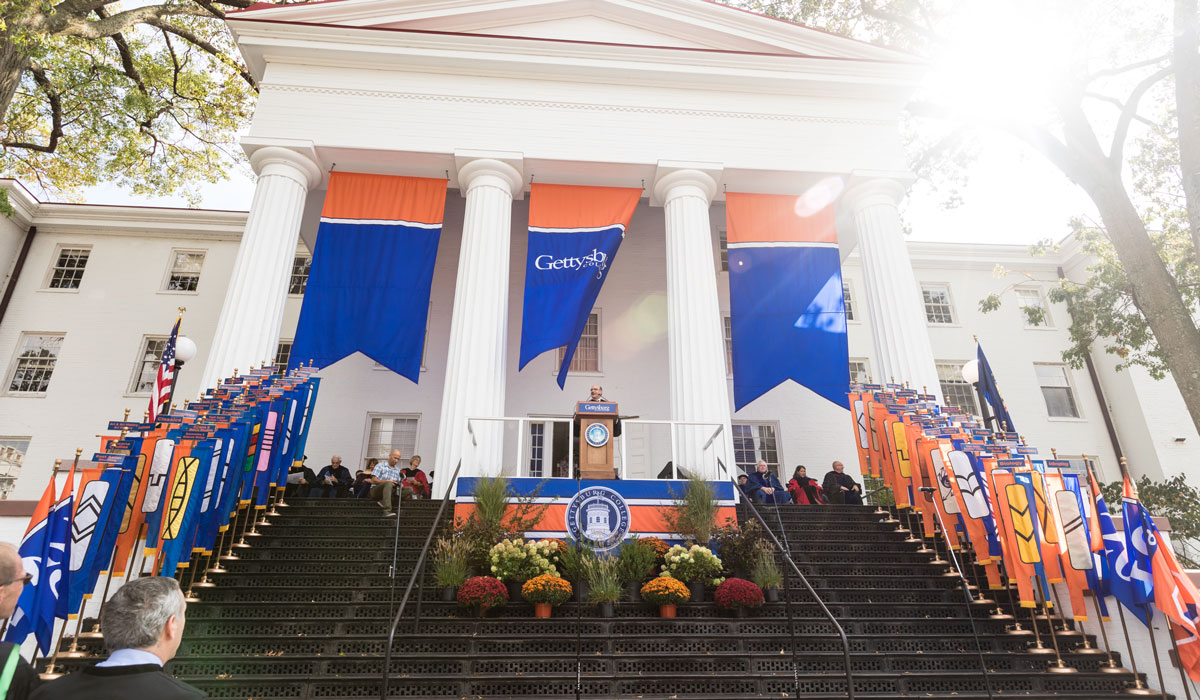 Program
Prelude Music
Sunderman Conservatory Wind Symphony
Russell McCutcheon, Conductor
Ce´sar Leal, Guest Conductor
Processional
"Procession of the Academics" — David Maslanka
Sunderman Conservatory Wind Symphony
(Please remain seated during the processional.)
Order of Procession
College Marshal
Department Banner Carriers
College and Class Flag Bearers
Delegates from Student Organizations
Delegates from Other Institutions
Delegates from Learned Societies and Other Associations Emeriti Faculty
Faculty
Legislative Representative
President's Council
Emeriti Trustees
Trustees
Chair of the Board of Trustees
Platform Party
Emeriti Presidents
President
Presiding
Michael J. Birkner '72, P'10
Franklin Professor of the Liberal Arts, Professor of History
Fanfare for a Celebration – Gary D. Ziek
The Star-Spangled Banner – John Stafford Smith
arr. John Philip Sousa and Walter Damrosch
Sunderman Conservatory Wind Symphony
Invocation
Rev. Dr. Kristin Largen
Associate Dean of Religious and Spiritual Life/College Chaplain
Welcome
David R. Brennan '75, P'00, Chair of the Board of Trustees
Bringing Greetings for the President
On Behalf of the United Lutheran Seminary
Dr. Richard Green, Interim President
On Behalf of Young Alumni
Jake Asplundh '10, Chair of the Burgians of the Last Decade (BOLD) Council
On Behalf of Parents
Joseph Shalleck P'20, Co-Chair of the Parents Leadership Council
On Behalf of Alumni
Lauren Bright '90, Chair of the Alumni Board
On Behalf of Support Staff
Carol Coon, Chair of the Support Staff Council
On Behalf of Administrators
Wayne Wilkinson, Chair of the Administrative Advisory Council
On Behalf of Students
Patrick McKenna '20, President of the Student Senate
On Behalf of Faculty
Jocelyn Swigger, Chair of the Faculty Council and Professor of Music
Musical Selection
Proclaim the Day – Vijay Singh
The Gettysburg College Choir
Robert Natter, Conductor
Introduction of Speaker
Christopher Zappe
Provost
Remarks
Drew Gilpin Faust
President Emerita of Harvard University
Investiture
Presentation of the President
Charles Scott '77, P'09, P'12
Chair of the Presidential Search Committee
Administration of the Oath of Office
David R. Brennan '75, P'00
Robert W. Iuliano
President
Announcements
Michael J. Birkner '72, P'10
Alma Mater
Frederick E. Reinartz, Class of 1924, lyrics by Paul S. Gilbert, Class of 1922
Led by the Gettysburg College Choir

The audience is encouraged to sing the Alma Mater, which is printed on the last page of this program.
Benediction
Rev. Dr. Kristin Largen
Recessional
Gettysburg Triumphant – F. William Sunderman, Class of 1919
arr. Joseph Eidson