The Group Facilitation Fellowship is an experience open to 16-20 first or second year students selected through an application and interview process. You will develop group leadership, individual leadership and outdoor leadership facilitation skills.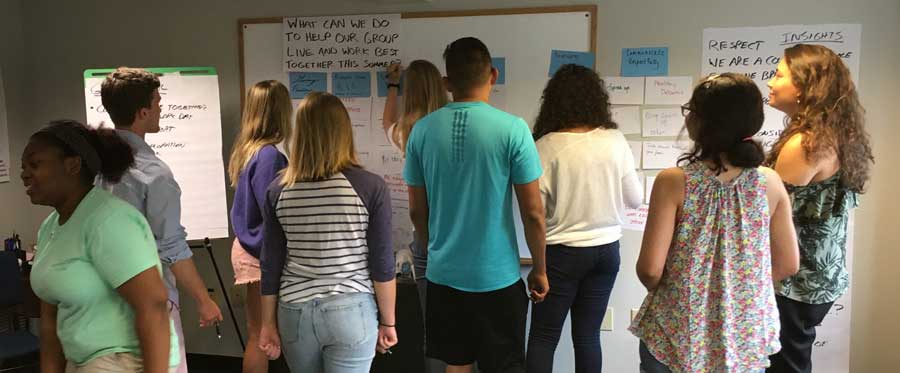 Upon completion, participants will have the skill and practical experience necessary to lead student organizations, research teams, and other small groups. The program is designed for all levels of experience and ability. A primary output of this program is a talented and prepared pool of candidates for our staff recruitment process. Students do not have to have an interest in working for our department, but should have a clear goal of the type of group or organization that they are preparing to lead.
Considering the significant time and commitment required for this learning experience, a financial award ($100-$400) will be offered to each selected participant. This award is based on financial need and is provided to reduce the burden that this learning experience places on students who need to hold another job.
It is expected that program participants will fully commit to this learning experience. Attendance is required at all experiences, unless the participant has a specific health concern or death in the family. A significant part of preparing for Group Facilitation is making sure work is done ahead of time so that when you are with a group, you are fully present. This program seeks to set that expectation to help you find success in future opportunities.
The benefits of this fellowship include:
An opportunity to learn outside and in-person with other students
Prepare to be a successful applicant for two GLC staff positions: Leadership Mentor or Outdoor Facilitator
Facilitation is a skill set you can use in and outside of the classroom both now and in the future - anytime you are part of or working with a group
Learn new leadership skills for working with groups all over campus.
While you are expected to be able to work in groups, there are few places to learn the necessary skills. This fellowship is a rare opportunity to invest in this skill set.
Make you a stronger candidate for other on-campus roles (executive boards, sports team captains, resident assistants, house leaders, CPS project leaders)
Experience a low risk setting where you can try group leadership and get feedback
Develop connections with other high achieving driven students
Apply through EngageGettysburg here. Applications are due Thursday, September 14th by midnight.
A detailed draft syllabus for the Fellowship is available upon request or linked here.