Internships
Learn about the many internship opportunities offered at the library, made possible by the generosity of library donors. To contribute to one of these funds, select the donate button associated with the internship.
Holley Internship for Current Students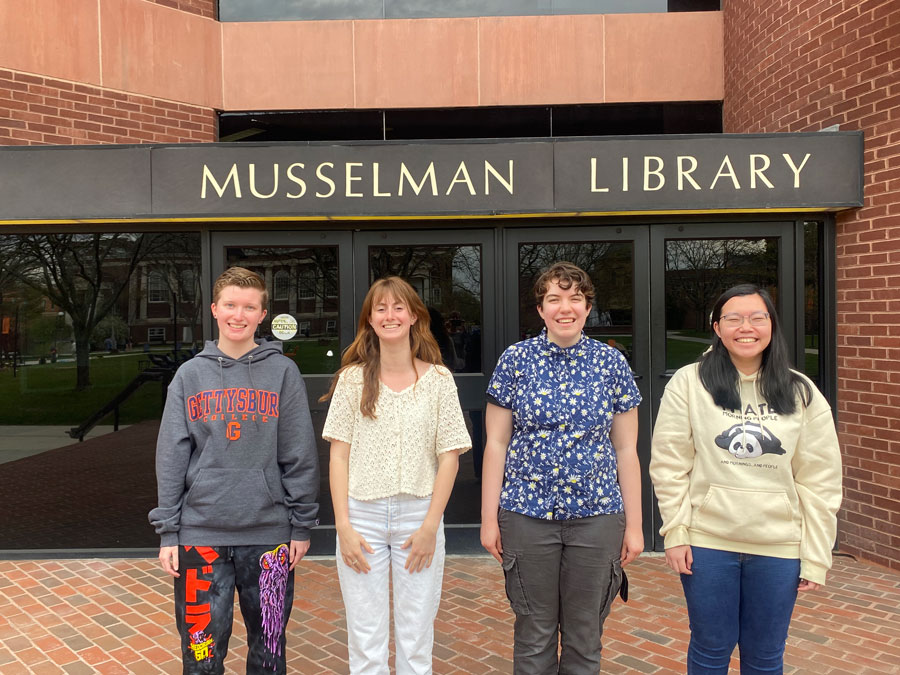 Redesigned in 2021, this one-semester, paid internship is a library career exploration for current Gettysburg College students at any level. The Holley internship is structured as a rotation that exposes students to library work in all areas of Musselman Library. Three or four student interns participate together as a cohort. After an introductory week, interns spend two weeks in each of our five departments before finishing their experience working on a final project of their choosing. Many Holley interns go on to work in Musselman Library after this internship; some are also drawn to this internship because they have enjoyed working in one of our departments and want to learn more.
Robert '44 and Esther Kenyon Fortenbaugh '46 Internships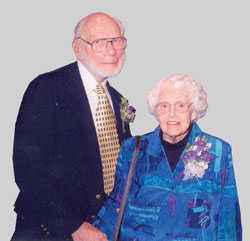 The real-world impact of the Holley internship inspired Robert Fortenbaugh '44 to establish an internship program in honor of his wife, Esther Kenyon Fortenbaugh '46. This is a semester-long internship, designed to expose a current Gettysburg College student to a specific library department. Thanks to the generosity of donors the fund has grown to support multiple students throughout the year. Fortenbaugh interns have served in archives, reference, cataloging, music, exhibits preparation, and library outreach.
Both Esther and Robert have passed away, but their daughter, Linda Fortenbaugh Thompson along with other family members and friends, continue to support these popular internships. For a glimpse into what these interns have gone on to achieve, please see "A Tribute to Robert B. Fortenbaugh, 1923-2009" in the Spring 2010 Issue of the Friends of Musselman Library newsletter, pages 8-10.
Support the Fortenbaugh Internship
Diane Werley Smith '73 Special Collections Internship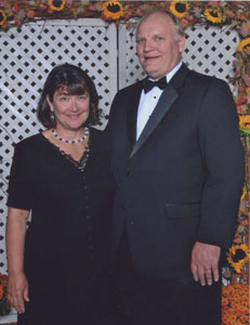 The seeds that Barbara Holley and the Fortenbaugh family planted continue to bear fruit. In 2012, Ron '72 and Diane Werley Smith '73 endowed the Diane Werley Smith internship, a 10-week summer internship in Special Collections. This focused experience provides a rare opportunity to learn more about work in Special Collections and Archives without the distraction of school obligations. For more information on the founding of this internship, please see the article, "Alumni Couple Establishes Summer Internship" in the Spring 2012 issue of the Friends of Musselman Library newsletter, pages 1-2.
Charles H. Glatfelter Memorial Fund for Library Internships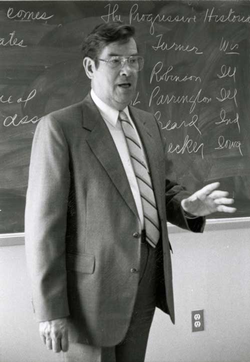 Professor Charles Glatfelter's passion for teaching and research spanned 40 years at Gettysburg College, from 1949-1989. Glatfelter's friends, family, former students and colleagues established a research internship in his name in 2015. The endowment provides an opportunity for a student with a history background to work with archival collections and conduct historical research using primary sources. Glatfelter was a member of the Class of 1946. For more information on the founding of this internship, please see the article, "Alumni Establish Glatfelter Internship" in the Spring 2016 issue of the Friends of Musselman Library Newsletter, pages 18-19.
Support the Glatfelter Internship
George and Cleo Dunlap Internship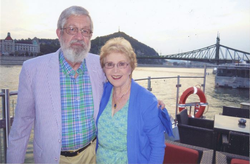 In 2015 Carol Dunlap Billings '63 and her husband Warren established the Dunlap Family Endowed Internship for Musselman Library in any area of library service. Carol had a long and diverse career as a librarian, ultimately serving as the director of the Law Library of Louisiana. It was her own graduate internship at the University of Pittsburgh that influenced Carol's decision to become a librarian. In establishing the endowment, Carol sought to honor her parents, George and Naomi Cleo Baker Dunlap. For more information on the founding of this internship, please see the article, "Focus on Philanthropy" in the Spring 2016 issue of the Friends of Musselman Library Newsletter, page 17.
Susan '77 and Joseph '75 Internship Fund for Special Collections and the Art Gallery
In 2021, Susan and Joseph Biernat established an endowment to provide resources for internships and meaningful high-impact learning experiences for Gettysburg College students who seek experiential opportunities related to Special Collections and the Fine Arts Gallery. This fund provides for student stipends and covers other expenses directly related to the internship experience. The Biernats conceived this as a hands-on experience for students who have an interest in public history or a career focus in archival and curatorial work. Activities may include research in the College Special Collections and Archives, creating exhibitions, interpreting digital collections, and gathering, analyzing and utilizing metadata.
Support the Biernat Internship
The Tricia Smelter '71 Special Collections Internship Fund
In 2021 Tricia Smelter established an endowment to fund internships in Special Collections at Musselman Library. Her intent was to provide opportunities in conservation of materials and exhibitions. These internships align with Smelter's passion for history and her desire for greater awareness of the lessons to be gained from the study of history. At Gettysburg she majored in mathematics, but has been a lifelong student of history, with particular interest in the Revolutionary War era.
Support the Smelter Internship
The Philip Warman Endowed Fund for Special Collections
Philip Warman was a friend of the library who enjoyed visiting Special Collections and Archives in the summer when attending the Civil War Institute. Warman passed away in 2021, leaving a gift to fund student internships in Special Collections and to support the acquisition of Civil War items to support the curriculum.