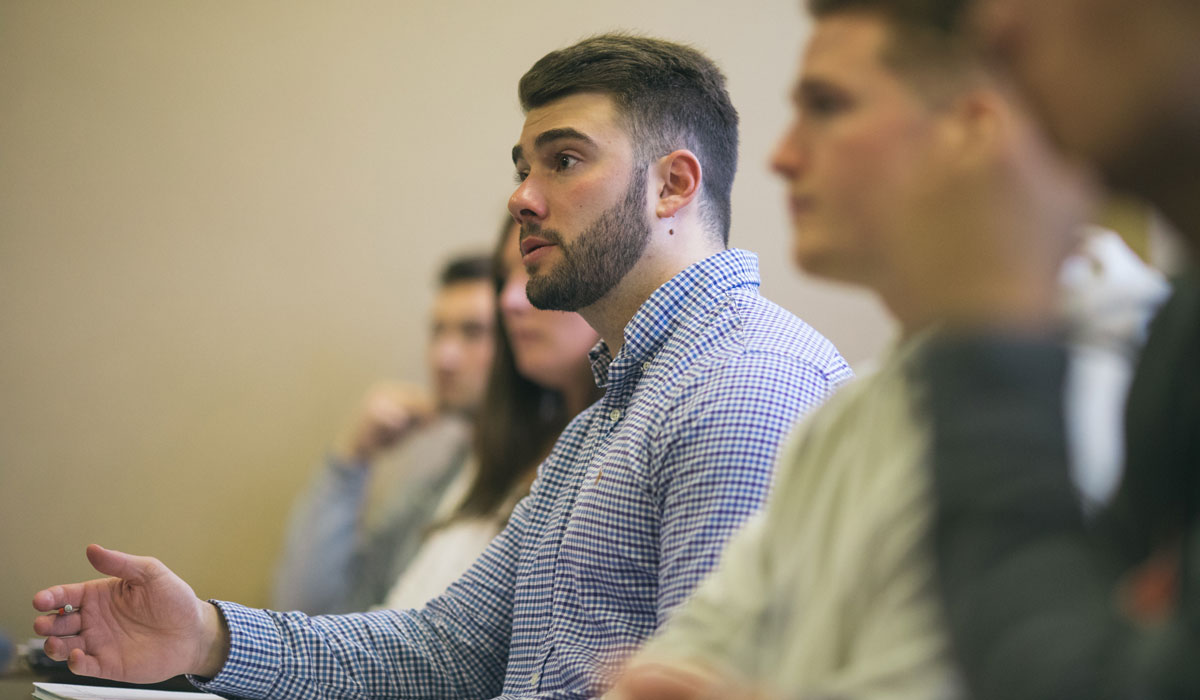 The start of a new spring semester brings longer days, warmer weather, and plenty of time spent studying in the sun.
For Charles Hagen '20, the new semester also marks his last few months at Gettysburg College. As he looks forward to springtime and all the excitement Commencement has to offer, he can't help but to reflect on the past four years.
Hagen, an organization and management studies (OMS) major and political science and business double minor, first left Yardley, Pennsylvania, unsure of what the future had in store. Like many first-year students, Hagen didn't know what he wanted to do after college or how he would get there. Now, as a senior, he is eager to start a full-time position at AT&T in its business-to-business sales sector.
"You can't see the forest for the trees," said Hagen, quoting his favorite expression. "I had no idea where I would end up, but Gettysburg prepared me."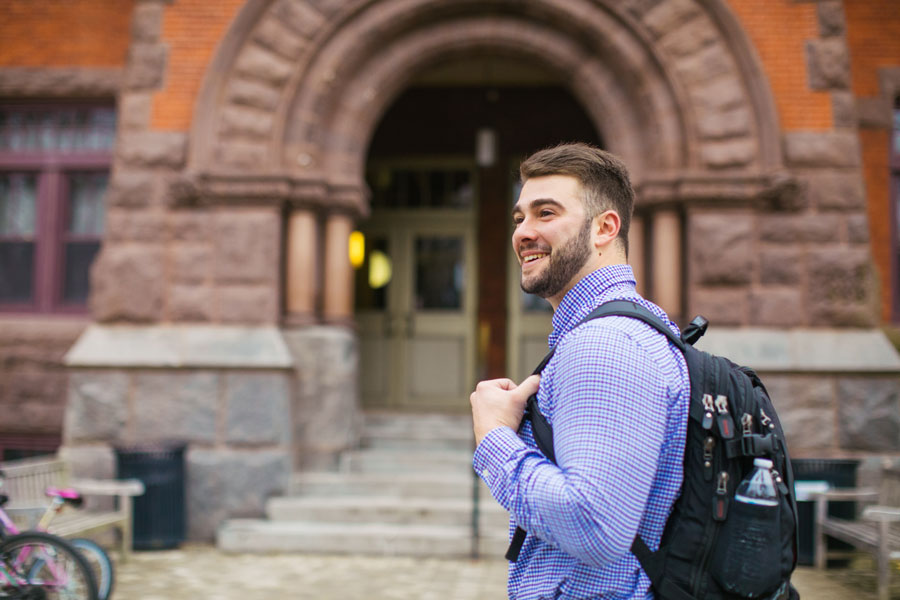 Here, students pursue more than a single interest or goal—it's a hallmark of the Gettysburg College liberal arts and sciences education. By learning skills that can aid in excelling across all areas of life, Gettysburgians find that they are ready to take on more challenges than they thought possible.
In his first year at Gettysburg, Hagen quickly realized that his development, both personally and professionally, was not confined to the classroom. He participated in the Leadership Certificate program, which provides students with the opportunity to tap into their leadership potential. Then as a sophomore, Hagen became a group facilitator, where he would mediate discussions between diverse groups of people. In his role, he helped fellow Gettysburgians reflect on shared experiences and walk away with a broader understanding of themselves and of others.
"It gave me a chance to approach each individual with the hope and ability to understand what makes them unique, which is something I know I will have to do when I start my job," said Hagen, who grew to understand the different types of leadership styles through the program.
Also in his first year, Hagen went on a brand marketing and strategy immersion trip to Orlando, Florida, where he began to develop public speaking skills by giving presentations to executives from corporations like Coca-Cola and The Walt Disney Company. Two years later, he built upon those same skills, speaking on a junior panel about his time at Gettysburg. One of his biggest takeaways from that experience was learning how to balance his nerves with providing informative, and authentic, information to prospective students and families.
"It was surreal," Hagen said. "I still remember when I was the one sitting in the crowd listening to a Gettysburg student tell me about their experiences. I didn't imagine myself as being the one on the stage, but once I was there, I realized it was something I had been aspiring to do for a long time."
In his speech, Hagen highlighted how the connections he built at Gettysburg defined his experience—another skill he began strengthening in his first year. That day, his confidence onstage and profound perspective even led to receiving a handful of business cards, further bolstering his Gettysburg Network.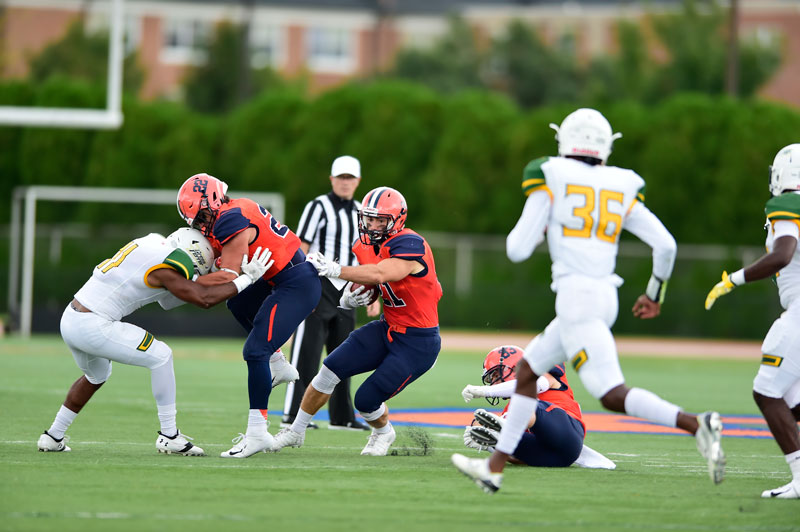 At Gettysburg College, students flourish in an environment that welcomes exploration and discovery. Through various activities both in and out of the classroom, they develop leadership and communication competencies to confront challenges they may face. For Hagen, that environment was the football field. This year, as captain, he led his team through a difficult season, finding inspiration outside of wins and losses.
"Not all the lessons you learn are between the yard markers," Hagen said. "A lot of times, what matters most is the work you put in and the dedication you reaffirm daily."
The biggest hurdle was helping his teammates understand the bigger picture. Referring back to his favorite expression, "You can't see the forest for the trees," he explained how gaining clarity can take time—a lesson he will carry with him long after he leaves Gettysburg.
Entering college, Hagen wouldn't have imagined he would be where he is today, but after four years of unforgettable experiences and impactful relationships, he feels more than prepared to start his job and take on new challenges with poise.
But until then, he is going to enjoy one last spring at Gettysburg College.
Learn more about how Gettysburg College can prepare you for the business world with its recently announced business, organizations, and management major, available to students beginning in the 2020-21 academic year.
By Giacomo Coppola '22
Photos by Miranda Harple and David Sinclair
Posted: 03/12/20