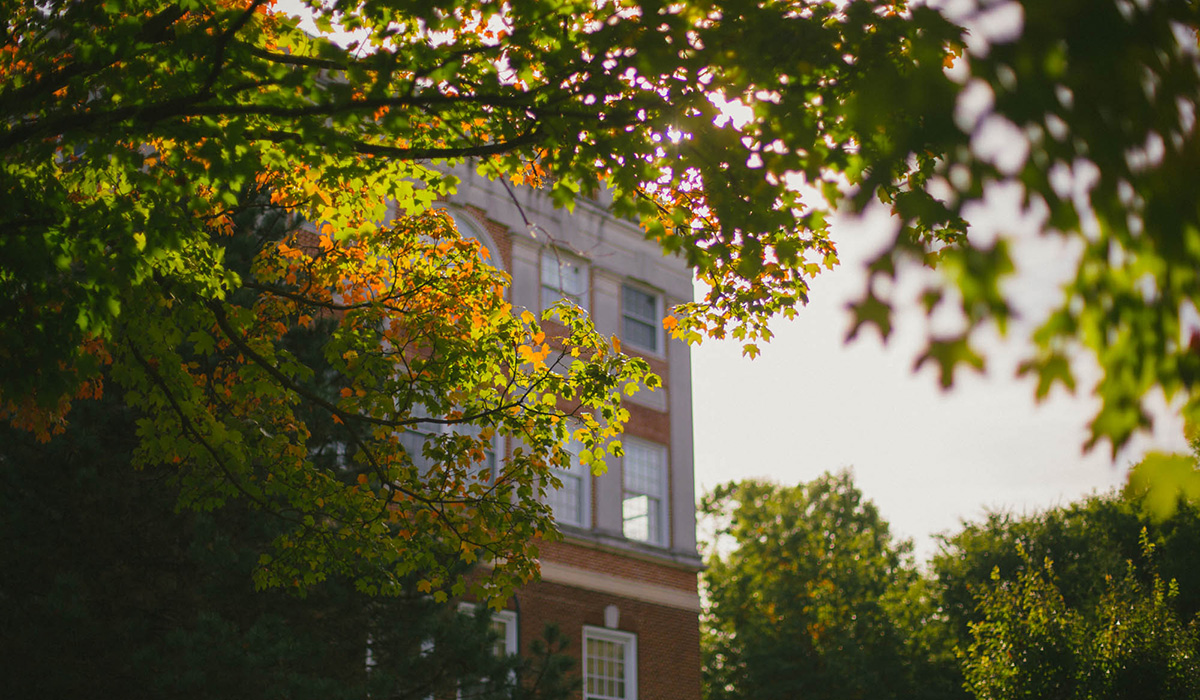 At Gettysburg College, our faculty members light the spark of creativity and curiosity within their students. Their desire to help students acquire a breadth and depth of knowledge about the world around them and build enduring skills for their futures makes them an integral part of the work of delivering A Consequential Education to every Gettysburg student.
As we begin the 2023–2024 academic year, we recognize the accomplishments of four faculty members who were granted the honor of tenure. Read below for more information about our talented tenured faculty members.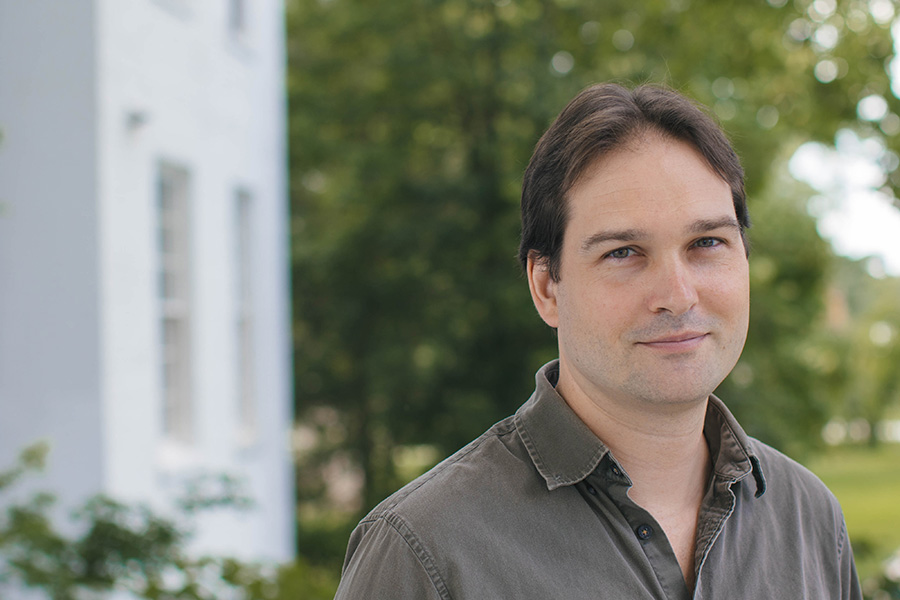 Biology Prof. Michael S. Caldwell
Biology Prof. Michael S. Caldwell engages students in the study of the animal kingdom through experiential learning. At Gettysburg, he said, biology students engage in the process of science, guiding them through hypothesis testing, applying analysis and experimentation to answer their questions, and presenting their findings.
Students also go into the field, immersing themselves in hands-on work that allows them to apply their theoretical knowledge to personal experiences with the natural world, such as animal sensory physiology vibrational communication. Through the Cross-Disciplinary Science Institute (X-SIG), Caldwell brings students to the tropical forests where he conducts research, connecting them with an international community of tropical field biologists and witnessing their growth as scientists.
"When the students return to campus, they encounter scores of other students who have had similarly impactful experiences with other faculty," Caldwell said. "Ultimately, students from Gettysburg graduate not just with a degree and an idea of what biology is, but as confident, practiced biologists.
"I enjoy teaching at Gettysburg because the College supports me as an educator and a researcher, and understands that the synergy between these dual roles provides students with invaluable learning opportunities," he added. "Small class sizes allow me to know my students as individuals and to give each student individual attention. It is hard to overstate the importance this has for effective teaching."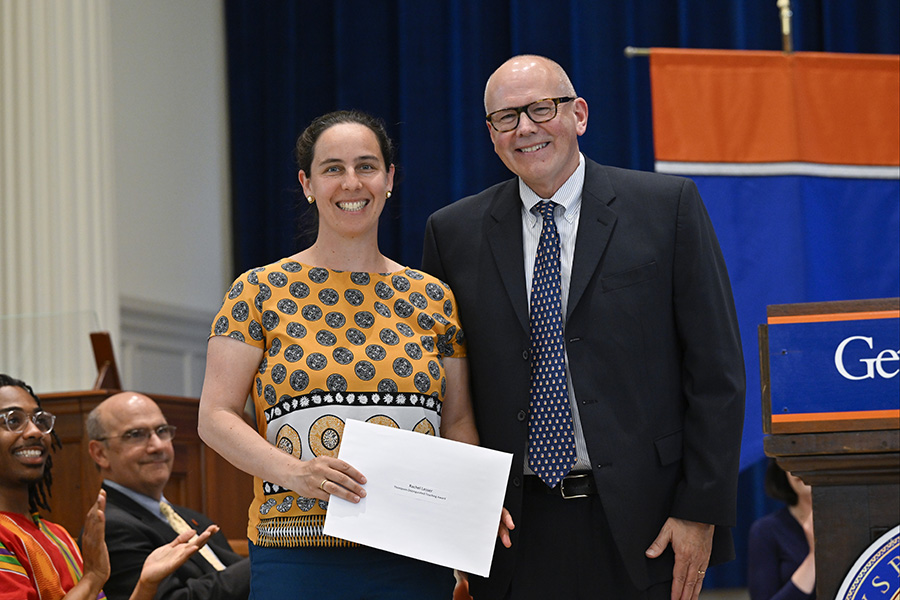 Classics Prof. Rachel Lesser
Since joining Gettysburg College in 2016, Classics Prof. Rachel Lesser has engaged her students in the study of Greek and Latin language and literature, Greek history, and gender and sexuality in ancient Greece. Applying modern critical theories and approaches to her research, Lesser examines the treatment of desire and gender, as well as narrative strategies, in early Greek poetry.
In 2022, Lesser published her first book "Desire in the 'Iliad': The Force That Moves the Epic and Its Audience" (Oxford University Press). Her current research considers topics such as queer and straight time in Homeric epic and the enslaved woman Briseis in the "Iliad," Ovid's "Heroides 3," and Pat Barker's novel "The Silence of the Girls."
At Gettysburg College, Lesser explained, studying the classics presents students with an unusual interdisciplinary experience. They engage with the language, literature, history, archaeology, art, and philosophy of the ancient Mediterranean world and "bring the past into dialogue with the present, even as they acquire fundamental academic skills and sophisticated habits of mind that will serve them in any pursuit or profession."
"I help my students develop their capacity as careful, critical readers and fluent, convincing speakers and writers while sharing my knowledge of and passion for the ancient Greek and Roman cultures," Lesser said. "I cherish working at Gettysburg College because of the campus community that has warmly welcomed me and my family, the combination of autonomy and institutional support that I have been afforded in my teaching and research, and my students' thoughtfulness and creativity."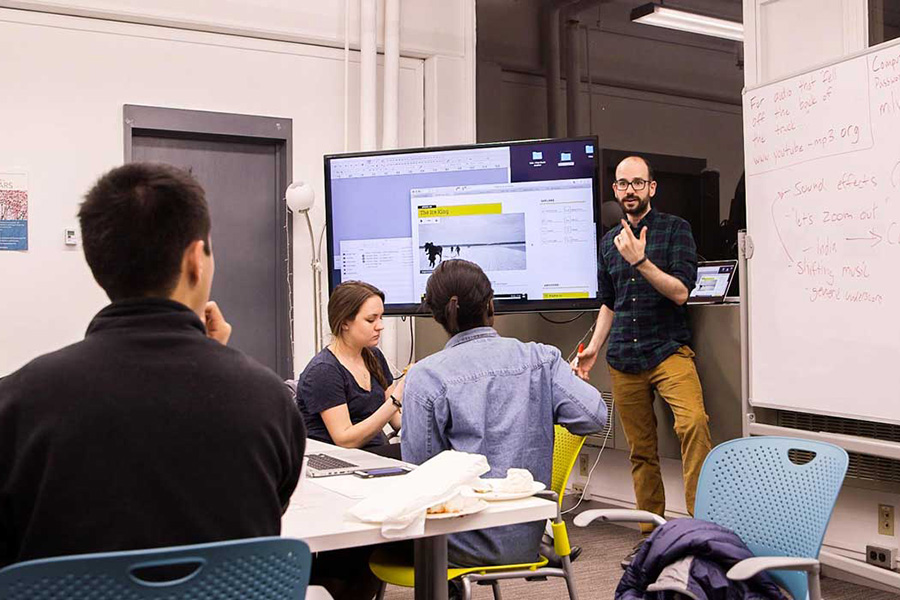 Sunderman Conservatory of Music Prof. William O'Hara
Since joining the Sunderman music faculty in 2017, Sunderman Conservatory of Music Prof. William O'Hara has sought opportunities to make music meaningful for his students, including teaching a pioneering course on video game music. From introductory courses and First-Year Seminars to core classes for music majors and advanced seminars, O'Hara enjoys watching students grow their knowledge and connecting with them at Gettysburg and as alumni.
"The Sunderman Conservatory of Music offers students a unique opportunity to combine their music-making with other aspects of their studies," he said. "Students studying here are free to pursue all aspects of their interests. Some of the most interesting career paths that our graduates pursue have arisen because they're able to combine music with one of their other interests, such as business, leadership, or technology.
"I really enjoy teaching at an institution with such thoughtful, engaged, and curious students," he continued. "Every time I teach a class, I feel like I learn as much from them as they do from me. They offer new perspectives on my discipline, they notice things that others take for granted, and they draw exciting conclusions between the old and new. I'm also grateful for all the support of the Provost's Office to pursue my interdisciplinary research agenda, which has allowed me to conduct archival research, present my work, receive feedback, and forge new collaborations with colleagues all over the world."
O'Hara has presented his research at the Society for Music Theory, the American Musicological Society, the North American Conference on Video Game Music, and the International Association for the Study of Popular Music. He has been invited to speak internationally at the University of Liverpool, the Royal Holloway University of London, University of Oxford, and the Interationale Stiftung Mozaretum in Salzburg, Austria. In 2020, the Society for Music Theory's Popular Music Interest Group awarded him the Adam Krims Award for outstanding scholarly work for his article detailing the cultural politics of online music analysis.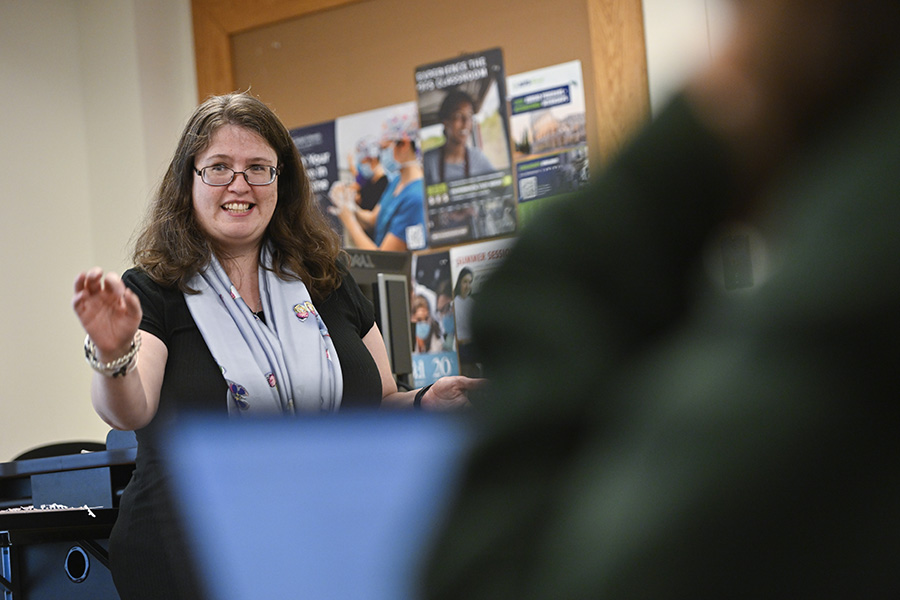 Sociology Prof. Alecea Standlee
Sociology Prof. Alecea Standlee's work explores gender, social theory, sociology of technology, and social inequality. In addition to teaching introductory sociology courses, Standlee also teaches courses on social theory and gender.
Her scholarly work examines contemporary interpersonal communication technologies from cultural and social perspectives. Standlee's research considers the role of socio-economic status, gender, and geographic location as they relate to the development of interpersonal relationships and social networks. Her published works offer insights on technology studies, socialization and inequality, and online research methods.
"Teaching at Gettysburg College continues to provide me with the opportunity to engage with talented students and help them develop into innovative sociologists and social thinkers," Standlee said. "The opportunity for student-faculty collaboration on research projects and the ability to experience engaged learning provides students with a rare education in my field, and I hope it helps create alumni who will be leaders in the future.
"The ability to mentor gifted students, and introduce them to a discipline I am passionate about, is one of my favorite things about teaching at Gettysburg," she added.
Learn more about how our Gettysburg College faculty are committed to helping students learn and grow through mentorship, experiential learning opportunities, and student-faculty research.
By Michael Vyskocil
Photos by Miranda Harple and Jason Minick
Posted: 09/14/23