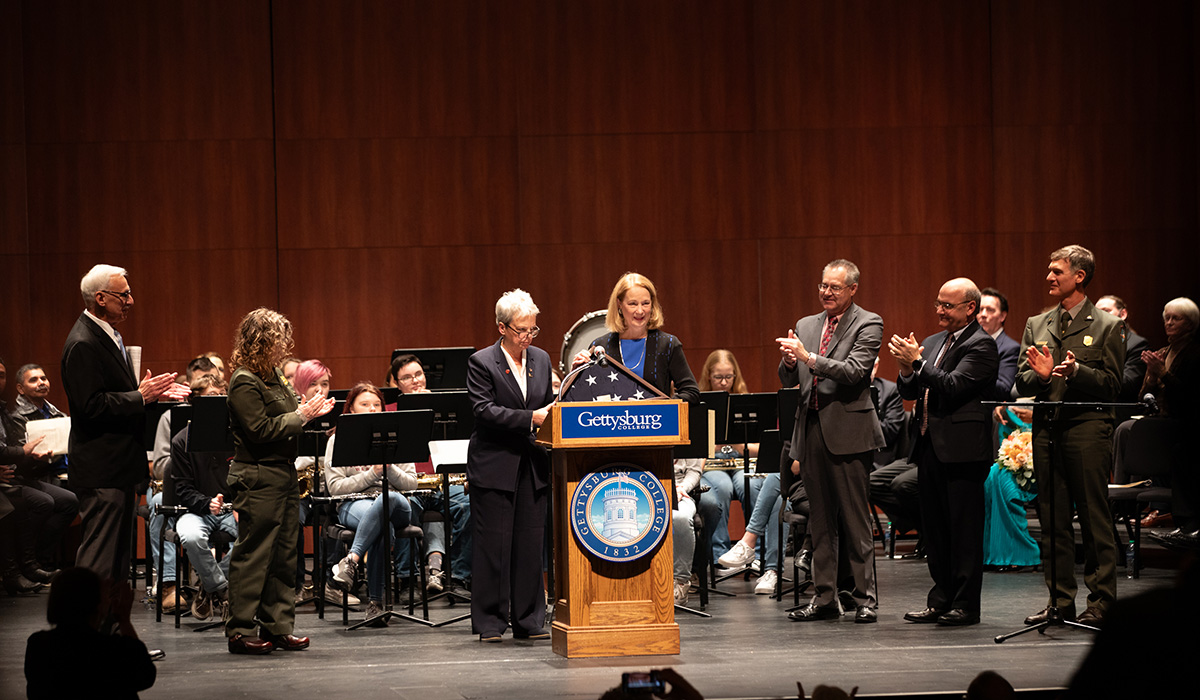 On Nov. 19, Susan Eisenhower, a founding director of Gettysburg College's Eisenhower Institute, served as the keynote speaker at the 2023 Dedication Day ceremony, commemorating President Abraham Lincoln's Gettysburg Address.
Since 1938, the Lincoln Fellowship of Pennsylvania has hosted events to commemorate Lincoln's immortal speech, which was given at the dedication of the Gettysburg National Cemetery 160 years ago. The annual event has grown throughout the decades and is now co-sponsored by Gettysburg College, the National Park Service, and the Gettysburg Foundation. This year's ceremony was moved from the cemetery to the Majestic Theater in downtown Gettysburg due to the potential U.S. government shutdown.
Looking out upon the rows of people in attendance, Susan Eisenhower took on the same role her grandfather, President Dwight Eisenhower, occupied when he gave his own remarks on the 100th anniversary of the Gettysburg Address in 1963. She noted her intimate connection with the community, growing up as a young girl in Gettysburg and laying flowers on the gravesites each Memorial Day. At that time, she felt an inconsolable sadness toward the young men who lost their lives during that far-off battle, but those feelings of sorrow have transformed over the years in recognition of the sacrifices made to preserve and unify the nation.
"Now that my youthful years are long behind me, I feel a sense of peace here, something even more than gratitude," Eisenhower said. "Those who are buried here do not lie under the grieving shroud of tragic darkness, but under the light of selflessness and self-sacrifice—for us all. These young men gave us another chance to be better than we thought we could be. It is now up to us to recommit ourselves to that opportunity they gave us. We do this in some measure, by our gathering here today."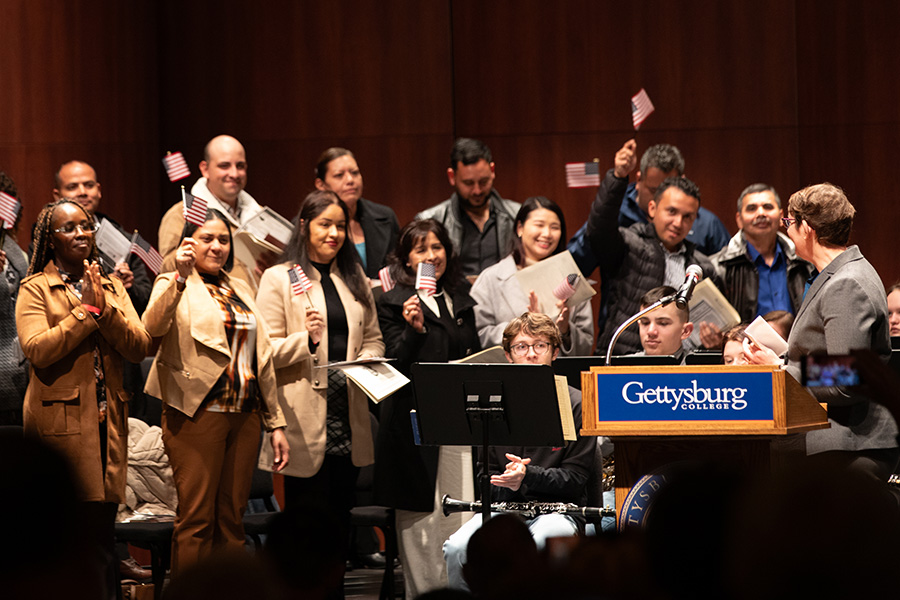 Gettysburg College's history is deeply entwined with the historical events leading up to and surrounding Dedication Day. The College was a key location during the climactic Civil War battle in 1863, with Pennsylvania Hall serving as a hospital for both sides of the conflict. Months after the Union victory, Class of 1851 alumnus David Wills, who oversaw construction of the cemetery, invited Lincoln to come and give "a few appropriate remarks" at the dedication of the National Cemetery. Lincoln stayed in Wills' house on the square before marching alongside students and townspeople down to the National Cemetery on Nov. 19, 1863.
Today, that procession is re-enacted each year by the incoming first-year class, who hear a rendition of Lincoln's Gettysburg Address by a member of the campus community as they sit amidst the battlefield memorials and markers.
As an expert-in-residence with the Eisenhower Institute (EI) and the organization's first president, Susan Eisenhower has helped Gettysburg students develop enduring skills, like leadership and communication, as they seek to make the world a better place. A distinguished policy analyst and critically acclaimed author, Eisenhower oversees EI's program Strategy & Leadership in Transformational Times (SALTT), which focuses on the complex challenges confronting our society locally, regionally, nationally, or internationally.
Those same challenges are echoes of the "unfinished work" Lincoln referenced in his long-ago address to the Gettysburg community. Like her grandfather six decades prior, Eisenhower pointed to the work that still remains before us as a society and the need for unity and togetherness as we journey forward in our lives.
"One hundred and sixty years later, we are again called upon to engage in the unfinished work before us—to think honestly about what we can do to strengthen our nation," Eisenhower said. "Our future and our country's future depends on us to find common ground with our fellow citizens. This is an urgent matter. Our country's future depends on our unity. Our country's future depends on us—each of us."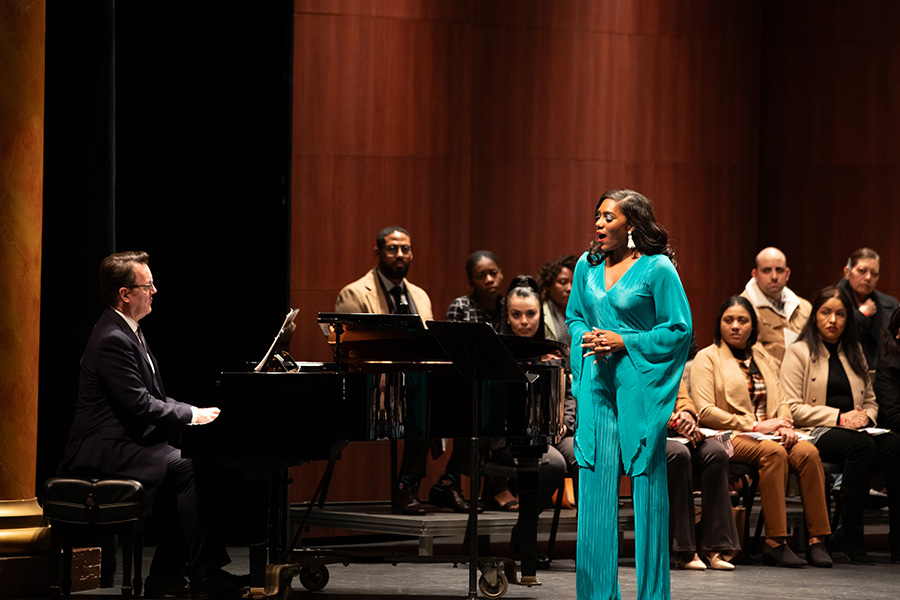 Following Eisenhower's moving speech, Grammy Award-winning American mezzo-soprano J'Nai Bridges delivered a special performance honoring opera singer and civil rights pioneer Marian Anderson, who performed at the same event in 1963 at the request of President Eisenhower.
The Dedication Day program also featured a U.S. Naturalization and Citizenship ceremony welcoming 16 new citizens from eight different countries from around the world. The new group of American citizens took the Oath of Allegiance and received a standing ovation from the gathered audience inside the Majestic Theater.
Additional speakers included Gettysburg College President Bob Iuliano and preeminent Lincoln scholar Harold Holzer, who introduced Emmy-nominated actor Graham Sibley to recite the Gettysburg Address. Sibley has appeared in many groundbreaking television series, most notably portraying Abraham Lincoln in Doris Kearns Goodwin's' definitive biography mini-series for History Channel/A&E.
Gettysburg College also hosted the annual Robert Fortenbaugh Memorial Lecture during the evening of Nov. 19. The 2023 lecture entitled "The State of Civil War Military History" featured a roundtable discussion with Craig Symonds (United States Naval Academy), Lorien Foote (Texas A&M University), and Jennifer Murray (Oklahoma State University) in the Majestic. The first Fortenbaugh lecture was delivered in 1962 by renowned Civil War historian Bruce Catton and has included numerous luminaries of American historical writing. The series was named in honor of Prof. Robert Fortenbaugh, who taught history at Gettysburg from 1923 until 1959.
Discover more about Gettysburg College's consequential location and how it inspires our students to make a meaningful impact on society.
By Corey Jewart
Photos by: McKenna White '25
Posted: 11/20/23