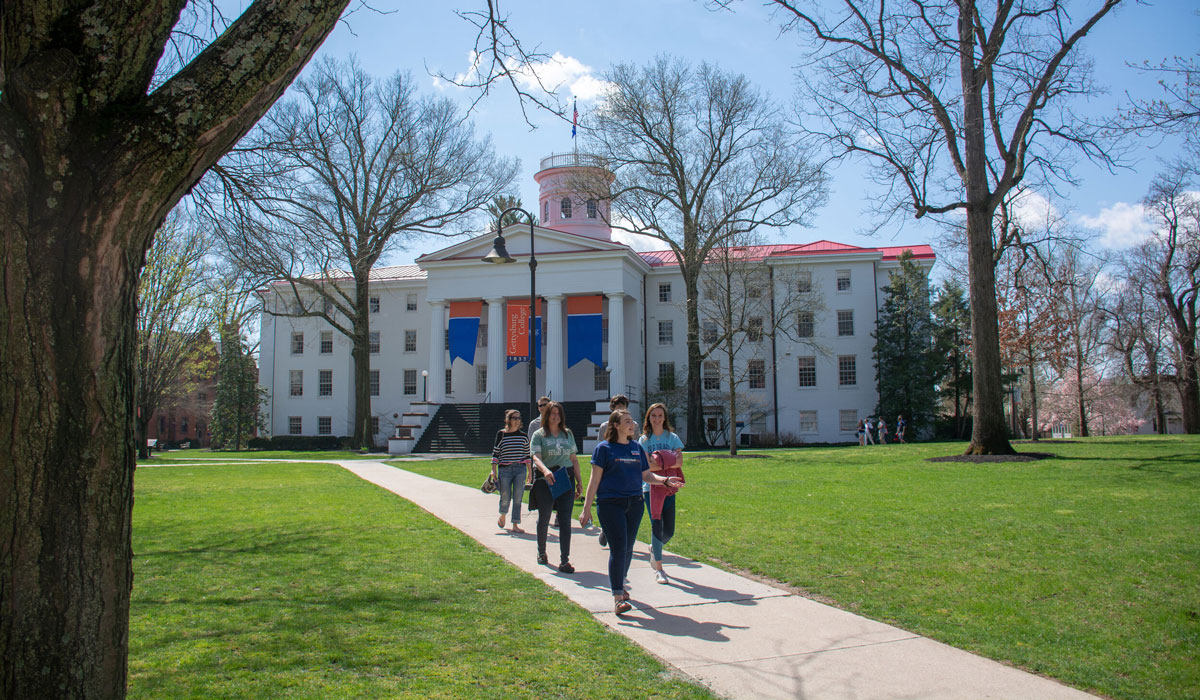 Hey there, welcome to Gettysburg College! We are a college of the liberal arts and sciences right here in the heart of Gettysburg, Pennsylvania. Before we start the tour, what questions do you have for me?
If you're in the college search process, you've certainly heard these words from a tour guide: What questions do you have for me? And if you're anything like me when I was a high school student touring colleges, you may be wondering what questions are worth asking, afraid of asking a silly question (there are none!), or unsure of what questions you have at all! So here I am, a real-life Gettysburg tour guide, ready to share the top five questions to ask your tour guide—and why you should.
This information is equally valuable for in-person tours or virtual conversations with counselors and current students at institutions just like Gettysburg. Make the most of all the opportunities available to you—whether you take an on-campus tour, join a virtual student panel or faculty session, or conduct a virtual interview, these tips will help you prepare to get the answers you need and make genuine connections!
The most important thing to know before going on any college tour is to do your research. Poke around the school's website to get a feel for the campus community, and check out what kind of opportunities they offer. The more informed you are, the better your questions will be. What's more, if you arrive that day already well-informed of the basics, you can spend more time on-tour getting to know the heart of the college.
#1: "What do you love about going to school here?
As tour guides, we are happy to share our student experience with you—it's why we wanted to become tour guides, and it's what we are here for! Dig in with other unique, personal questions such as, what's your favorite study spot? What is your favorite college memory? We're here to serve as a contact point and resource, and hearing personal narratives first hand will help you determine what the student experience is truly like. Timothy Wilson '21 recommends, "even if your tour guide is not the major you want to study, or a part of an organization you want to join, they should be able to answer any question you give them. Tour guides love to hear your inquiries and customize tours to you. Also, ask them about their search process! Tour guides are students, too, and have gone through the college search process, albeit some a little longer ago than others. We love to walk you through our process and how we ended up at Gettysburg and why we stayed here."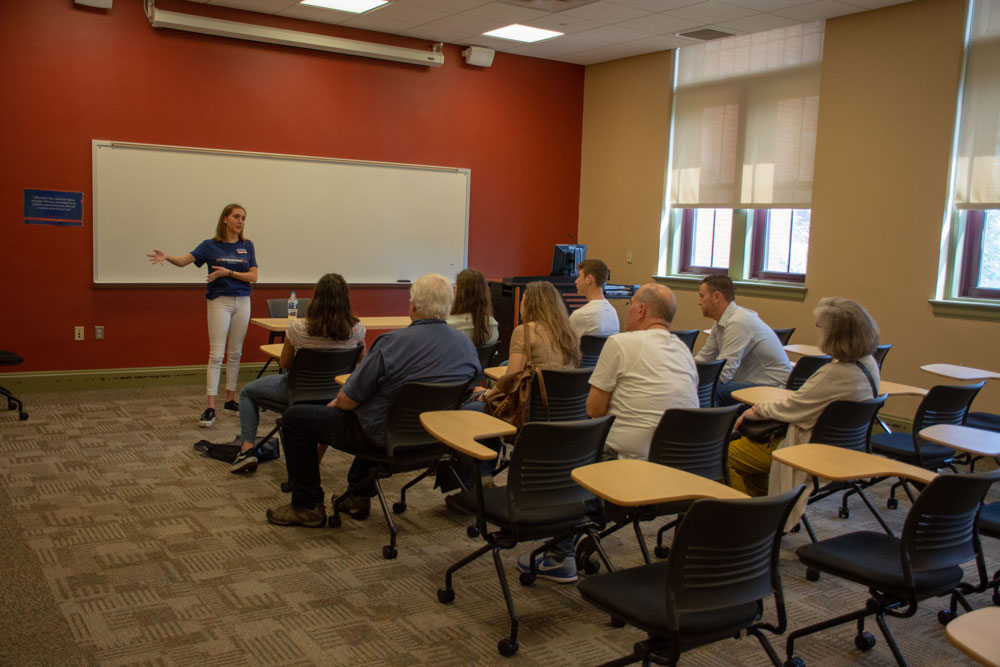 #2: "What is the classroom experience like?"
The environment in the classroom is so important in shaping the academic experience you will have in college. Asking your tour guide what academic support they receive both in and out of the classroom is essential. Get a sense of what professor student relationships are like, and ask your tour guide what hands on experiences and research they have been able to conduct in their field of study. At Gettysburg College, the average 17-student class size, with an overall 9:1 student to faculty ratio, makes it easy to develop close personal bonds with your professors, whether that is by popping in during their office hours or having coffee with them in the College Union Building. With 40 majors, you are bound to find an academic area of interest to study, and if not, you can combine multiple interests to design your own major!
#3: "How can I do [fill in the blank] here?"
Whatever your passion may be, ask about it! For example, if you are actively involved in community service at your high school, consider asking about that on tour. Or if you play a sport, but do not intend to play at the collegiate level, ask if the school offers a club or intramural substitute. You may even learn about a new, unique athletic opportunity: at Gettysburg College, our Intramural program boasts everything from volleyball to inner tube water polo!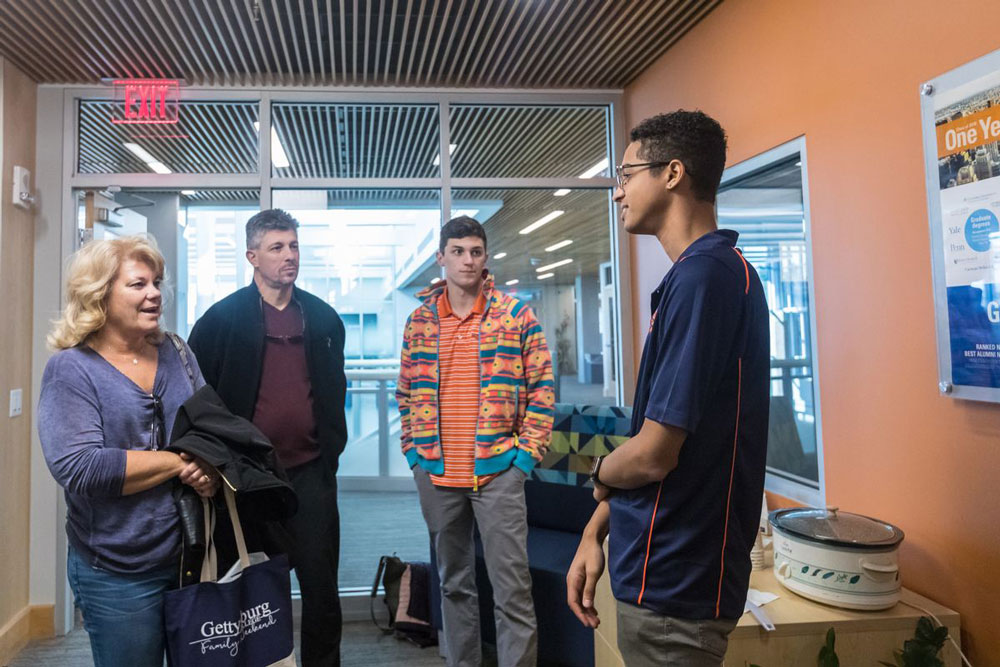 #4: "How will this college prepare me for my future?"
College is not only a financial investment, but it's an investment in your time and energy, as well, so you should be confident that you'll get a return that will help you pave your way for future success. Ask about what resources the school offers for alumni and recent grads, and how they will continue to support you beyond your 4 years on campus. Our Center for Career Engagement offers opportunities for students to gain competencies by connecting them with internship, externship and job shadowing experiences, some offered by alumni part of our strong global Gettysburg network. The best part is that CCE is a lifelong service! Even if you take a gap year after graduation before pursuing a higher educational degree, or if you want to explore a new career path, the resources at the Center for Career Engagement is just a call away!
#5: "Can I follow up with you?"
Sam Hann '21 says, "Definitely ask if you can follow up with them regarding any questions you might have after your visit. Most Tour Guides have personal emails you can get from them directly or from the admissions office! By staying connected with your Tour Guide after your visit, you can really get a feel if the school you're looking at is truly for you." At Gettysburg, you'll have many options to stay connected with us after your tour—whether virtual or in-person!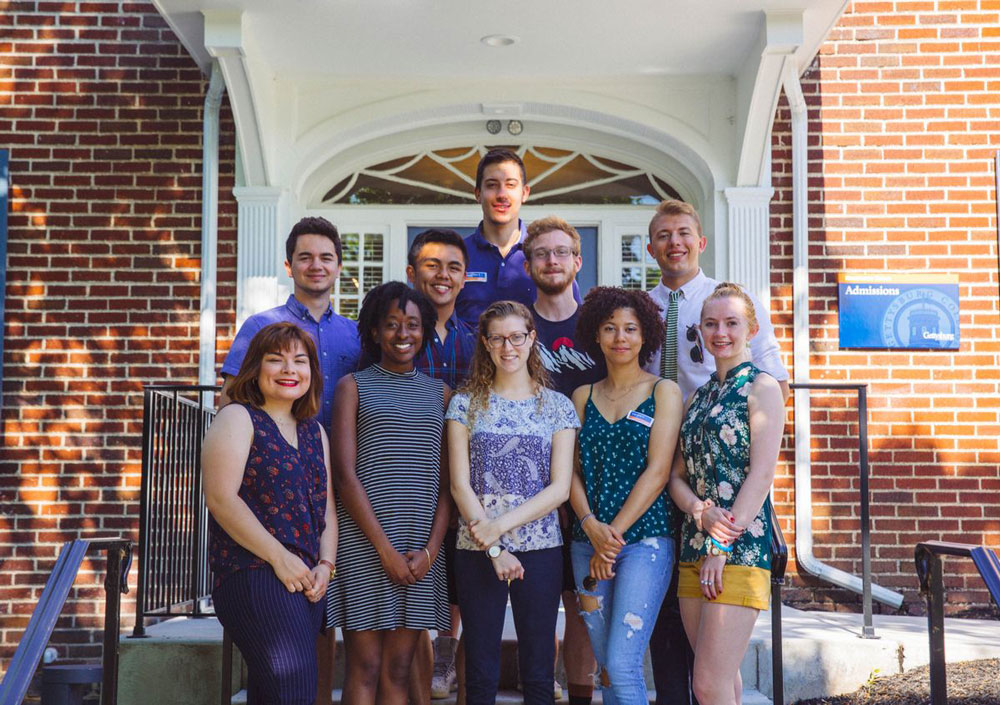 We are, indeed, here to guide you through the college search process, each and every step of the way. In short, the answer to your question is this: get personal, inquire about academic opportunities, discover ways to get involved on campus, learn about the return on your investment and follow up! It's certainly worth the while.
By Gabi Eglinton '21
Photos by Miranda Harple, Peter Francis '21, and Shawna Sherrell
Posted: 10/21/20