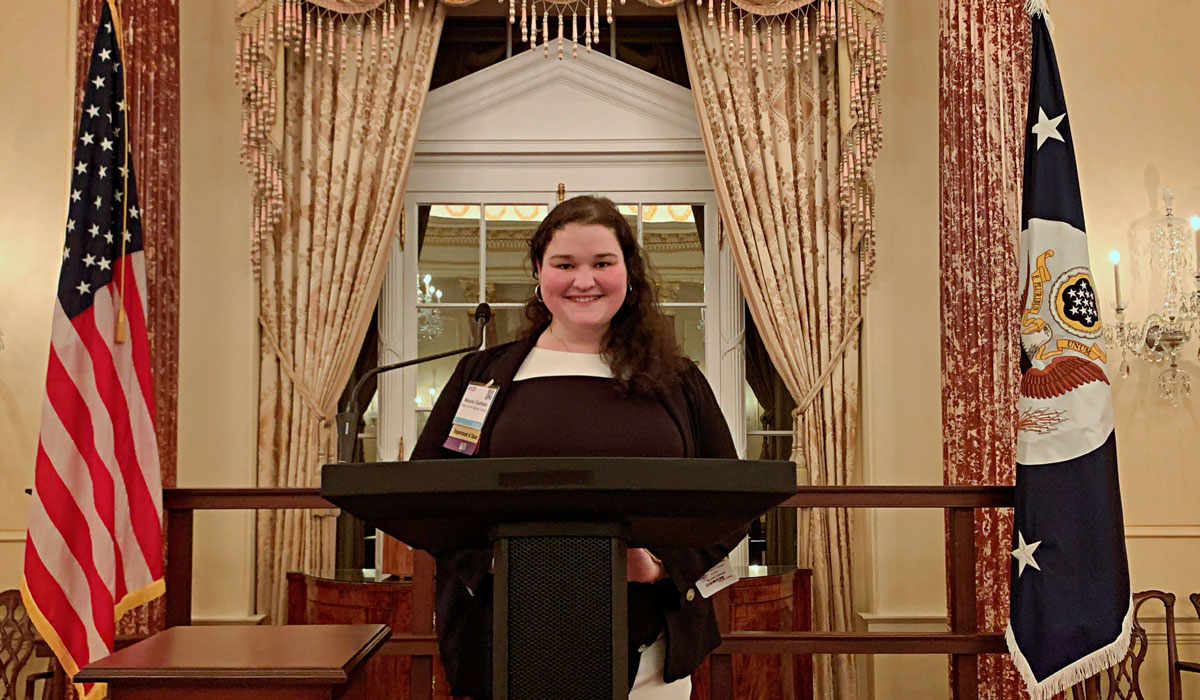 Melanie Ourhaan '20, a political science major and business and economics double minor, has had the unique experience of interning for the International Visitor Leadership Program (IVLP) as a Virtual Student Federal Service content creator.
The IVLP, the U.S. Department of State's premier professional exchange program, has helped strengthen U.S. engagement with countries around the world. Since its start in 1940, more than 200,000 international visitors have engaged with Americans through the IVLP, including more than 500 current or former chiefs of state and government leaders.
During the IVLP's 80th anniversary, its Faces of Exchange website will highlight the lives and leadership of 80 accomplished IVLP alumni. Ourhaan's internship centered around creating digital content for the Faces of Exchange website that showcases the impact of those featured alumni. She also attended the Global Ties National Conference in Washington, D.C., in January 2020, at which the first six faces of the 80 were unveiled.
"This has been one of the most eye-opening experiences I've ever had," Ourhaan said. "I have had the exceptional opportunity to connect with some of these incredible people—people who are changing lives. I am just one piece in the larger puzzle. It's about being a part of something bigger than myself."
After graduating, Ourhaan plans to use the experiences she gained through her IVLP internship by working for an international non-profit or exploring opportunities in the realm of international business.
Read more outcome stories of Gettysburgians who are using their liberal arts education to become leaders of global change.