The Statement
"Gettysburg College is on unceded Indigenous land including the traditional homelands of the Susquehannock/ Conestoga, Seneca and the Haudenosaunee Confederacy, Leni Lenape, and Shawnee Nations, and the connections of Indigenous Peoples to this land continue today. We have a responsibility to honor these connections and we strive to understand our place within the past, present, and future of this Indigenous land by reflecting on our relationships with the human and other-than-human relatives with whom it is shared."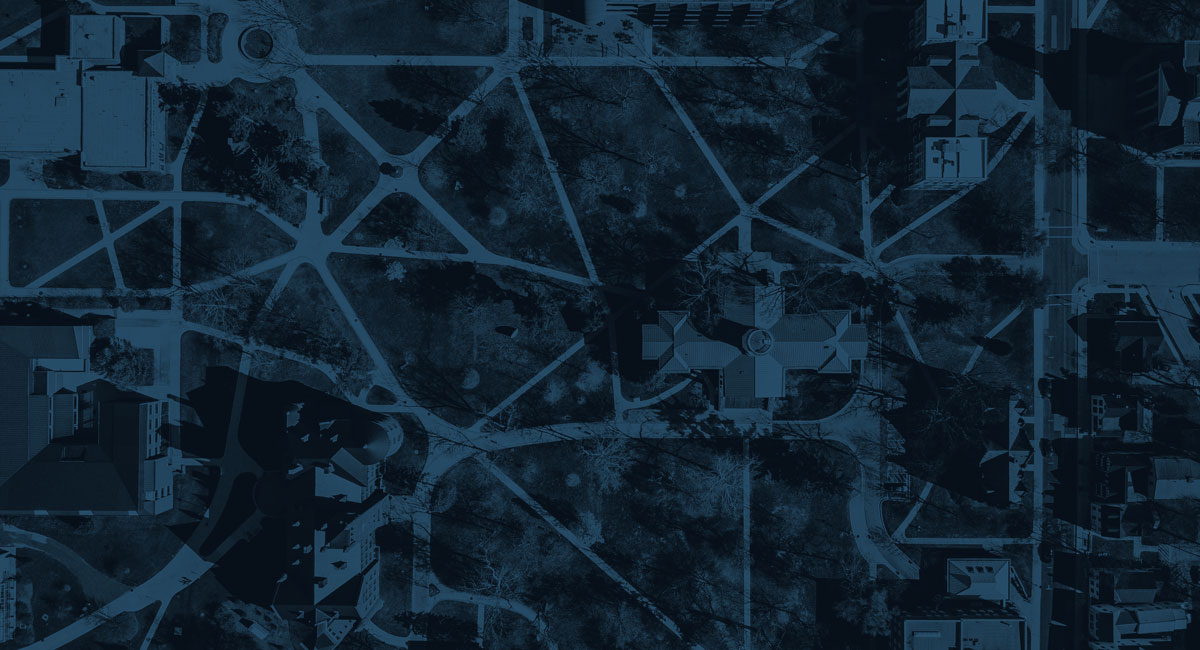 Land Acknowledgment Actions
A Land Acknowledgment statement is meaningful when it is accompanied by concrete actions, which commit to addressing ongoing inequities towards Indigenous communities. At Gettysburg College the process of what this means takes many forms and involves an on-going dialogue. It involves bringing Indigenous issues to the forefront of the community's attention through curriculum and co-curriculum development. It involves reaching out to local Native community partners to build relationships and extend support, whether this is monetary, service or time. It also involves working to establish ways in which the college can welcome and support Indigenous students on campus, for example, through a dedicated scholarship fund, and through an official Indigenous mentor support program. To learn more about some of the initiatives so far, visit the Timeline of LAC activities and events, and keep an eye on this page for continued actions.
Timeline of LAC activities and events

View the land acknowledgement interactive timeline
About the Statement
The Gettysburg College land acknowledgment statement was written by the Students for Indigenous Awareness (SIA) club and was a joint effort with a larger group of interested people from across the campus, including Indigenous students, staff, faculty, and alumni. The statement is meant to respectfully acknowledge the Native Nations who call this land home, and to contribute to the anti-racist educational goals of Gettysburg College through meaningful action. Our land acknowledgement statement came to be through critical discussion and reflection and is intended to inspire others to reflect, create, and take action through their own statements. This is an evolving process and our statement may change as we gain more knowledge through building relationships with local Indigenous communities and peoples. See Origin of the Statement for additional details.
Alternative versions
Abbreviated version
Gettysburg College is on unceded Indigenous land including the traditional homelands of the Susquehannock/Conestoga, Seneca and the Haudenosaunee Confederacy, Leni Lenape, and Shawnee Nations, and the connections of Indigenous Peoples to this land continue today.
When to use the abbreviated version
The abbreviated version of the LAS is an excellent choice for use in email signatures, syllabi, and in any other spaces where a slightly shorter version of the statement feels warranted.
Oral version
As a member of the Gettysburg community, I respectfully acknowledge that Gettysburg College is on unceded Indigenous land including the traditional homelands of the Susquehannock/Conestoga, Seneca and the Haudenosaunee Confederacy, Leni Lenape, and Shawnee Nations, and the connections of Indigenous Peoples to this land continue today. We have a responsibility to honor these connections and, as these words of acknowledgement are spoken and heard, we strive to understand our place within the past, present, and future of this Indigenous land by reflecting on our relationships with the human and other-than-human relatives with whom it is shared.
When to use the oral version
This oral version of the LAS is a wonderful option for at any event or gathering in which folks are speaking. This oral LAS would be a great way to open a meeting or introduce a conference.
Nations named in the Statement
We name those Indigenous Nations who have historical claims to Gettysburg, Adams County, and the surrounding area as part of their homeland. Gettysburg is not located within the homeland of one Nation, but rather, sits within the larger territory of many. We also acknowledge that there are Indigenous Nations yet to be mentioned due to the erasure of their relationship with this land, and Nations who know the land through historical presence, traditional trade and diplomacy routes, or contemporary movement, but may not consider this area their homeland.
Susquehannock/Conestoga
We acknowledge both names as English colonial documents commonly used both "Susquehannock" and "Conestoga" to refer to the Peoples of the lower Susquehanna valley, and "Conestoga" may possibly derive from an Indigenous name in use amongst at least some of these peoples. European settler colonialism, culminating in the Paxton Boys massacre of the Conestoga on December 14 and 27, 1763, led to the loss of their Nation and language. However, during the 1600s and 1700s, many Susquehannock joined the Seneca and other Native Nations, and some Indigenous people today in the United States continue to identify as Susquehannock/Conestoga.
Seneca
While the center of Seneca land is in what is now referred to as New York state, their traditional territories extends through this area.
Haudenosaunee Confederacy
As the Seneca are a member Nation of the Haudenosaunee Confederacy, their territory was and is open to the other member Nations. Therefore, we include the Confederacy with the Seneca in our statement although this area is not the homeland of other individual Haudenosaunee Nations.
The Six Nations are comprised of:
Leni Lenape
Leni Lenape homeland is centered East of Gettysburg and extends to Adams County and the surrounding area.
Shawnee
Shawnee travel and diplomacy routes extended through this area and are included in Shawnee traditional territory.
Explanation of key terms
Unceded
The rights and relationships of Indigenous Peoples to this land have not been relinquished. This is confirmed in the 1677 Covenant Chain Treaty between the Haudenosaunee Confederacy on one side and the Lenni Lenape and Susquehannock/Conestoga with the colonies of Maryland and Virginia on the other.
Traditional homeland
We take the term "traditional homeland" to encompass the broad history and perseverance of Indigenous presence and resilience, instead of using colonial language, associated with notions of land ownership, acquisition, and cession because these concepts do not encapsulate the rich and diverse relationships that various Indigenous Peoples continue to foster with the land and all its inhabitants.
Other-than-human relatives
Refers to all the non-human beings who share a place, and the term acknowledges Indigenous ways of being in the environment and Indigenous ways of knowing those animals, plants, land, and water beings with whom they share long histories of reciprocal relationships.
Educational resources
What is land acknowledgement?
Land acknowledgement statements recognize that the land to which they refer is Indigenous land. More specifically, these statements acknowledge those Native American Nations and Peoples who: 1) cared for the specific place prior to and through European colonialism; 2) were often unjustly removed from the land by systematic processes of displacement by European powers, colonists, and later, American settlers and settler colonialism; and 3) have ancestral ties and are contemporary heirs to unceded land for which title was not relinquished. By articulating recognition, land acknowledgement statements serve to un-settle settler colonialism and shine a light on historical injustice and accountability. In this way the statement itself is often a starting point for further education and engagement with local Indigenous communities.
Why acknowledge land?
Gettysburg College is located in a storied place; a site of historical trauma and building of national identity with deep ties to racial justice and injustice. Yet, a major aspect of our story has been absented: that this place is Indigenous land. The Gettysburg College Land Acknowledgement initiative has sought to address the erasure of Indigenous presence while understanding this work to be ongoing. The land acknowledgement statement itself is an important first step in building relationships with the Indigenous communities who call this place home.
The acknowledgement of the unceded ancestral homelands of Indigenous peoples on the webpages of educational institutions is a movement that began decades ago by Indigenous and Native American academics and community leaders across the Americas and elsewhere. Indigenous Studies educators and leaders have opened their public lectures and classes with oral land acknowledgements long before written statements were included on public venues at institutions of higher education. Many Gettysburg College faculty, students, and staff incorporated their own versions of a land acknowledgement statement into email signatures, syllabi, and were spoken at major events.
Indigenous resources
Visit "Indigenous Pennsylvania: Past, Present and Future" to learn about Indigenous presence in the vicinity of Gettysburg College. Created by Sarah Gilsoul'22 as part of her senior honors capstone research project in Environmental Studies, the interactive ArcGIS StoryMap is rich with information on four sites within our region.
Information about the Carlisle Indian Boarding School, located just north of Gettysburg in Carlisle, PA, which was emblematic in the history of Indigenous erasure:
Information about writing a land acknowledgement statement:
Musselman Library book exhibit Indigenous Identity on Colonized Land
Visit the College Calendar for events tagged "Indigenous Awareness"
Courses with Indigenous content
ANTH 106: Introduction to Archaeology and Physical Anthropology
ANTH 232: Precolumbian Civilizations of Mesoamerica
ANTH 275: Public Archaeology
FYS 105: Who Owns the Past? Cultural Heritage and Contested Histories

ANTH 106: Introduction to Archaeology and Physical Anthropology
ANTH/CLA 210: "Civilizing" the "Barbarians"? The Roman Empire in a Comparative Perspective
ANTH 212: The Archaeology of Pennsylvania: From the First Nations to Modern Times
ANTH/CLA 214: The Celts: Ancient and Modern

ES 165: Native American Environmental Issues
ES 300-level: Race and Environment

ANTH 221: Language and Culture
ANTH 223: Indigenous Peoples and Globalization
ENG 113: Writing in the Native American Tradition
IDS 206: Foundations of Native American Studies
IDS 250: Native American Sports
WGS 214: Native American Women

HIST 230: The Native American-European Encounter in North America
HIST 426: Pennsylvania's Indians

REL 226: Native American Religious Traditions
REL 264: Nature, Environment, Religion
REL 320: Religion, Colonialism, and Resistance
Origin and contributors
Writing our statement
The Gettysburg College land acknowledgement statement and this webpage and resources arose from partnerships across campus and included Indigenous students, staff, faculty, and alumni, resulting in the College officially adopting the land acknowledgement statement in February 2021. The process of creating an official land acknowledgement statement began in 2016 with the campus club , under the leadership of students Samantha Trueman, '17; Kristy Garcia, '17; and Mary Margaret Blum, '18, with Professor Stephanie Sellers as faculty advisor.
In 2018, Professor Sellers asked Professor David Walsh to take over as Faculty Advisor, and students Keira Koch, '19 and Colleen Kazokas, '19 then took up the endeavor of garnering support for a College land acknowledgement statement. Keira Koch wrote the SIA club's first land acknowledgement statement which informed the current version. Also in 2018, Chaplain Kristin Largen began incorporating a land acknowledgment statement into her Baccalaureate prayer and was aided in writing her statement by the SIA club and its faculty advisors.
Statement contributors
In October 2020, Chaplain Kristin Largen invited Professor David Walsh to speak with the Interfaith Leadership Fellows—a group of Gettysburg College students including some of the SIA students—resulting in a renewed effort to create an official College statement. With the aid of faculty advisor Prof. David Walsh, the statement was written over the 2020-2021 winter break by members of the Students for Indigenous Awareness Club:
Sydney Dranow '21, SIA President
Mary Kate Danberg '21, SIA Vice President
Daniel Jones '22, Student Senate Diversity and Inclusion Officer
Samantha Karns '23 [Tuscarora]
James Lamb '21
Kylie Mandeville '21
Katherine Mangione '22
Samuel Ventimiglia '22
Drew Warren '21
To activate this statement and create resources for our campus and wider community, the club works closely with our larger working group, which includes:
Eloísa Gordon-Mora, Chief Diversity Officer (2022-Present), and the Office of Diversity and Inclusion
Jeanne Arnold, Former Chief Diversity Officer
Diane Brennan [Cherokee descent], Academic Administrative Assistant for Public Policy and the Provost's Office
Triada Chavis [Lumbee], Academic Administrative Assistant for Interdisciplinary Studies and International & Global Studies
Adrian Cooke, Former Director of Digital Strategy
Samantha Cotter '22
Kirby Farah, Assistant Professor of Anthropology
Anya Hanna, Director of Communications and Content Strategy
Julia Hendon, Associate Provost for Pedagogical Initiatives and Professor of Anthropology (Ret.)
Samantha Isherwood, Administrative Assistant for College Life
Jaron Johnston, Assistant Director of Digital Strategy
Aaron Lacayo, Assistant Professor of Spanish
Jeffrey Rioux, Director of Center for Public Service
Kristin Largen, Former College Chaplain
Ben Luley, Associate Professor of Anthropology and Classics
Kenneth Millson '22
Salma Monani, Chair and Professor of Environmental Studies
Donna Perry, Professor of Anthropology
Stephanie Sellers, Adjunct Professor of English, Interdisciplinary Studies, and Women, Gender and Sexuality Studies
Samantha Shourds '22
David Walsh, Associate Professor of Religious Studies
Janelle Wertzberger, Assistant Dean and Director of Scholarly Communications, and the Musselman Library Diversity and Inclusion Committee
Amanda Whitcomb, Academic Administrative Assistant for Psychology
Emily Whitcomb '18 [Haudenosaunee and Tsalagi Cherokee]
Our vision has been not only the creation of a land acknowledgement statement but also a rich resource base for the College and local community. Thanks to the generous engagement of our local Indigenous community partners, as well as many departments and programs on campus, we continue to work to express our statement as meaningful action.
Students for Indigenous Awareness Club
For students interested in learning more about opportunities for Indigenous awareness and advocacy on campus and beyond, we recommend connecting with the Students for Indigenous Awareness club. You can also follow them on Instagram @studentsforindigenousawareness.
The Land Acknowledgment Committee
The LAC helps coordinate campus activities and events. It is co-facilitated by Prof. David Walsh, Religious Studies, Prof. Salma Monani, Environmental Studies, and Janelle Wertzberger, Assistant Dean and Director of Scholarly Communications.