PNC Bank offers a complete set of money management tools and special benefits to Gettysburg College faculty, administrators, staff, and students to help you achieve your financial goals. To start enjoying the many benefits of a PNC Student Banking or a Work Place Banking account select from additional information below or call PNC's Breckenridge Street office at 717-334-4382.
College Banking Services Agreement (PDF)
Total consideration paid in the period July 1 2020, through June 30, 2021 under the agreement: $10,000
Total number of customers holding student financial accounts which originated under the contract from July 1, 2019 through June 30, 2021: 224
Mean student costs: $7.31 in the year ended June 30, 2021
Median student costs: $0.00 in the year ended June 30, 2020
Major Features and Commonly Assessed Fees - Virtual Wallet Student
URL to Account Information:
https://pnc.com/vwstudentsummary
Major features and commonly assessed fees for Virtual Wallet Student accounts can be found at the URL noted above.
PNC Campus ATM & Branch Locations
Campus ATM location: (free for PNC Bank account holders/$2 service charge for all other banks)
College Union Building (CUB) entrance, facing the Dining Center - advanced function ATM, which is capable of accepting deposits, cashing checks, and cash withdraws.
Branch locations:
Call Center 1(877)PNC-1000 / 7 a.m. to 10 p.m. ET
Banking Days
PNC Banking representatives will be on campus to provide financial assistance to its Gettysburg College students and employees. Plan to stop by the CUB from 11:00 - 1:00 on the 1st & 3rd Thursdays each month during the academic semesters if you have questions or are interested in:
Online, Mobile & Text Message Banking Assistance
Opening Accounts
Ordering New Debit Cards & Checks
Auto Alerts & Bill Payment Assistance
And much more...
Financial Education Seminars:
PNC Bank hosts a variety of financial seminars on campus. Past seminars were titled Budgeting, Raising Money Smart Kids, & Identity Theft. Employees receive 2 wellness points for each seminar attended. Stay tuned for the next seminar.
Achievement Sessions:
PNC Achievement Sessions: Practical sessions taught by real-world experts on financial topics that matter to you! PNC wants you to have the knowledge and confidence to manage your money. That's why we created PNC Achievement Sessions-practical sessions taught by real-world experts on financial topics that matter to you. Just visit here to find out more!
If you have any questions or suggestions for a financial topic, please e-mail ebear@gettysburg.edu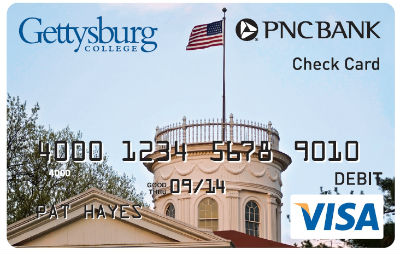 Student Banking
Show Your Gettysburg College Pride
PNC Bank offers a banking program for Gettysburg College students which includes:
Virtual Wallet Student - Helps manage life on campus, with features like Quickview, the Calendar and the Money Bar
Free Gettysburg Visa debit card
Unlimited PNC ATM/check card usage
Free online banking, mobile banking, and text message banking
One free incoming domestic or international wire transfer per monthly statement cycle
One free overdraft refund within the first year of opening account
Free Auto Alerts - an email/text notification when your account balance falls below a specified balance, when a direct deposit is credited to your account, or if you have an overdraft of your account balance
WorkPlace Banking
Show Your Gettysburg College Pride
Pillars Insert:
PNC Bank sponsors the Gettysburg College Support Staff Pillars newsletter. Below are recent articles.