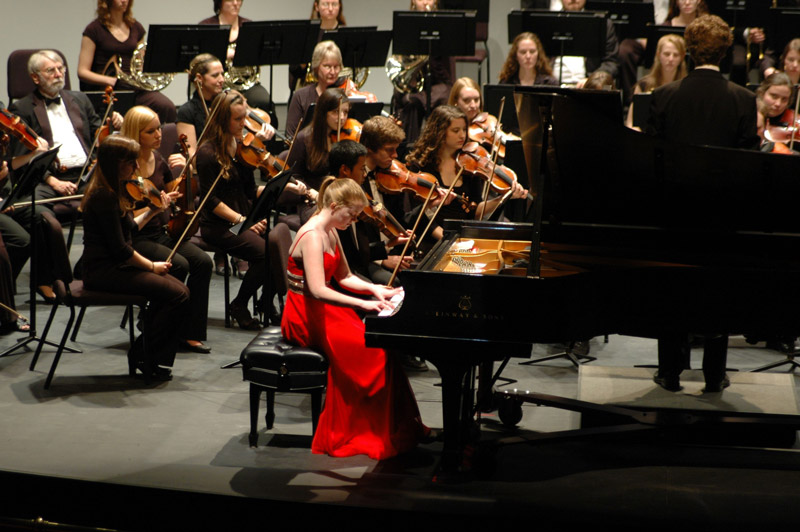 Keyboard StudiesThe Sunderman Conservatory offers lessons on piano and organ, with opportunities to study and perform on harpsichord and fortepiano.
Piano
Pianists at the Sunderman Conservatory study to become whole pianists in the context of a rigorous musical and liberal arts education.
Piano training at the Sunderman Conservatory focuses on creative strategies for mindful, physically comfortable practice leading to the joyful, fearless, compelling performance of many different styles of music.
The whole pianist:
performs joyfully and fearlessly
has a beautiful tone
plays with physical ease
is a dynamic soloist
is a sensitive chamber musician
is a skilled collaborative pianist
explores historical instruments and improvisation
sight-reads comfortably
connects music to its artistic and cultural contexts
Performances
Performance opportunities for pianists include:
weekly studio classes
conservatory-wide Friday afternoon recitals
degree recitals
studio project recitals
chamber music concerts
musical theatre productions in the theatre department
concerto competition
band, chorus and orchestra concerts
the Notes at Noon series in the apse of the Musselman library and many other possibilities
Lessons
Lessons are at the heart of piano training. Music majors with piano as their primary instrument have a weekly lesson. Music minors and non-majors have a weekly half-hour lesson. Each semester's lessons culminate with a juried performance.
Collaborative Playing
Collaborative experiences are a hallmark of the piano student's experience at the Sunderman Conservatory. The approach to accompanying and chamber music is inclusive and supportive, with ample opportunities for coachings and performances. Students frequently bring their collaborative partners into their lessons, and are welcome to play collaborative pieces on their juries and degree recitals.
Studio Class
A core element of keyboard study is the weekly studio class on Thursday evenings. Studio class is held in Paul Recital Hall, where students perform on a Steinway D concert grand. The studio class is a supportive, non-competitive environment open to all student pianists, and is the center of the strong community of "Gettysburg Piano Citizens." All studio class performances are recorded, with recordings made immediately available to students. Student performances with feedback from faculty and peers make up the main activity of the class, but other elements include discussions of practice strategies and performing anxiety; occasional Dalcroze Eurhythmics exercises; helpful practice stretches; introductory lessons in yoga and Alexander Technique; and the annual winter dinner at Dr. Swigger's house.
Studio Project Recitals
Every spring, all the piano students perform in a studio project recital, on a four year cycle.
Jazz: (2012, 2016)
Performance of a jazz standard from jazz notation, with guest drummer and bass player.
Continuo on the Harpsichord: (2013, 2017)
Improvised continuo playing from figured bass in chamber music from the 17th century
Classical music on the Fortepiano: (2014, 2018)
Music of Haydn, Mozart, Beethoven, or Schubert on the fortepiano
Music by Living Composers: (2015, 2019)
Contemporary pieces by living composers of many different styles
Instruments
The Sunderman Conservatory has a wide variety of keyboard instruments available for practice and performance, including a harpsichord, fortepiano, toy piano, and organs. Playing on historically accurate instruments gives invaluable insight into articulation, voicing, and pedaling, and all piano students are encouraged to practice and perform on them. The Sunderman Conservatory has the goal of becoming an all-Steinway school.
Harpsichord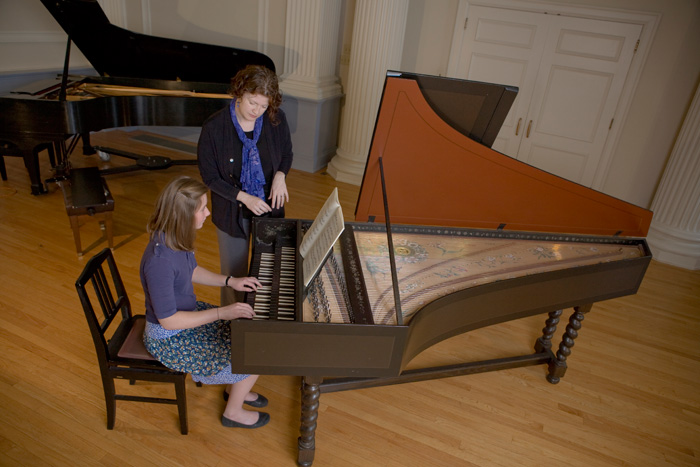 Dual-manual harpsichord made by Willard Martin, in the French 17th century style. It is available for practice, rehearsals, and performances.
Fortepiano
Fortepiano made by Tom and Barbara Wolfe, a copy of a 1790 Viennese fortepiano. The fortepiano is the generous gift of Joyce and Bert Elsner, and is available for practice, rehearsals, and performances.
Toy Piano
Schoenhut 30-key baby grand toy piano for solo, chamber and orchestral pieces involving toy piano.
Organs
The conservatory has organs in the chapel and in practice rooms available for practice.
Faculty
Jocelyn Swigger, Area Coordinator
Scott Crowne, accompanist
Jamie Buxton, accompanist
Michael Matsinko, accompanist
Tim Foster, accompanist
Felix Hell, organ
Guest Masterclasses
In recent years, guest artists have included:
Jeremy Denk
David Breitman
Malcolm Bilson
Xun Pan
Donna Kwong
Richard Shuster
Tina Curren
Lisa Kaplan