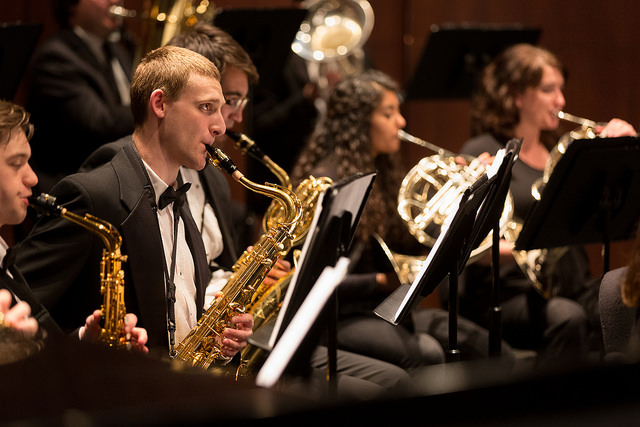 Woodwind study at the Sunderman Conservatory focuses on training musicians who perform with a high standard of technical achievement that allows them the freedom to become expressive, intelligent and compelling performers and teachers. Students of woodwind instruments study with artist-teachers who each have their own active and diverse professional performing careers. Weekly one-hour private lessons and regular studio classes are complemented by master classes with guest artists and weekly performance opportunities. Emphasis is placed on frequent participation in chamber ensembles as a means to develop the total musician. This vibrant musical environment provides woodwind students with rigor and the encouragement to constantly improve their musicianship and performance abilities.
Flute Studio
The Sunderman Conservatory Flute Studio is a supportive group of 12-15 musicians who are passionate about the flute and provides a collegial atmosphere in which students strive to become the best performers possible. The studio is enriched by the diverse interests of students who may be music majors, minors or pursuing a variety of rigorous disciplines on the Gettysburg College campus.
Students in the flute studio follow a course of study that promotes tone development and mastery of technical skills and immerses one in the study of the broad range of solo and chamber works for the flute. During weekly studio classes, Dr. McIver coaches students in the performance of flute solo literature and orchestral excerpts that includes an important peer learning component. Body-mapping, breathing techniques, pedagogy and visits from guest artists that have included master classes, demonstrations of Middle Eastern flutes and instruction on tradition Irish flute playing are also a part of the studio class experience.
Flutists eagerly take advantage of the many performance opportunities on campus and are encouraged to seek further performing experience through competitions and festivals. Prospective students are welcome to schedule a visit to take a lesson, participate in studio class and spend time with our flute students.
Oboe Studio
The oboe studio at the Sunderman Conservatory is a small but enthusiastic group of musicians intent on improving their individual skills in oboe performance as well as offering support to their fellow oboists in this pursuit. Students include both music majors and minors and all bring their own personal perspectives that they share with the studio.
Individual lessons emphasize tone development, improvement of technical skills, and elements of expressive phrasing and include the study of etudes, orchestral excerpts, solo, and chamber music. Applications of music history and theory are stressed as well as the significance of the studied music in the overall oboe repertoire. Weekly studio classes offer students an opportunity to perform solos and orchestral excerpts for each other in a mutually supportive environment, and also provide time for reed making and exploring areas related to oboe performance including body-mapping, key mechanism adjustment, English horn and oboe d'amore concerns, and chamber music for double reed instruments. Visits and masterclasses from guest artists have included hands-on experience with Renaissance and Baroque period instruments and Middle Eastern double reeds.
Members of the studio are strongly encouraged to take advantage of ample performance opportunities on campus with chamber music and the large orchestral and wind ensembles, as well as many possible venues off-campus in churches and community groups.
Clarinet Studio
The Sunderman Conservatory Clarinet Studio is comprises 8 - 12 individuals seeking an artistic balance of musical studies. These students are currently pursuing their musical studies as majors, minors, and non-majors while maintaining and expanding a multitude of other interests and degree programs across the Gettysburg College campus. The students in the clarinet studio focus on key technical training and development of musicality through weekly private lessons and biweekly studio classes. Professor Scott has developed a course of study that involves extended scales, etudes, solo and chamber literature, and orchestral excerpts. This in-depth study of repertoire aids the students in becoming successful and exciting performers in and outside of the Conservatory. Students are also welcome to participate in the Sunderman Clarinet Ensemble which allows many students to gain experience on auxiliary instruments such as e-flat and bass clarinets and basset horn. Prospective students are welcome to schedule a visit to take a lesson, participate in studio class and the Clarinet Ensemble, and spend time with our clarinet students.
Saxophone Studio
The Sunderman Conservatory Saxophone studio consists of a group of 8-12 saxophone students. These students include music majors, music minors, and also students who are pursuing other majors at the College. The students come from a diverse background that leads to insightful discussions and differing points of perspective which enhance every student's overall education.
A primary goal of the saxophone studio is to prepare students for the professional performance environment. For saxophone, that means an introduction to a wide variety of styles. Students are first grounded in the classical tradition, where areas such as tone and technique are taught and ultimately perfected. After a solid foundation is established, repertoire and continuation of selected method books from the classical tradition is continued. Students are also introduced to differing styles, such as jazz improvisation, pop improvisation, section playing, and modern musical performance, to name a few. Studio classes provide an opportunity for students to gain performance experience in a relaxed and supportive atmosphere.
The Sunderman Conservatory provides many performance opportunities for the developing saxophonist. Students can participate in such ensembles as Wind Symphony, Marching Band, Pit Orchestra, Jazz Ensemble, and Saxophone Quartet.
Prospective students are encouraged to schedule a lesson with Dr. Heim and to discuss how Sunderman Conservatory can facilitate their saxophone development.
Bassoon Studio
The Sunderman Conservatory Bassoon Studio is a small, but extremely talented group of individuals who are eager to develop their skills as players and musicians. They are exceedingly supportive to one another and offer guidance to the incoming first-year class. Students in the studio are music majors, double majors in music and another academic discipline, and music minors.
Weekly lessons stress improving tone quality, technical coordination of fingers and tonguing, and musicality. Etudes, solos, and orchestral excerpts are explored each lesson, preparing the student with a wide range of music from each period of classical music. Along with lessons, students attend a weekly studio class that includes an intense study of reed making in which they are able to use the Conservatory's vast range of machinery. A historical background of the instrument and the music that was created specifically for it is studied throughout the semester in lessons and studio class. The contra bassoon is introduced to students in both studio and ensembles. Each student is strongly encouraged to learn and play the instrument during their studies at the Conservatory. All of our bassoonists are required to perform for one another several times during the semester in both solo and chamber work. The studio plays duets, trios, and quartets together and performs them at the end of the semester either in studio class or a Friday afternoon recital.
While at Gettysburg, bassoonists participate in the orchestra and wind ensemble, as well as in small chamber groups. They are encouraged to participate in performance opportunities both on and off campus.
Prospective students are welcome to schedule a visit to take a lesson, participate in studio/reed class, and spend time with the bassoon studio.