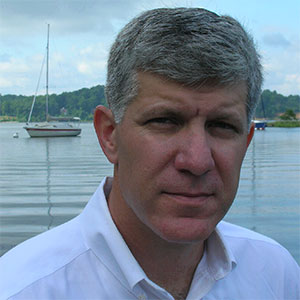 Howard Ernst serves as a Professor of Political Science at the United States Naval Academy, Senior Scholar at University of Virginia's Center for Politics, and as a non-resident expert at Gettysburg College's Eisenhower Institute. He received his Ph.D. from the Woodrow Wilson School of Government and Foreign Affairs at the University of Virginia. While at the University of Virginia, Dr. Ernst received several of the school's highest academic awards, including the prestigious Governor's Fellowship. At the Naval Academy, Professor Ernst serves as the Honors Program Director for the Political Science Department and teaches courses in U.S. Government and Environmental Politics. Dr. Ernst received an honorable mention for the Naval Academy's highest teaching award. He has previously served as a Distinguished Visiting Professor at the United States Air Force Academy and as the inaugural Director of the Kohler Environmental Center.
Dr. Ernst's scholarship focuses on the citizen influence over the environmental policy process, the formation of environmental public opinion, and the politics of large scale environmental restoration projects. He is considered a leading authority in the area environmental politics and an expert on the politics of the Chesapeake Bay restoration. He has published widely, including six books, and has collaborated with leading scholars in several subfields of Political Science. He is currently under contract with Johns Hopkins University Press to write a book about global issues related to coral reef management.
His environmental policy texts have been adopted in courses as diverse as a graduate seminar at Yale University's School of Forestry, New York University's School of Law, and Johns Hopkins University's School of Geography and Environmental Engineering, in addition to dozens of public policy courses taught in political science departments throughout the country. His books have been highlighted in numerous media outlets, including the Washington Post, National Public Radio, C-SPAN, Voice of America, and a PBS Frontline documentary. Ernst's work has resulted in invitations to testify before Congress and to guest lecture at institutions such as Case Western Reserve, Yale University, New York University, Johns Hopkins University, the Smithsonian Environmental Research Institute, and other centers of higher education.
Dr. Ernst leads the Eisenhower Institute's Environmental Leadership program.
For more information about Dr. Ernst, please visit his website at www.howardernst.com