The President's Award Celebration for Support Staff
On Saturday, May 21, 2022 Support Staff and their guests gathered on campus to celebrate our retirees and honorees. We enjoyed food from Mission BBQ and dessert from Ziggy's Donuts. The event was held in the Bullet Hole and on the patio. Employees could participate in lawn games, have their photo taken with photo props, dance to the music provided by DJ John Ziegler, and enter their name for prizes that were generously donated by local businesses. We hope that everyone enjoyed the event and we thank all of the administrative staff who volunteered their time.
Please direct questions to supportstaff@gettysburg.edu.
2022 Support Staff Celebration Photos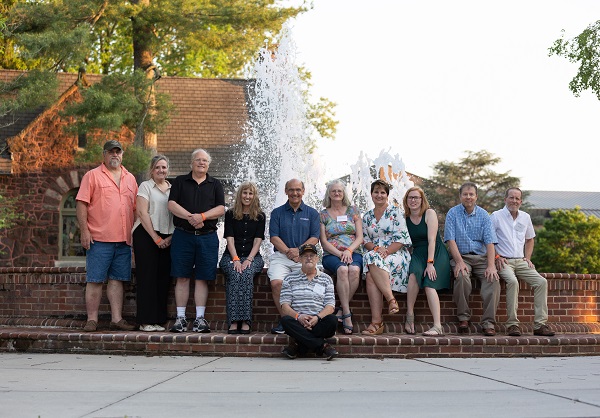 2022 Honorees and Retirees
| First Name | Last Name | Years | Dept |
| --- | --- | --- | --- |
| Derek | Brenneman | 5 | Dining/Food Prep |
| Annamarie | Fetter | 5 | Dining/Food Prep |
| Kaylynn | Kibler | 5 | Educational Technology |
| Vanessa | Murren | 5 | Catering/Specialty Dining |
| Robin | Oliver | 5 | German |
| Logan | Shetter | 5 | Transportation Services |
| Ruth | Topper | 5 | Admissions Office |
| Suzanne | Gockowski | 10 | Africana Studies |
| Lisa | Heinbaugh | 10 | Dining/Food Prep |
| Zachary | Keller | 10 | Grounds Services |
| Ashley | Mowery | 10 | Athletics Office |
| Edith | Pigeon | 10 | Library Administration |
| Renee | Vargo | 10 | Custodial Services |
| Renee | Weikert | 10 | Infrastructure and Computing |
| Tina | White | 10 | Bullet Hole |
| Brent | Yoder | 10 | Bullet Hole |
| Lisa | Antonich | 15 | Custodial Services |
| Christina | Bookhultz | 15 | Infrastructure and Computing |
| Amy | Flickinger | 15 | Custodial Services |
| Nick | Heller | 15 | HVAC Services |
| Karen | Mesher | 15 | Dining Student |
| Sally | Miller | 15 | Financial Aid Office |
| Lin | Myers | 15 | Women, Gender, and Sexuality |
| Terry | Oyler | 15 | Dining Student |
| Melissa | Bange | 20 | Finance & Admin Office |
| Eric | Day | 20 | Dining/Food Prep |
| Charlene | Felton | 20 | Bullet Hole |
| Travis | Griffie | 20 | Department of Public Safety |
| Pamela | Lafferty | 20 | Admissions Office |
| John | McNally | 20 | Bullet Hole |
| Paul | Miller | 20 | Infrastructure and Computing |
| Mike | Plank | 20 | Grounds Services |
| Lisa | McNamee | 25 | Library User Services |
| Lisa | Snyder | 25 | Dining/Food Prep |
| Donald | Brill | 30 | Dining Student |
| Matt | Miller | 30 | Dining Services Office |
| Rose | Taylor | 35 | Custodial Services |
| Cheryl | Vogel | 35 | Biology |
| Ken | Legore | 40 | Custodial Services |
| Sharon | Kuhn | 45 | Financial Services Office |
| Katie | Barako | Ret | President's Office |
| Charles | Andjeski | Ret | Dining Student |
| Mark | Rosensteel | Ret | Educational Technology |
| Marian | Taylor-Bower | Ret | Dining Student |
| Becky | Beegle | Ret | Admissions Office |
| Phil | Smith | Ret | Dining Student |
| Ray | Aughinbaugh | Ret | Custodial Services |
| Jody | Rosensteel | Ret | English |