2022 Support Staff Council
by Diane Brennan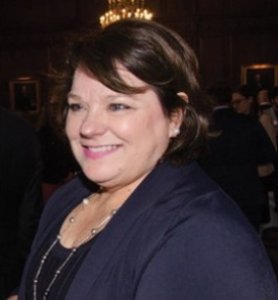 Sunny warm days and hints of color on campus, I begin to think about the end of my term as the Chair of the Support Staff Council. The SSC consisted of a team of dedicated and robust people who overcame any obstacle that came their way. Please join me in thanking Triada Chavis, Deanna Copenhaver, Marie D'Souza, Annamarie Frezza, Kari Greenwalt, Audrey Hatcher, Caleb Jones, Karen Re, and Carrie Small.
On May 21, you will have a chance to experience a unique event created by the SSC. The 2022 President's Award Celebration for Support Staff will begin at 5 p.m. with a social hour and various yard games, followed by a dinner catered by Mission BBQ and with music and dancing until 10 p.m. The dress for the evening will be casual. In addition, the event will give you a chance to meet some of the new employees on the campus over the past year and reconnect with old friends.
I want to invite you to think about serving on the Support Staff Council. We are accepting nominations for 22-23 Support Staff Council in the following fields Department of Public Safety, Paraprofessional/Clerical, and Dining Services. One open position in each field with a required 3-year commitment and mandatory attendance at regular monthly meetings. Email Diane Brennan at dbrennan@gettysburg.edu by MON MAY 30 with a nomination.
Holiday Extravaganza
by Annamarie Frezza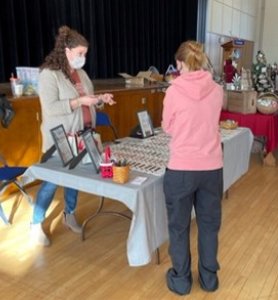 On December 9, 2021, the Support Staff Council hosted the 2021 Holiday Extravaganza in the CUB Ballroom. This annual crafts fair provides employees, retirees, and local vendors with an opportunity to sell their products and services to the College and surrounding community a few weeks before the holiday season.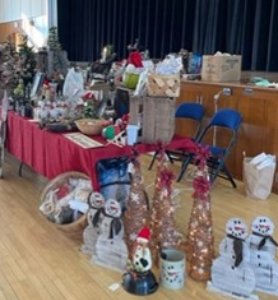 Approximately 20 vendors set up their tables around the ballroom and free refreshments were available. Some of the amazing products for sale included gourmet food and handmade soap, embroidered towels, wood signs, custom tumblers, knitted and crocheted items, artwork, second hand/vintage clothing, candles, jewelry, candy, Color Street nails, and holiday décor.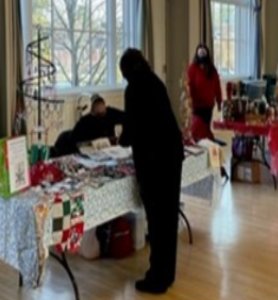 The event was a great way to purchase gifts on campus for family and friends plus support local crafters and vendors. We are looking forward to expanding the fair to more vendors next year!
---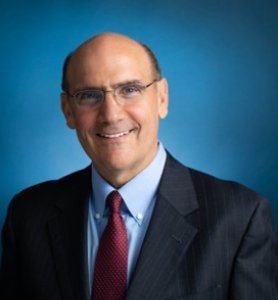 President's Post
Bob Iuliano
Dear Colleagues,
Thirty years ago, at the Olympic Games in Barcelona, Derek Redmond took his mark for the 400-meter dash semi-final. The British sprinter had trained his entire life for this moment. He envisioned what it would feel like to advance one step closer to his goal of winning an Olympic gold medal.
Midway into the race, however, Derek's hamstring gave way. In an instant, his dreams for the Games had changed. As he inched forward, distressed, what happened next was nothing short of inspiring. Derek's father, Jim, stepped from the crowd and onto the track. Upon reaching Derek, he wrapped his arm around his son, consoling him, and the two forged ahead to cross the finish line together.
When I think back on these past two years, I am often reminded of this emotional scene. Like Derek, our students have faced a set of extraordinary and unexpected challenges during their Gettysburg experience. And yet, right by their side—encouraging them every step of the way—has been our dedicated support staff.
I cannot overstate just how much your presence at Servo, in the residence halls, and across campus has meant to our Gettysburg students this year and over the course of the pandemic. Through your daily interactions, you help to reassure them, to uplift them, and to guide them toward their graduation. I find this equally as inspiring.
I am deeply grateful for all that you have done, and continue to do, to ensure our students have a rewarding four years here. As we work to keep pace with the rapid change confronting higher education, I can say with certainty that there is no one I would rather run this race with than you and the other members of this special community.
Thank you for your commitment to our mission and for the great work you do every day to help bring it to fruition. It truly makes all the difference.
Sincerely,
Bob Iuliano
President
Accepting nominations for 22-23 Support Staff Council
The Support Staff Council is committed to improving the quality of working life for support staff employees of the College and building a sense of community among support staff, faculty, administrators, and students.
In cooperation with the Directors of Human Resources, we work through a committee-type structure to address issues affecting support staff in training and development, orientation and outreach, employee relations, and College policy.
Council membership consists of nine rotating members. Yearly elections are held to elect employees from the areas of Dining Services, Facilities Services, Public Safety, and paraprofessional staff. Full-time and permanent part-time employees are eligible for nomination.
Currently, we are accepting nominations for 22-23 Support Staff Council from the following department fields with a required 3-year commitment and mandatory attendance at regular monthly meetings. Email Diane Brennan at dbrennan@gettysburg.edu by Monday, May 30 with a nomination.
Department of Public Safety
Paraprofessional/Clerical
Dining Services
Can't commit to serving on the Support Staff Council but would still like to help? Consider adding your name to one of the committees, such as Brown Bag Lunch programs; Development Grants; writing for the Pillars Newsletter; or helping with the Support Staff Yearly Events!
The Election of members to the Support Staff will happen on Tuesday, June 7, at our Employee Enrichment Day.
---
Wreath Making
by Carrie Small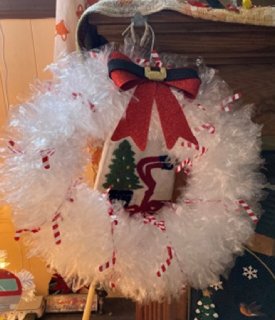 Our November Brown Bag Lunch Activity was Christmas Wreath Making, a perfect choice for this time of year! This wreath making technique was one I've been using for many years since it's inexpensive and fun. All you need are wire hangers and sandwich baggies, plus whatever décor you'd like to add for holidays or sports or even birthday celebrations.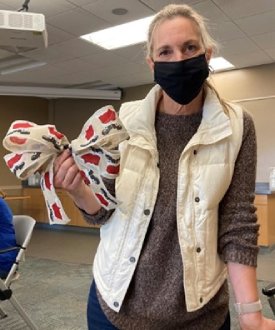 These wreaths make great gifts all year long due to their versatility. If anyone is interested in learning how to make them, please feel free to contact me.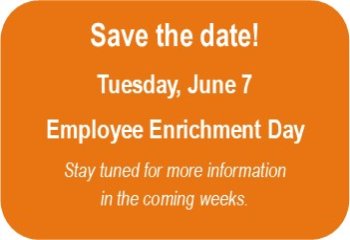 Hot Chocolate Social
by Kelli Murphy
During the recent spring break at the College, the Administrative Advisory Committee sponsored a social event at The Junction. The Hot Chocolate Social proved to be the perfect mid-day break for many with an estimated attendance of 70 employees. .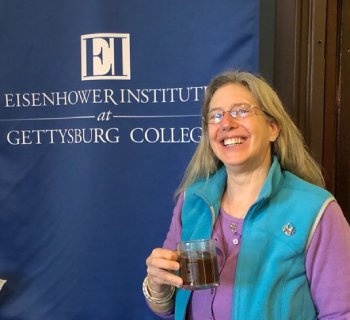 The Support Staff Council helped with the setup and breakdown on the day of the event.
Spring may have been in the air but hot chocolate and tea with cookies, scones and fruit were the right combination for a cool day. Employees from Technology, President's Office, Alumni, Musselman Library, Housekeeping and Food Services plus many others enjoyed great conversation and food. Specialized mugs were created with the assistance of Josh Wagner, Manager of the Innovation and Creative Lab, and handed out to the first 45 attendees. There were a few "sweet" games for prizes too
---
2022 Support Staff Awards and Honorees
Please join us to honor the 2022 retirees and honorees at the President's Award Celebration for Support Staff on May 21. Congratulations to all!
5 Years
Annamarie Fetter, Dining/Food Prep
Kaylynn Kibler, Educational Technology
Vanessa Murren, Catering/Specialty Dining
Robin Oliver, German Department
Logan Shetter, Transportation Services
Ruth Topper, Admissions Office
10 Years
Suzanne Gockowski, Africana Studies
Lisa Heinbaugh, Dining/Food Prep
Zachary Keller, Grounds Services
Edith Pigeon, Library Administration
Renee Vargo, Custodial Services
Renee Weikert, Infrastructure and Computing
15 Years
Lisa Antonich, Custodial Services
Christina Bookhultz, Infrastructure and Computing
Amy Flickinger, Custodial Services
Nick Heller, HVAC Services
Karen Mesher, Dining Services
Sally Miller, Financial Aid Office
Lin Myers, Women, Gender, and Sexuality
Terry Oyler, Dining Services
20 Years
Melissa Bange, Finance & Admin Office
Eric Day, Dining/Food Prep
Charlene Felton, Bullet Hole
Travis Griffie, Department of Public Safety
Pam Lafferty, Admissions Office
John McNally, Bullet Hole
Paul Miller, Infrastructure and Computing
Mike Plank, Grounds Services
25 Years
Lisa McNamee, Library User Services
Lisa Snyder, Dining/Food Prep
30 Years
Donald Brill, Dining Services
Matt Miller, Dining Services Office
35 Years
Rose Taylor, Custodial Services
Cheryl Vogel, Biology Department
40 Years
Ken Legore, Custodial Services
45 Years
Sharon Kuhn, Financial Services Office
Retirees
Charles Andjeski, Dining Services
Ray Aughinbaugh, Custodial Services
Katie Barako, President's Office
Becky Beegle, Admissions Office
Jody Rosensteel, English Department
Mark Rosensteel, Educational Technology
Phil Smith, Dining Services
Marian Taylor-Bower, Dining Services
25 Years of Service
Lisa Snyder blessed the Dining Services work family for the past twenty-five years. Bravo Lisa for accomplishing this impressive milestone. Lisa has a passion for food, a desire to learn, excellent time management, and superior teamwork skills. Lisa's attention to detail and high quality standards makes her a huge asset to Gettysburg College.
Students reap the most from Lisa's hard working attitude and dedication to making delicious, unique, ethnic and safe food. Lisa knows many students by name along with their omelet orders and food preferences. Students look forward to seeing the different holiday themes and seasonal decorations Lisa uses on the sauté service line and the fun outfits she and her co-workers wear while cooking for the students.
All of us in dining enjoy the different culinary competitions Lisa conjures. Lisa organizes dress up days including holiday outfits, tiaras, pajamas, and color coordinates colors of chef jackets including turquoise on Tuesdays, purple on Thursdays, and blue on Fridays. Lisa maintains the vegetable and flower gardens in front and behind the Dining Hall.
Lisa continues her success at Gettysburg College starting with making pizzas, sizzler (char grill), deli, breakfast, daycare, breakfast, supervising Midnight Madness, Specialty, Catering, and taking charge of the sauté line. Lisa accomplished cooking in multiple locations and cooking for a wide range of production sizes and styles of cuisine. All these achievements show how valuable Lisa is, which helps keep Dining Services consistently nationally ranked in best campus food awards. Lisa is a significant part of our team and we could not imagine Dining Services without her. We appreciate you and all you do. Charles E. Stockman, Executive Chef
Lisa McNamee has served as the Library's Reserves Coordinator for 25 years. When she began all course reserves were in paper. She would often need to make 4 or 5 copies of the same reading to accommodate all the students in a class. This amounted to hours and hours of photocopying, stapling, labelling and foldering and displaying in the library catalog, the readings for hundreds of courses per year.
When articles came off reserves they were delivered back to Lisa to discard or use again. The stack could be as tall as she is. And that was just the articles, Lisa also put thousands of books and films on reserve, occupying countless shelves behind the circulation desk.
Fast forward 25 years and reserves look different. Book chapters and articles are largely electronic and linked to a course syllabus. Lisa spends much of her time helping faculty attach articles in their course Moodle site, seeking copyright permissions, and unravelling complicated publisher agreements.
Lisa has also been the longest standing member of the library's exhibits team. Her talent as a photographer and artistic and spatial sense made it impossible for her to ever cycle off the committee. Among other items, she has curated wood carvings from Germany, handmade kites, Jazz Age clothing and jewelry, archival photos from Special Collections, hand painted Apache skateboards, contemporary Japanese and Nicaraguan ceramics, pocket calculators and cassette players, knitted socks and scarves, slide rules, antique surgical instruments, political cartoons, Frankenstein and Elvis memorabilia, mementos of the Majestic theater, nature photography, ceramic dinosaurs (and their eggs), card games and chess sets, British cooking utensils, and art produced by students, the campus community, and their children as well. For Lisa, all these exhibits (and this is a short list!) merited the same degree of careful attention in handling, display, and viewer response, no matter the time and effort involved.
Lisa's colleagues all describe her as supportive, dedicated, and great friend to work with. Over her 25 years, Lisa has helped make Musselman a brighter, livelier place for all. Kerri Odess-Harnish, Director of User Services, Musselman Library
Retirees
Charles Andjeski was a Custodian in Dining Services for just over 15 years. Over that time span, Charles proved to be an asset to our team with his attention to detail and his mechanical skills at repairing our floor machine when it needed some TLC. Charles was dedicated to Gettysburg College and this was evident by rarely missing any work over his career in Dining, which made him the iron man of custodial work. He often spoke of traveling when he retired. The smile on his face when he spoke of traveling was contagious and you could see the excitement on his face. Charles also enjoyed the occasional coffee break….well Charles, retirement is the world's longest coffee break so enjoy your time seeing the world and thank you for all your hard work keeping our building clean for our students day in and day out. Joe Wheeler, Dining Service Supervisor
Ray Aughinbaugh joined our Gettysburg College family as a part-time housekeeper in November 2000 working weekends. He quickly proved to us that he was a very dedicated and loyal employee. Ray never missed a scheduled shift no matter what the weather! Snowstorms, floods, ice – you could count on Ray. All of that while continuing to maintain his regular full-time employment as well as an additional part-time position elsewhere. Ray took great pride in providing for his family.
In 2010, Ray transitioned into a full-time position, becoming a vital member of our team by supporting campus events and conference programming.
Through this, Ray's friendly face and outgoing personality became well known across campus and among our returning conference guests. Ray is a Gettysburg College fixture that has been difficult to replace since his retirement. However, I certainly do wish him the very best and hope that he and his wife Diane will be able to have many long overdue adventures together. Melissa Runk, Manager of Housekeeping
Services
Katie Barako retired from Gettysburg College on February 1, 2021, as the Special Projects Coordinator for the President's Office. Like many employees, Katie had multiple "tours of duty" with the College. Katie's first "tour of duty" was working in a part-time Office Administrator position in the Interdepartmental Studies Department (IDS) from September, 1996 through June, 2002. Katie's second "tour of duty" included working as casual staff in the Provost's Office from September, 2002 through January, 2003. Katie's last "tour of duty" began on January 24, 2011 when she was hired in a full-time temporary position in the President's Office, as a replacement for Pam Eisenhart while Pam was on maternity leave. Upon Pam's return, Katie moved into another full-time temporary position as the administrative assistant to the Sesquicentennial Committee and the movie that the College made entitled "1000 to One". In 2011, Katie was hired into a full-time on-going position and promoted to the Special Projects Coordinator in 2012. Throughout her career, Katie consistently delivered the highest level of service and always with a positive and "can-do" attitude. Katie coordinated and worked on numerous special events and projects including: the 150 Sesquicentennial events; the movie 1,000 to One; the annual Fourth of July events for the Community; Commencements, special Commencements, and December Recognition; Dedication Day Events; the annual Employee's Holiday Party; the CCAC Breakfast Meetings and the President's Annual Holiday Reception for the Gettysburg Community; the President's Inauguration in 2019, and many others. Katie had an impeccable way of making every large-scale event seem so personal to the participants. After every Commencement that Katie coordinated not one, but many, parents and students reached out to personally thank Katie. Katie worked collaboratively with people from all areas of the College and the greater community. She treated everyone with respect and civility. It is extremely hard to adequately capture the impact that Katie's work had on the College in a few short sentences, but perhaps Gettysburg's tag line says it best, she really does great work! Janet Riggs, President Emerita, indicated, "Katie was such a dependable, well-organized, hard-working, and kind colleague. Her skillful coordination of Commencement, Sesquicentennial activities, the community July 4th celebration, and so many other events made a significant contribution to Gettysburg College, and I am so grateful for her service!" Katie, I too, am most grateful for your service and am honored to have had the pleasure of working with you as a Colleague for over 10 years. I am also grateful for your continued friendship! I know you are enjoying your retirement with your husband Tom and the time you are now able to spend traveling and visiting your two sons Michael and Steven, your daughters-in-law, Katie and Jamie, and most of all those three beautiful grandchildren Bristol, Axel, and Riley. Life in the President's Office wasn't always easy as there were many challenges, but the work was rewarding and in large part because of the wonderful people like you! Jane North, retired Executive Vice President
Becky Beegle served as the Campus Visit Coordinator in the admissions office for ten years, and did an extraordinary job! She was the first person that prospective students and their families met when they visited Gettysburg College. Becky's hospitality and customer service were exemplary. She was professional; welcoming; always demonstrated grace under pressure, and was a fantastic troubleshooter at a very busy front desk. Over the years working in that position, she helped develop and enhance business processes for all phases of the daily visit program, and interacted with over 20,000 visitors each year. We are grateful for the valuable contributions Becky made to the admissions office and to Gettysburg College.
Becky led by example, she was an excellent ambassador, and a trusted colleague who is greatly missed. The entire admissions team is so thankful to have worked with and learned from Becky and we wish her the very best in this new chapter of her life. Gail Sweezey, Dean of Admissions
Jody Rosensteel retired from the Department of English in the summer of 2021, and was kind enough to keep working part-time through the transition to a new departmental administrative assistant. Even as she has moved to blissful adventures in Florida, we still bother her with the occasional text message question, and she still generously writes back! We can't quite let go yet, Jody!
And that's because Jody kept a large, complex department running without a hitch, for years, despite everything—despite our large crew of full-time and part-time faculty, our nearly 200 majors and minors, our cranky old building, and of course the pandemic.
Our faculty could be trying. We didn't mean to be, but between one person asking for a poster to be made immediately, another who couldn't figure out how to scan a document, and a third who was enraged at the lack of a personal P-card, Jody had her hands full. Also, being the English department, we were sort of picky about language. One day we had a late afternoon meeting to write a job ad, and spent 45 minutes arguing over a piece of punctuation. Mark was waiting outside the building to pick up Jody at 5, and we argued about a backslash until 5:45. I'm pretty sure he didn't forgive us. Jody came back to the office cheerful as ever, though she had a good laugh at us, which we deserved.
Jody greeted everyone in the office with a bright smile and brisk efficiency, directing lost students to offices and classrooms, answering questions from all visitors. Our students didn't mean to be trying either, and yet there are so many of them, with so many questions and concerns. I don't know how Jody maintained her focus in the busy office, but she did, making careful notes in a notebook, making progress on innumerable projects. She made sure we all had comfortable furniture in our offices (including a round pink table she found in Knouse for the chair's office, which I love), that the workroom and kitchen were well supplied, that the hallways were lined with fresh, informative displays. She made sure that the English department office was a welcoming, high-functioning hub.
Of course, our building, Breidenbaugh Hall, didn't mean to be trying either—but there were always windows that wouldn't open, or close, and heating or AC that was all wrong, or an infestation of flies on the fourth floor.
Thank goodness Jody was there when I became chair in 2017. She helped me anticipate and manage a million things, and even though I knew work wasn't a life-or-death problem, I still sometimes woke up at 3 am worried about it.
Jody didn't wake up at 3 am because of work. She once told me she didn't get anxious. I asked her about this, curious because we always had so many tasks to work on together, and deadlines to make. She shrugged, pragmatic as ever, and shook her head. "Nope," she said with a laugh. No matter how daunting the task, she would calendar it and get to work. Together, we created the schedule every year, of over 90 courses, a big puzzle to assemble. We would sit at the round pink table in my office and lay it all out. She had an unerring eye for schedule troubles, and somehow managed to honor everyone's wishes for what they wanted to teach when, while creating a schedule that made sense. If someone wanted to add a new section, or switch a course time, I would refer them immediately to Jody—only she could say with authority whether Monday-Wednesday at noon was a viable time, or not.
Speaking of not, Jody had zero trouble telling someone if what they wanted was impossible. She would deliver a 'No' with a smile, and a shake of her head, and that was that. She made sure we all chose schedules that followed the registrar's rules. She made sure that every student who needed to take first-year writing and put it off was well aware that they still needed to take it.
Our challenges increased as the years passed, from hiring last-minute adjuncts in August, to replacing a faculty member mid-semester. She kept an even keel through multiple searches, external review, pre-tenure, tenure and promotion processes—and a pandemic. When things got tough, we'd laugh together and then figure it out. Jody was the face of the English department, and a good friend to us all, too. Whatever we arrived to work with—tasks, troubles, the need to share a funny or sad story—Jody was there for us.
So many people counted on Jody Rosensteel every day. She was indispensable, and unflappable, and we miss her very much. We'll try not to text any more than is strictly necessary. We hope she is enjoying lots of gardening and sunshine, and travel, and time with family. We wish her abundant happiness and relaxation in retirement! Kathryn Rhett, for the English Department
Mark Rosensteel was one of those rare people known by everyone at the College. In his role working with AV tech around campus he did everything from setting up equipment for the President to helping train a random new staff member how to turn on a projector in a room, and he did it all with a smile and a way of making everyone feel special.
Mark's long time in the Marines made him able to take the most trying times in stride- a stressed out professor in a non-working classroom, a high profile event that needed detailed TLC or an emergency install of almost a hundred cameras and microphones in rooms across campus on an incredibly tight COVID deadline all would be handled with a smile and quiet competence. (Not to mention the stress of sorting out playlists on his side gig as a DJ on and off campus) His favorite phrase when given yet another tough task and not enough time was "We'll get it done"- and it always was. His background in logistics was critical as well for working in Educational Technology to track the huge amount of equipment around campus- and you could always tell which side of the workroom and storage areas were his. In a field where technology changed daily he was always a fount of knowledge about everything sound related, and he always had a new speaker he had to try out. With all that said, he did have a more mischievous side- when co-workers who knew him well were asked if they had an amusing story to tell about him for this recognition the general response was, "not one I can tell in public."
After 15 years at the college and a lifetime around Gettysburg, Mark and Jodi have moved on to the land of sun and fun in Florida, so if you see a big guy with a smile on his face, a fishing pole in hand and a Chihuahua in his lap when you're down there, be sure to say hi!
Phil Smith. From owning the Victory Restaurant in Hanover with his brother to working at Gettysburg College, Phil has spent many years working in food service. Phil worked at Gettysburg College for a collective 17 years, starting at the Bullet Hole and moving on to Servo, before retiring in 2021. You could usually find Phil on our main entrée line in Servo dishing up eggs, chicken nuggets and other items. Co-workers said he could dish up all 6 chicken nuggets in one scoop. Phil was not only a reliable employee, but very welcoming to new staff and especially to students. He would offer guidance with a smile.
One thing Phil is remembered for the most is being a huge sports enthusiast. His knowledge for sports is immense. Phil bonded with students about sports more than anyone. One student even surprised him with a gift to an Orioles game one year. The students weren't the only ones Phil talked to about sports. He often went to Orioles games with some of his co-workers.
Phil also has a unique sense of humor. Sometimes it was really difficult to tell if he was being serious or not. If a student asked for mashed potatoes, but it was mac and cheese he would always put a silly twist on the situation to help them realize what they were actually getting.
He was always quick to talk about a good book or movie and he could tell you all about them with great detail. With all this free time in retirement, Phil will have lots to fill us in on.
Phil, from all of us in Dining Services - we wish you a happy and a rewarding retirement. Lindsay Stevens, Dining Coordinator
Marian "Ginger" Taylor Bower started with Dining Services in 2009 as a cashier and retired as a server in 2021.
Colleagues were sad to hear when they found out that Ginger was retiring after almost 12 years of service to the college. It was always a great pleasure to work with Ginger. She was not only a great worker but also very fun to work with. Her participation in Servo events was always noticeable. Transforming from Cruella to a Mime during those special events was Ginger's specialty.
Reading is one of her passions and she shared her books with her coworkers. She would not only read or share them; she would like to discuss her readings with her co-workers. Ginger has been an inspiration and a role model through her hard work, exemplary work ethic, and generosity.
Ginger is a loving grandmother of four grandkids. She would always share her grandkids pictures and loved to share stories about them.
On behalf of your friends in Servo, we wish Ginger all the best in retirement. We hope she has a long and peaceful retirement, spends some time with loved ones and does everything she wants to do with her time off.
All the best, Ginger, and thank you for 12 years of continuous hard work. Sladana Zigic, Dining Coordinator
---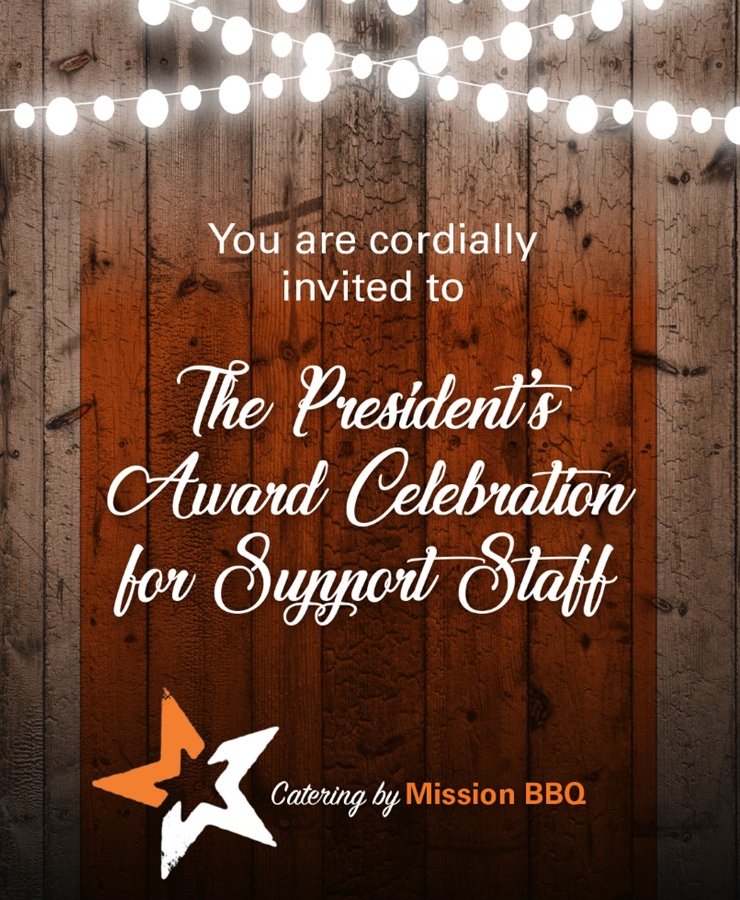 Saturday, May 21
Join us for a Backyard BBQ
Bullet Hole and Patio
Social and games at 5:00 p.m.
Dinner and brief remarks at 6:00 p.m.
Music and dancing until 10:00 p.m.
RSVP by Friday, May 6
Direct questions to
supportstaff@gettysburg.edu
---
New Support Staff Hires
since January 2021
John Livelsberger
Nicholas Raggi
Peter Griffioen
Cheryl Gorski
Courtney Stull
Adam Gertenbach
Austin McDannell
Patrick Aceves
Caleb Jones Food
Amy Brokus Admissions
Kimberly Landauer
Ann Wofford
Kari King
Anthony Mastromarchi
Zachary Rudisill
Clyde Nader
Bonnie Lelito
Samantha McKinsey
Collin Hollenbaugh
Amna Zigic Library
HVAC Services
Catering/Specialty Dining
Department of Public Safety
Dining Services Office
Athletics Office
Dining/Food Prep
Dining Services
Custodial Services
Food Production Worker
Admissions Office
Center for Career Engagement
Eisenhower Institute
Office of the Registrar
Facilities Services Office
Dining Services
Dining/Food Prep
Custodial Services
Catering/Specialty Dining
Retail Dining
Library User Services
Staff Transfers
since January 2021
Niamate Leeper, Human Resources to Management Department Michelle Jones, Admissions to Human Resources
Christina Gormley, Financial Aid to Enroll & Ed Services Office
Vanessa Sanjuan-Miranda, to Library User Services
Diane Brennan, Public Policy to Provost Office
Amy Flickinger, Dining Student to Custodial Services
Kathy Ambrose, Education Department to English Department
Angela Auchey, Ricoh to Facilities Services Office
Jesse Mains, Diversity and Inclusion to College Advancement
Compiled by Michelle Jones
Brown Bag Lunch
Mark your calendar for the next Brown Bag Lunch.
The Adams County Office of Aging's Community Services
Director, Linda Thompson, will talk about their
services on May 24, 12:00 – 1:00 p.m., CUB 260.
Pillars Staff: Marie D'Souza & Annamarie Frezza
Please send your suggestions for the next issue of
Pillars to supportstaff@gettysburg.edu