The Cupola is Gettysburg College's open access institutional repository and the foundation of our commitment to open access and open publishing. We collect and share scholarly and creative works produced by faculty, students, and other members of the Gettysburg College community.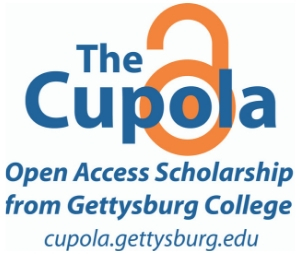 Faculty work. Works by faculty include articles, book chapters, books, working papers, conference presentations, blog posts, and more. Works may be unpublished or previously published (we check copyright permissions before uploading previously published works). See our Policies and Information for Faculty Authors page in The Cupola for more information.
Student work. Student contributions include papers, posters, creative works, artwork, photographs, scores, sound recordings, and screencasts. Excellent student works may be nominated by faculty or self-nominated. No student work will be included without the approval of the supervising faculty member or an appropriate proxy. See our Policies and Information for Faculty Authors page in The Cupola for more information.
Journal publishing. Seven journals are published in The Cupola, including six undergraduate journals.
Share your work. The URL of your article will never change! Share it with anyone via your website, c.v., email, or in any way you like. Work published openly in The Cupola gets more citations than closed works and benefits from bepress' superb Google indexing. Download statistics are emailed to you monthly.
Grant criteria. Publishing in The Cupola meets the data-sharing requirement of some grant-funded research (see research funder requirements from MIT).
The Cupola is an open access repository, meaning its content is freely accessible to the world and searchable via Google Scholar and other search engines. Readers from around the world have visited The Cupola, and works in The Cupola have recieved over 1 million downloads in total.