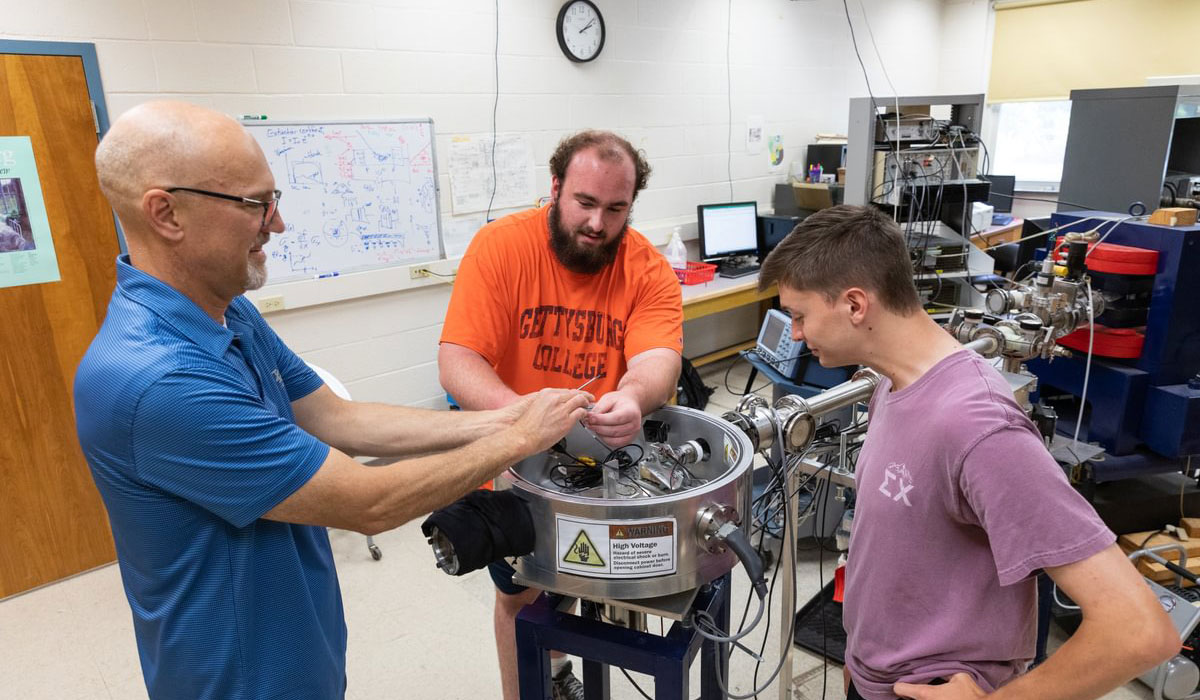 It's not surprising to hear from students at Gettysburg College that they choose to stay on campus over the summer break. One of the many opportunities available to students allows them to spend weeks designing experiments, using state-of-the-art equipment in the College's laboratories, and venturing out into the field to conduct their own undergraduate research. This distinctive offering is the Cross-Disciplinary Science Institute at Gettysburg College, affectionately known across campus as X-SIG.
For the past 10 years, X-SIG has invited Gettysburg students to participate in its summer research program. In fact, just this past summer alone, 70 total students and 25 faculty mentors participated in X-SIG and its varying opportunities—a testament to the program's expansive reach and impact.
X-SIG was proposed in 2011 and then founded in 2012 with funding from a Howard Hughes Medical Institute Education Grant. The ultimate goal of X-SIG is to provide the infrastructure for students to be "Research Ready, Research Active, and Research Connected." Over the last decade, X-SIG has been preparing students to address the challenges confronting 21st-century science and medicine. To advance these ambitions, students in the program are immersed in problem-based coursework, interdisciplinary training in the integration of disciplines, and collaborative research.
The X-SIG-sponsored summer research program has now reached an estimated 500 students through nine years of on-campus summer research experiences and one remote experience in the summer of 2020 due to the pandemic. Both faculty and student participants have worked across eight departments, including mathematics, computer science, health sciences, environmental studies, physics, chemistry, psychology, and biology—exemplifying the true cross-disciplinary nature of Gettysburg's educational approach.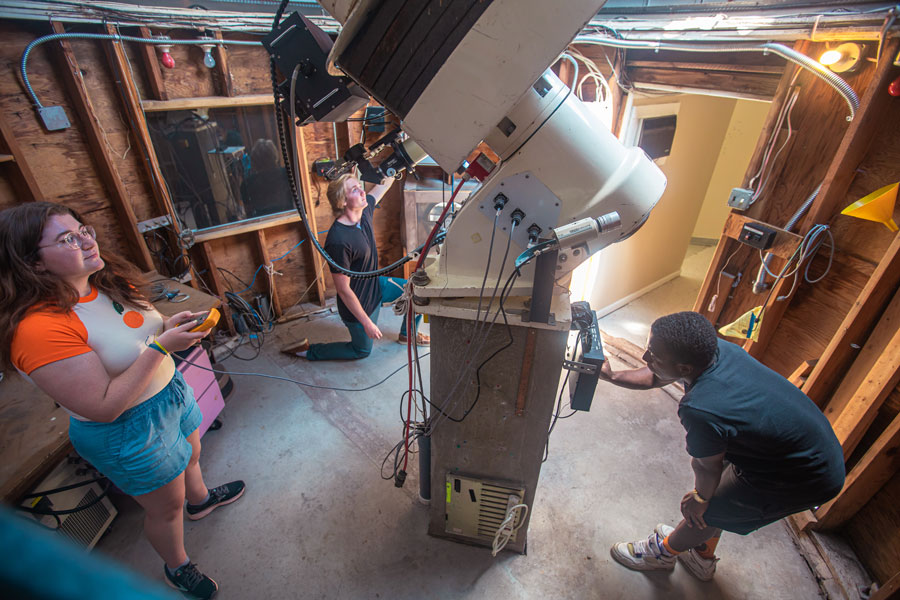 The summer research program is one of X-SIG's largest priorities. It provides students with faculty-mentored research as rising sophomores, juniors, and seniors. These projects allow for Gettysburg students and professors to create their own sense of belonging within the Gettysburg College scientific research community. All students share their work with their faculty and peers by presenting their research in a poster session during Family Weekend. Student-faculty projects have ranged from evaluating decisions of frog-eating bats to looking at the optometry and time series analysis of stars to developing sustainable catalysts to oxidize organic molecules.
X-SIG Board Member and Environmental Studies Prof. Andrew Wilson believes students who partake in X-SIG have tremendous opportunities to experience the sciences in a challenging yet supportive career-readying environment. He explained that students get "to experience science as a 40-hour per week job, rather than the more piecemeal experience they get from lab instruction. It's totally immersive."
As a part of the summer research program, in addition to completing scientific research, students have weekly brown bag lunches with their faculty members to discuss their projects and establish personal relationships.
Cristin MacIntosh '24, a major in biochemistry and molecular biology and a minor in neuroscience, explained that these lunches allowed her to learn how to communicate research concepts more effectively. "During X-SIG, there were weekly lunches where we would be assigned a table that had a mix of people from different labs, and we spent those lunches talking about our research. It made me feel much more comfortable discussing my research and helped me to develop vital communication skills," she reflected.
The summer research program develops valuable student-faculty partnerships, as well as partnerships between students, with the brown bag lunches serving as just one of many factors in this process.
"I feel more involved in the department and I always look forward to chatting with some of the professors I connected with this summer," said Rose Ankeriasniemi '24, a biology major. Ankeriasniemi mentioned that some of the highlights of her summer working with Prof. Angel Solis included fun activities like the "daily Wordle challenge with the lab" and "Prof. Solis taking us to Ragged Edge and Half Pint Creamery."
Wilson commented on this as well, saying that X-SIG "really supports the teacher-student model that our College is known for."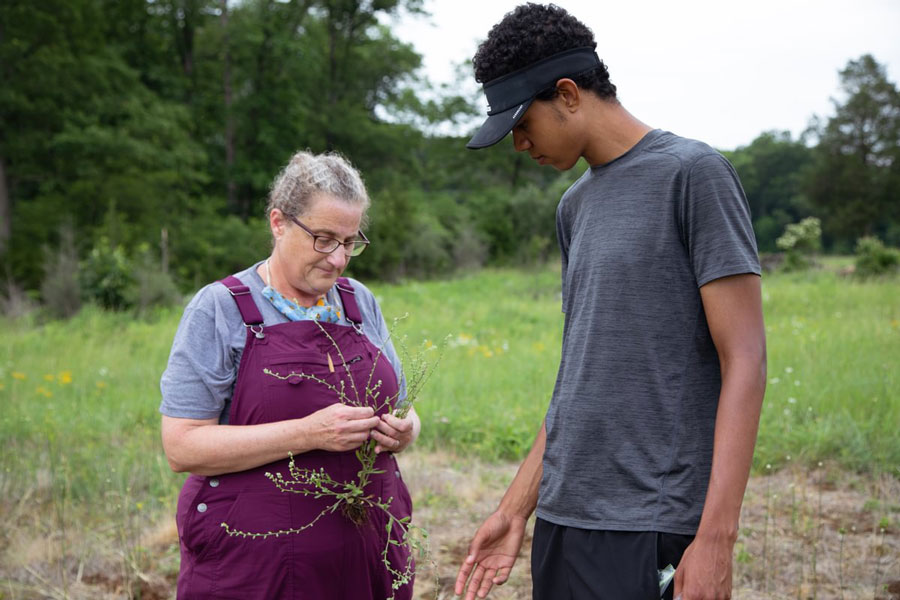 Prof. Sarah Principato, Thompson Endowed Chair and Professor of Environmental Studies, noted, "My favorite part of the program is working closely with environmental studies students. Their natural excitement and curiosity as they embark on a new research project for the very first time is an extremely rewarding part of X-SIG for me as a faculty member."
Principato worked with seniors Danielle Kleinberg '23 and Tessa McDonald '23 in the summer of 2022 as a part of the students' environmental studies honors thesis projects. Their research looked at two different projects—one on glacial geology and one about water quality. These projects involved steps such as evaluating glacial landforms, using the Schmidt Hammer—typically used to measure the hardness and penetration resistance of a section of concrete—and evaluating the impact of riparian buffers and urban runoff. Principato specifically loved the chance to collaborate with students through fieldwork in Pennsylvania, Maryland, and even Iceland.
"I have participated in X-SIG summer research programs for many years. My students and I have worked on local projects and also abroad in Iceland and the Faroe Islands. This funding for student research is thanks to the generosity of the X-SIG program and other grants," Principato mentioned.
Through X-SIG, one of the opportunities not related to the summer research program is the chance for Gettysburg students to attend several evening panels and round table discussions throughout the year. The X-SIG seminar and lecture series has allowed students and faculty of the College to hear many fascinating and renowned science speakers throughout the past decade. Just a few notable names include Paul Turner, a Rachel Carson Professor of Ecology and Evolutionary Biology at Yale University; Laurie Goodyear, a Professor of Medicine at Harvard Medical School; and Isla Casteñda, an Associate Professor in the Department of Geological Sciences at UMass Amherst.
X-SIG students also have had the chance to travel to scientific conferences and present their research at professional gatherings. Much of this support has come from internal endowed funds, several established through the Chemistry, Biology, and Physics Departments, as well as other College-wide funds, such as Dickson and Kolbe, and donations from Gettysburg alumni. Most recently, Gail Seygal '67 provided a donation that now supports travel to academic conferences and summer research positions.
In addition, students have traveled to conferences that promote inclusion in the sciences, through the Society for Advancement of Chicanos/Hispanics and Native Americans in Science conference and the Society of Black Physicists conference.
Ultimately, X-SIG works to prepare students for life after Gettysburg by teaching them valuable lessons—no matter the career they pursue. "One of the key takeaways this summer taught me was not to take failure too seriously," said Ankeriasniemi. "Failure happens outside of the lab too, and turning obstacles into opportunities is a skill that needs practice and the support of others."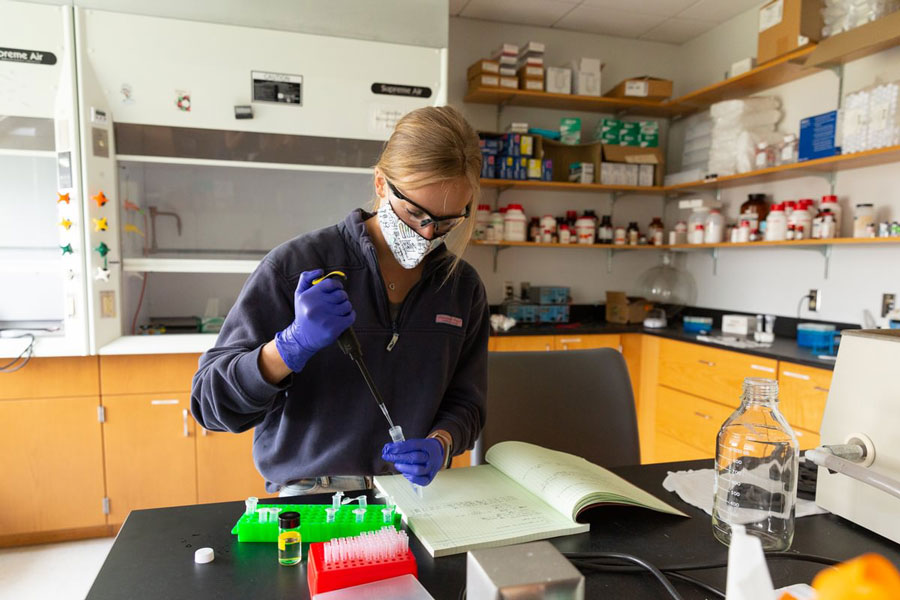 Moving forward, X-SIG Coordinator and G. Bowers and Louise Hook Mansdorfer Professor of Chemistry Shelli Frey hopes faculty can build X-SIG to have a wider reach to students across the sciences, with expanded initiatives such as more sponsored academic year programming and a proposed partnership with the Eisenhower Institute at the interface of science research and public policy.
Frey expanded on the heart of X-SIG, saying that "while X-SIG is best known for its immersive summer research program, we support a wide array of initiatives in and out of the classroom to help teach our students to be scientists—to ask good questions from multiple viewpoints, to learn how to design experiments, to use a wide range of techniques to collect data, to analyze and model the data, and to use these results to address proposed hypotheses before continuing the research cycle—all in a supportive and holistic research community."
Prof. Tim Funk, chair of the Chemistry Department, added, "The more experience our students have with the scientific process, the more prepared they will be to tackle the scientific problems facing our world."
The work completed by the students and faculty of X-SIG over these past 10 years has been transformational. The X-SIG summer research program accepts new students and faculty each year who are interested in conducting innovative, hands-on research. Learn more about the X-SIG at Gettysburg College.
By Cameron Jury '23
Posted: 10/06/22
More stories