In Episode 21, President Bob Iuliano is joined by Women's Lacrosse Coach Carol Cantele '83, who was recently selected into the Intercollegiate Women's Lacrosse Coaches Association Hall of Fame. They discuss the progress made in women's athletics from the '80s to today, what inspired Cantele to return to the Gettysburg field as a coach, her keys to coaching a nationally-acclaimed team, the legacy she hopes to leave behind, and more.
Show notes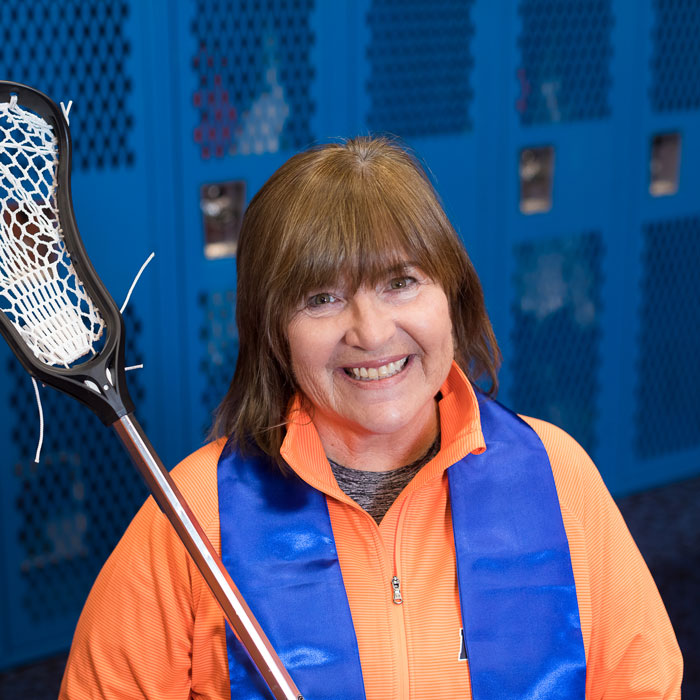 In Episode 21, President Bob Iuliano is joined by Women's Lacrosse Coach Carol Canetele '83, who was recently selected into the Intercollegiate Women's Lacrosse Coaches Association Hall of Fame. They discuss the progress made in women's athletics from the '80s to today, what inspired Cantele to return to the Gettysburg field as a coach, her keys to coaching a nationally-acclaimed team, the legacy she hopes to leave behind, and more.
The conversation begins with a discussion around Title IX and the powerful transformation it has brought about for women and women's athletics since it was passed in 1972. A dual-sport athlete during her time at Gettysburg College, Cantele speaks from personal experience about how womens' athletics in the '70s differs from today, not only in terms of a more equal playing field but also more broadly in the specialization of sports and the positives and negatives of a one-sport mindset.
The conversation continues as Cantele shares her journey from a student-athlete to coaching, and the inspiration and support of her former coach, Lois Bowers, was at the heart of it. Cantele says Bowers, in combination with her fond Gettysburg memories, made returning to Gettysburg to coach a no-brainer, and an opportunity for which she remains honored to fill. Reflecting on her last 29 years coaching at the College, Cantele then shares insight into her approach to coaching, which includes: rallying her team to be just as excited about practice as they are about games; instilling a winning mindset in her athletes both on and off the field; and creating an environment in which the athletes trust her and each other.
Later on in the conversation, Cantele talks about the challenges that COVID-19 has presented for her team and how they have navigated them. She emphasizes that they, like the rest of the world, are still navigating these challenges, but they have relied on authenticity and living in the moment. While Cantele hasn't spent much time thinking about what her legacy might look like many years from now when she chooses to hang up her whistle, she says that she hopes her athletes look back, much like she did on her interactions with her College coach, and say, "Coach saw something in me that I didn't see in myself."
The episode concludes with an anecdotal "Slice of Life" told from the president's perspective. Iuliano reflects on a conversation that the Eisenhower Institute (EI) facilitated between host Susan Eisenhower and two nationally-recognized experts on American politics, Charlie Cook and Stuart Rothenberg. They helped attendees understand the forces that led us to the extreme polarization we face today—a critical conversation that will continue among the College and broader community in weeks to come as the event is built into an EI series.
Guests featured in this episode
Carol Cantele '83 is Head Women's Lacrosse Coach, Assistant Director of Athletics, Senior Woman Administrator, and oversees the Student-Athlete Advisory Committee. During her nearly three-decades with Gettysburg's athletics program, she's earned a long list of accolades which includes: leading the program in all-time wins, ranking third in NCAA history for career wins, rising to claim three NCAA Division III Championships—including back-to-back victories in 2017 and 2018—and 12 Centennial Conference titles, being named Coach of the Year more than a dozen times, and most recently, being selected into the Intercollegiate Women's Lacrosse Coaches Association Hall of Fame.
Episode transcript
Coach Carol Cantele '83: I would like some of our players that I've coached to look back and say, "Coach saw something in me that I didn't see in myself."
President Bob Iuliano: Hi, and welcome to Conversations Beneath the Cupola, a Gettysburg college podcast, I'm Bob Iuliano, president of the college and your host. Gettysburg college is composed of many passionate people who today and throughout history have used their talents and passions to pursue meaningful work and in doing so they've left their Mark on the world and inspired others to do the same. In honor of international women's day and women's history month, I'm joined by one extraordinary Gettysburgian who has been positively influencing the lives of countless women, student athletes for the past 29 years, coach Carol Cantele. Carol is a 1983 graduate of the college, who in addition to being head women's lacrosse coach is also the assistant director of athletics, senior women's administrator and coordinator of the student athlete advisory committee.
President Bob Iuliano: During her nearly three decades with Gettysburg athletics program, she's earned a long list of accolades, including leading the program in all-time wins, ranking third in NCAA history for career wins, claiming three NCAA division three championships, including back-to-back championships in 2017 and 2018, as well as 12 Centennial conference titles, being named coach of the year more than a dozen times and most recently being selected into the intercollegiate women's lacrosse coaches association hall of fame. Carol, thank you for joining me today and most importantly, for all you've done and continue to do for the college. Your contributions cannot be measured alone by your remarkable success on the field, but also by, and maybe even more so by the many lives you have touched. On the occasion of your selection to the hall of fame, I extend the entire campus' congratulation and look forward to hearing more about your view of the role of athletics for a well-rounded student.
President Bob Iuliano: Carol, as you know, March is women's history month and not surprisingly that just got me thinking about Title IX and about the powerful transformation Title IX has brought about for women and athletic competition for women. Now, it was passed in 1972, if I've done my math right, you came to Gettysburg college in the fall of 1979, so not all that long after Title IX began. Help us think about your experience as a student athlete at Gettysburg college in the late 1970s and how that may be different today for our women's student athletes.
Coach Carol Cantele '83: Well, sure, Bob and I can parallel it to the crafting of a really good novel, that takes a lot of work and a lot of time and a lot of revisions, right. While Title IX was enacted in 1972, I really think it was a very long, long process of editing and rewriting until you really saw the impact of it. I can speak to that, especially as coming into a school in remote Gettysburg, Pennsylvania, and finding that while Title IX was on the docket, it didn't quite see it play out the way one would think, you just can't start it right away. To compare the changes in terms of access to facilities, for example, as a student here in the 70s, women weren't in [inaudible 00:03:49] gym and we did most of our things in Plank. And we didn't have access to the same facilities, to the same modes of transportation, to the same supply of equipment and new uniforms and things like that that now we are so much afforded with.
Coach Carol Cantele '83: We have equal access to the facilities, to the medical help, to strengthen conditioning facilities, to practice and game times it is so much more of a level playing field than it was in 1979 in rural Gettysburg. To be quite Frank with you, when I was playing competitive interscholastic athletics in high school, we actually had more progressive things happening in our high school then when I arrived at Gettysburg and a lot of us women in the early 80s, mid 70s, we'll speak to that from time to time. It's not to discount the level of the experience we had, we had a fantastic experience led by credible caring professional coaches that were as good as they get. We really look back with nothing but fond lasting memories, but we certainly were not on a level playing field until now, which is great to see.
President Bob Iuliano: You talk about it being like a novel with chapters written, and it's clear to me that your pen is all over those chapters though, in the history of Gettysburg. In part, because as I understand it, when you were a student athlete, your field hockey team won a national championship, the lacrosse team for the first time was in the national playoffs so it was a sign of what could be possible and no doubt opened the door for yet other realizations in ways in which we, as a college could be better. In the same vein of about the way things have changed, I've certainly seen, generally, the degree of preparation that student athletes have to have on the athletic side has changed dramatically in the last 15 years, just the training that takes place before they get to college and the like.
President Bob Iuliano: Can you reflect a little bit on that and whether you regard that really, I think if I have this right, Carol, a dramatic change in the amount of training, the amount of competition that high school students have had before they come to you, is that a good thing, a bad thing, a mixed blessing. How do you think about that?
Coach Carol Cantele '83: That's a great question and I often do think about that. Coming into Gettysburg, it was a given, especially if you were a female, that you were likely going to play two sports, the coaches recruited you as such. A lot of that was in large part, because there wasn't as much commitment asked in the off season, so it was just natural that you would take your athleticism and apply it to another sport. Many times it was the same coach, like certain coaches, we had your volleyball and basketball coach sometimes was the same individual. In my case, Lois Bowers was our field hockey and lacrosse coach so you almost didn't have a chance. She said, "Hey, you're going to play this sport as well." And we lovingly did. I think what some kids are missing is that opportunity to play another sport, the opportunity to be coached maybe by a different person, with a different style, and then hence learning about their philosophy and how to adapt and adjust to different team dynamics with different players.
Coach Carol Cantele '83: I'm long sometimes for those days of where you can take pause and hone your skills in another location, this specialization while good, in some sense, I feel detracts from the experience of testing your skills in another arena. We've become very, very specialized and we are training all year long because that is what the model is looking like in high school. Kids are joining clubs that correspond with their main sport, and they're almost dropping out of that secondary sport they used to play in high school so they can be more proficient in their primary sport. It's great because they come in better than ever, but I feel they're also maybe missing out on utilizing their talents in other ways.
President Bob Iuliano: Makes sense. You graduated from the college when I graduated from college, in fact, in 1983, did you go immediately into coaching?
Coach Carol Cantele '83: I was a teacher, I was a physical education teacher. At the time, here's now a real difference, when we were going to school I didn't know that you could make a profession out of coaching, it was always a supplement to being an educator. I still see coaching as an educator, I am an educator, but we were health and physical education, we had a major at Gettysburg and so many of us in pursuing our education major, we also played sports alongside of that. When I graduated, I was ready and set intent on becoming what I wanted to be, was a health, physical education teacher and a coach. That was the route I went on and I was blessed to find some long-term positions in the Philadelphia area where I'm from. At the time, the market was pretty saturated.
Coach Carol Cantele '83: I tell this story a lot that when I went looking for a job in the Philadelphia area, because I was returning home, many of the educators in the job market at that time were from Westchester state college, and so a teacher's college, a really good program. I went on an interview and the principal at that school said, "Wow, you're a health and phys-ed major, and you are not from Westchester. What should I know about you?" I truly believe that my Gettysburg diploma really stood out because it was different and it also, I believe in my interview, it demonstrated that I had a more diverse background of education and curriculum and the biggest thing, I had more experience teaching. When we arrived at Gettysburg has health and phys-ed teachers, we were out in the field practicing the craft as sophomores, where at the larger institutions, there were no placements for those folks until they were seniors.
Coach Carol Cantele '83: We were able to see, "Hey, can I lead a group of people?" We were getting that expertise or honing that skill as young as our sophomore year and so I look back fondly on an [inaudible 00:10:52] so appreciatively on Gettysburg giving us that early step on the pedagogy of teaching.
President Bob Iuliano: In so many respects, and we wont have time to explore them today, Carol, that story though continues to be told every day at Gettysburg college, even today. That is the different ways in which we prepare our students and give them a foothold into the world that may not be apparent to them at the moment that they enter this campus, but by the time they're talking with a prospective employer, they bring something that most other students can't bring. It is something I have seen in my couple of years here and it's something as we begin our strategic plan, we're really doubling down on because I think it's a real strength that this place. You got into coaching, same question in a sense that I asked you a moment ago, about the experience of being an athlete than in today, what challenges did you face as being a coach. Where there are a lot of other women coaches and how has that path different today for people who want to pursue it?
Coach Carol Cantele '83: When I first entered into the field, I really didn't know, like I said, that you can make a career from just being a coach. Once I identified that and I learned that I could go on and get my master's degree, mentor under a coach, really learn not just the X's and O's, but the importance of how to build culture and how to recruit and how to market and how to fund raise, a whole new door opened up for me. Yes, at the base is always education and you're teaching students not only about the X's and O's and how to increase their skill and their strengths, but you're also teaching about life and about how to get along with other people and how to resolve conflict and whatnot and I just fell in love with the opportunity that like no day is ever the same and that was... Someone who likes a lot of change and it just fit my personality so much.
Coach Carol Cantele '83: What I also learned is it's an extraordinarily welcoming community and people are willing to share more and more than one might think. While on Saturday you might be competing against that person, we all know that we're all trying to get better and I love the collegiality that exists in the coaching world. I discovered that and it was an interesting lesson to learn because I always thought, "Well, they're your foe, aren't they? You're supposed to prepare to beat them." When I was privileged to watch and learn under some inspiring coaches, as an assistant, I saw that it's not anything like that at all. It's a collaborative effort so that everyone is putting out the best product possible and you have joy in the competition, knowing that you're still a big community from the onset.
Coach Carol Cantele '83: I guess that's the biggest takeaway, that it is a very small world and you want to build as many colleagues and frenemies as much as you can. And then on Saturday, the best man wins that day or the best woman wins that day, but when you're finished, you realize that they're all making us better at what we do.
President Bob Iuliano: This is about the students, right? It's about growing people into adults who are going to make a difference in the world and so we're all in that same line of business and we all want to be the best we can at that because we realized we're going to improve society when we do it well. You've done something that others seem to do here quite often and that is you came back to your Alma Mater. That is not an unusual story I've come to learn. Why'd you come back?
Coach Carol Cantele '83: It's interesting. You did allude to so many of us come back and what makes you come back to your Alma Mater. I was much younger, maybe 31 year old and when Mrs. Bowers gave me a call, who I kept in touch with, the legendary Mrs. B, she had communicated that she was thinking about hanging up her whistle and that I should be putting my hat in the ring. She was wonderful and that's the power of networking, she and I kept in touch. I used to call her quite a bit for advice and counsel, and we continued to keep in touch and when she gave me a call, I look back at that stage of my life, my Gettysburg experience to date was my most treasured experiences at that time in my life and the most meaningful experiences to date so it was a no brainer that I was going to want to come back and return and fill those very big shoes.
Coach Carol Cantele '83: What a tremendous honor, and what a wonderful tribute to know that this woman entrusted her program to me, would give over the keys, if you will, which ironically, I have her exact key chain. She walks with me every single day, and I could not think of a greater place to continue to grow because I would be returning to some of my former instructors, were still going to be there. People like Lefty Biser, [inaudible 00:16:21] Barry Streeter or Joan Swisher. When I was a student at Gettysburg, I also had a work study job where I worked for Barry Streeter in the football office. I worked for Joan Swisher in the administrative office where I saw how people recruited back then and I was learning that by way of my job. I was coming back home and knowing that I was going to be completely supported by some of the most incredible, most treasured people that I know.
President Bob Iuliano: And here you are, 29 years later still doing it and doing it your way and that gets to my next question. What are the hallmarks of a Carol Cantele coach team?
Coach Carol Cantele '83: Well, I think I hope people would say that the hallmarks are that you see people playing with joy. You see people taking risks, being okay with failing as long as we're failing forward, because that's where your best growth comes. Seeing people who are open to learning and achieving and just consistency in their efforts and in their execution. The biggest is that you see players are excited about practice in the way they are excited about game day, that they have joy about what they're doing.
President Bob Iuliano: All of that is something that any leader would want to instill in any organization or any team, I should be doing that I hope every day for the colleagues, with whom I work so how do you do that? What are the tools that you use to make sure that that Thursday morning, 6:30 AM practice doesn't feel like a slog, instead of feeling something that they find, as you said, joy, or even a different form of challenging. How do you create that environment, Carol?
Coach Carol Cantele '83: Well, I certainly don't claim to know if I really have an answer to that other than I have found that when players feel that they have ownership and they have actual control in how things will go and that they have the power to bring what attitude they want to practice, it's more than likely that it's going to happen more often. A coach doesn't have this magic dust that she sprinkles on when they walk through the gates, the players have to make that transformation on their own. I'd like to think that we've helped give them tools to focus on having the right mindset for every encounter that they may have. How to have the right mindset when maybe you know you're going to have a difficult conversation with someone, how to have the right mindset when maybe you're uncertain if you really can do something, but you're going to fake it till you make it so I'd like to think we help give them the tools to practice.
Coach Carol Cantele '83: Lastly, I would say that you want to make sure you have an environment where everybody really trusts one another and knows that it's a safe space, because when you have that environment, people don't fear going there, or they don't go with another facade and put on another image than who they truly are. Our goal is to get everyone, including the coaches, to be really authentic to who they are and I think you show up a real different person than having to be something that you're faking through, if that makes sense.
President Bob Iuliano: Makes an enormous amount of sense. There are those that wonder, I'm not among them, but wonder about the value of intercollegiate athletics at an academic institution that really stresses academic excellence. This may be a bit of a softball, maybe I shouldn't throw a softball to a lacrosse coach, but why do we regard athletics as an essential part of a student athletes experience at a college like this?
Coach Carol Cantele '83: Well, I certainly, I'm glad you brought this question up and you must know I just had a meeting with a prospective student and I say this to almost every family that I meet and I say it with no apology. I say, "This is going to be the best class you have in your four years. That being playing lacrosse, because it's a class about your personal development and growth." While that happens with every faculty member, probably has as one of their cores that they're trying to develop the student, it plays out, doesn't it, so incredibly visible in athletics that these students, when they take lacrosse as a class, they're going to learn about acceptance, they're going to learn about conflict resolution. They're going to learn about setting goals and re-establishing goals. They're going to learn about disappointment, and they're going to learn about people's uniqueness and the value that all different types of people bring to a team and that without that uniqueness, you're not who you could be, potentially.
Coach Carol Cantele '83: I just feel that lacrosse plays a role in their education because it's about discovering things. They're discovering things about themselves that they're going to apply to everything that they do. We just had an incredible alumni panel in conjunction with black history month and the five panelists, this was just this past week, the five panelists all spoke about the lessons that they learned through athletics, that they are applying in their fields that they are in right now and they were in a whole gambit of different fields.
President Bob Iuliano: What a wonderful answer and I will just underscore that those are lessons that every student should take from a college experience. Not every student will participate in athletics, but if you look to the world that awaits them when they graduate and I won't go on at length about this, Carol, but increasingly the people who are going to thrive will be those people who have that capacity of adaptation, who understand who they are as people in their strengths, who know how to create team, who know how to harness the enormous benefits of diversity, who are collaborative, who are adaptive. Athletics very much reinforces that, in a context often of leadership as well.
Coach Carol Cantele '83: Right, [inaudible 00:23:02].
President Bob Iuliano: I don't want to see only our student athletes get that experience, part of the strategic plan and the emphasis that we have is that every student should graduate with those as among the characteristics that they have worked on during their four years here. The other thing that has taught our students and our student athletes is COVID-19 because it has exposed them to a set of challenges, unlike any that their predecessors in our time at least have confronted. How have you as a coach thought about what it is meant to be a coach of a group of students, a group of student athletes during this moment in time, where last season you couldn't compete the way you want it to compete, the season got truncated. Talk to me about how you've navigated COVID-19, how it may have strengthened the team, if it has and how it is other great other challenges for you to surmount.
Coach Carol Cantele '83: Well, we're still doing that. We are still trying to navigate this and because it's so unprecedented and like nothing that any of us have a manual to reference, being your authentic self is the only way that I've known how to go through this. When we've picked up on cues from our team that they just want to not complain, but say "Why us? Then let it be. If they want to have a day where they want to totally focus on just playing and not playing for or to a goal, than lets let it be. I think what it is taught us, and something that we've been preaching as coaches, at least in our program, we tell them play every day like it's your last, every moment matters. These are things that coaches speak all the time, "Today the first day of the rest of your life." As a mantra I grew up with from my father.
Coach Carol Cantele '83: Well, boy, oh boy, has COVID taught us that we only know right now, we only know today and so I feel we've been somewhat prepared because that is coach speak at its best. What is challenging, especially as a coach, is you are accustomed to preparing for the future and the future is so uncertain so that has been a tough juggling act. At the end of the day, remember going back to why are we out there and why do we coach, we're coaching to develop people, we're coaching to develop relationships, we're coaching to help kids see the potential in themselves that they might not yet know they have in themselves. If you keep that mantra, playing a game or not playing a game, really, isn't why you do what you do and so that's helped me stay grounded as best as we can, but we're all still figuring it out to be honest with you, Bob.
President Bob Iuliano: I have to imagine though that the team benefits enormously from a coach with your years of experience and success, because there's so much that you can draw on, on trying to figure out how to navigate this unprecedented time. I want to thank you because I know what you do for our students and I know how much it means to them. You've had remarkable success, not only as a student athlete, but as a coach. As I sit in my office, I'm looking at two NCAA trophies representing your championships in recent years. What makes a championship team besides of course, talent? Can you distinguish your championship teams from your non championship teams?
Coach Carol Cantele '83: Well, if you don't measure your success by the championships or not, I would tell you, I think all our teams have been champions and that's how I like to look at it all. We measure our success through whether or not a player has attained a certain level of understanding of who they are and that they've recognized the role that they have in creating a culture of acceptance, a culture of care, a culture of love, that's how we want to be measured. With that along the way, certainly, national championships may come and go but I think when you realize that only one team gets to do that every year, then are all the rest failures, I'd like to think not. We look back and say, "How were we champions this year?" And, if we all understood the value of what we bring to a team, if we all understand the mission of the team and playing for something bigger than ourselves, if we all understand everyone's uniqueness, as I mentioned before, more than likely those teams probably go out and do some pretty remarkable things.
President Bob Iuliano: I think championships are great if they come about, but I agree with you, it's not the objective per se. The objective is everything that comes along with the structure of the team and the opportunities to compete, to create those relationships, to learn about yourself, to learn about others. Again, I repeat, our students are lucky to have you as someone who helps them along that journey.
Coach Carol Cantele '83: Right.
President Bob Iuliano: I am not in any suggestion by this last question I'm going to ask you today, Carol, suggesting that I'm urging you to begin to think about the end of your career. You have many good years ahead of you, but someday, you use the phrase hanging up the whistle earlier, someday you will hang up the whistle, what would you like the legacy of your time at Gettysburg college to be?
Coach Carol Cantele '83: For someone who is trying to live in the moment, I haven't spent a great deal of time other than I'll go full circle with that. I became a coach because I had a coach that saw something in me that I didn't know existed. She left an incredible impression on me to this day so much so that while I literally carry her keys, as I mentioned, I would like some of our players that I've coached to look back and say, "Coach saw something in me that I didn't see in myself."
President Bob Iuliano: Well, I'm quite confident that's been true. I know it's been true in the way that you have influenced others to follow in your shoes, the way you followed in your mentors shoes. There is a Carol Cantele coaching tree that is beginning to develop but I also, your point is broader than that. It's not just people who are going to follow you into the field of coaching, but it's the way in which these experiences here, in their four years on this campus, shaped them as people and influence the lives that they lead. Carol. It has been a pleasure, I am looking forward to seeing the team out on the field as you and I talked about you practice right next to my house so I can hear you, and I'm looking forward to seeing you. Thank you for all that you do at the college. Thank you for joining me today in this conversation and thank you for lighting those lights of life and illumination for our students.
Coach Carol Cantele '83: Well, thank you, Bob, and thank you for all your support and efforts.
President Bob Iuliano: Let me conclude with a slice of life from Gettysburg college, the country's political landscape is as complicated and fractured as it has been in our lifetimes. Most vividly reflected by the January 6th attack on the Capitol. Few institutions have a better vantage point to consider the implications of this moment than Gettysburg college. We sit on a land where the bloodiest battle conducted on American soil took place. We witnessed president Lincoln's enduring reflections on what that battle and the broader war means for us as a country. We count president Eisenhower as a citizen of this college, a person who saw more and did more for democracy in his lifetime than any other contemporary. This history runs deep in our fabric and gives us both a special capacity and a special responsibility to engage in this moment of polarization, it's a responsibility we take seriously.
President Bob Iuliano: The Eisenhower Institute hosted a conversation with two nationally recognized experts on American politics, Charlie Cook, and Stewart Rothenberg. With Susan Eisenhower, the president's granddaughter asking insightful questions, our guests helped us understand the forces that have led us to this moment of extreme polarization. It's clear that we have a lot of work to do, its work we here at Gettysburg are committed to undertake through the students that we educate and through the conversations we convene. We are working on an ambitious slate of programming to further this work. Please check in with the Eisenhower Institute if you'd like to learn more.
President Bob Iuliano: Thanks for listening. If you've enjoyed this conversation and want to be notified of future episodes, please subscribe to Conversations Beneath the Cupola by visiting gettysburg.edu or wherever you get your podcasts. If you have a topic or suggestion for a future podcast, please email news@gettysburg.edu. Thank you and until next time.