The goal of Gettysburg College STEM Scholars Program is to increase and diversify the number of talented STEM majors who go on to contribute to the advancement of knowledge in a broad range of scientific endeavors, either by entering the STEM workforce or a STEM-related graduate program upon graduation from Gettysburg College.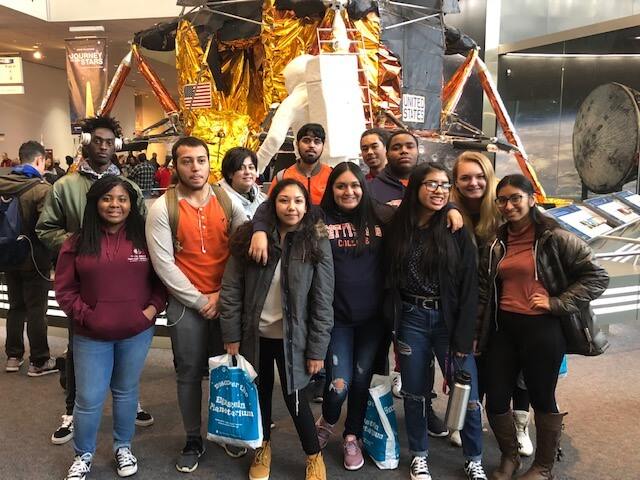 The Gettysburg College STEM Scholars will consist of a select cohort of First-Year students enrolling in the fall who intend to earn a bachelor's degree in one of the following STEM disciplines: Biology, Biochemistry & Molecular Biology, Chemistry, Computer Science, Environmental Studies, Health Sciences, Mathematics, Physics, and Psychology. Through generous financial support from Gettysburg College, need-based financial aid grants will meet the full demonstrated financial need for STEM Scholars. In selecting members of these cohorts, the college will take heightened interest in academically-promising, underrepresented minority, and first-generation students with demonstrated financial need.
Support
By providing supportive mentoring during the crucial first two years of college, the STEM Scholars program creates a constructive environment to recruit, support, and retain students in their chosen STEM majors. The program relies on close faculty-student interactions as well as a unifying community-building experience.
STEM Scholars will have the opportunity to:
Attend a STEM-focused pre-orientation workshop with their cohort.
Enroll in an exclusive First-Year Seminar taught by STEM faculty.
Assigned PC Laptops for your exclusive use, plus community-building activities on and off campus.
Engage in various STEM opportunities, including faculty-student research, peer-mentoring, preferential residence in Gettysburg College's Science House, as well as work-related internship opportunities with institutional industry partners.
Eligibility
To be eligible for the STEM Scholars program, students must meet the following requirements:
Be a U.S. citizen, national (as defined in section 101(a) of the Immigration and Nationality Act), alien admitted as a refugee under section 207 of the Immigration and Nationality Act, or an alien lawfully admitted to the U.S. for permanent residence.
Demonstrate financial need through submission of the Free Application for Federal Student Aid (FAFSA) and the CSS PROFILE.
Be enrolled as a full-time student.
Intend to major in one of the following: Biology, Biochemistry & Molecular Biology, Chemistry, Computer Science, Environmental Studies (BSc only, with an interest in one of the following concentrations: Earth System Science, Marine and Freshwater Ecology or Wildlife and Conservation Biology), Health Sciences, Mathematics, Physics or Psychology.
Application Requirements
You should complete the STEM application online by January 15*. Please attach a brief statement (300-350 words) explaining your past experiences/accomplishments in the sciences and your personal interest in becoming a scientist.
*STEM Scholars Program applications may still be submitted after the deadline; however, full consideration is guaranteed to those applications received by the January 15th deadline.
Complete and submit your application for admission by the Regular Decision deadline date of January 15. This includes the Common Application, official high school transcript, and counselor/teacher recommendations. A letter of recommendation from a science teacher is strongly encouraged. You may also submit your standardized test scores (optional).
Submit the financial aid applications—the CSS Profile and the Free Application for Federal Student Aid (FAFSA)—by January 15.
Students who are highly interested in Gettysburg College and the STEM Scholars Program are encouraged to consider applying Early Decision I or II. The deadline for Early Decision I is November 15. The deadline for Early Decision II is January 15. If you have already applied to Gettysburg College, you can still submit a STEM Scholars Program application by January 15.
For more information contact Tyra Crosbie '17, Admissions Counselor, tcrosbie@gettysburg.edu.