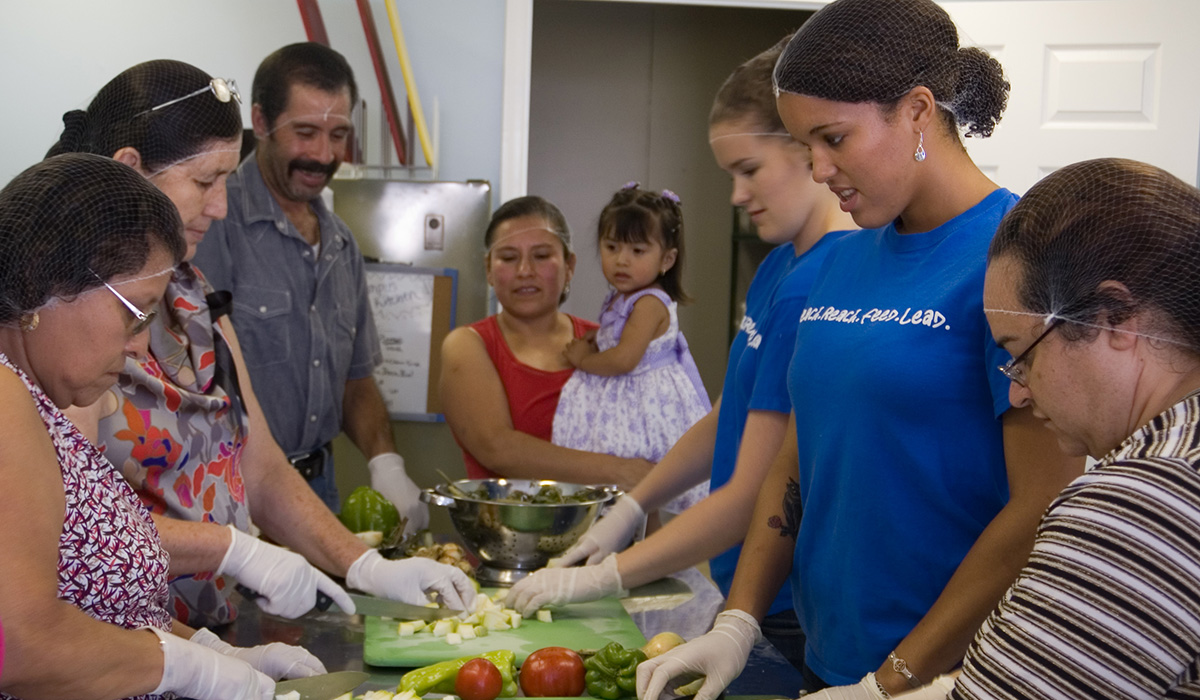 As the Gettysburg College community reflects on Thanksgiving, memories of autumn harvest feasts come to mind. But what endures from these celebrations are the connections made with families and friends.
Each November, students, faculty, and staff celebrate the beloved tradition of Servo Thanksgiving, during which students gather with teammates, roommates, and classmates at Servo, the College's dining center. There, they enjoy a full Thanksgiving dinner with roasted turkey, mashed potatoes, stuffing, and pumpkin pie, all served by their professors and College staff.
This annual celebration stands out for generations of Gettysburgians from their time at Gettysburg. For BOLD (Burgians of the Last Decade) alumni Sam Schwarz '14, Chandra Kirkland '13, and Melanie Meisenheimer '14, Servo Thanksgiving allowed them to build connections over good food and good company. Since then, the impact of food and community have inspired their career paths, where they now apply the knowledge and enduring skills gained at Gettysburg to serve others. Explore their stories: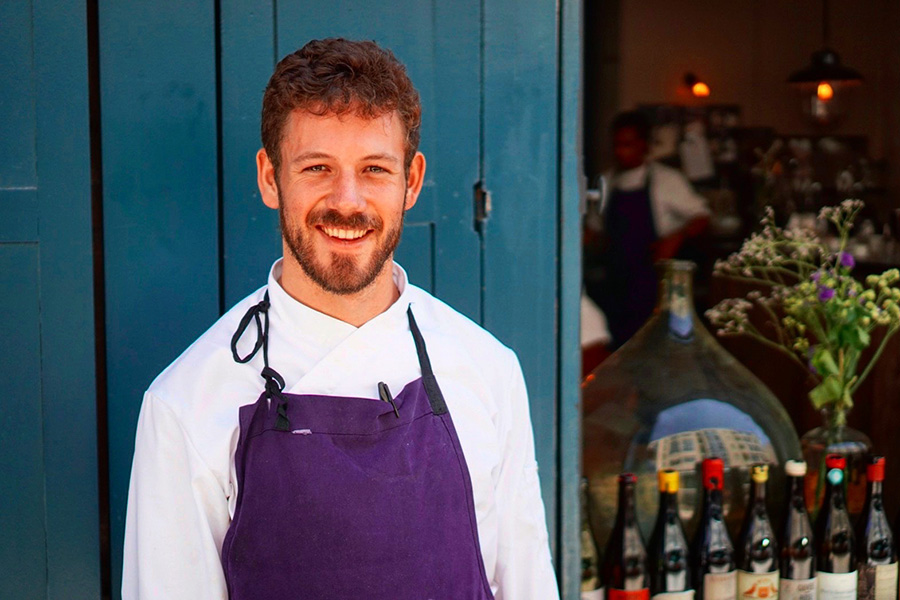 Sam Schwarz '14: Cooking across cultures
Growing up in Baltimore, Maryland, Sam Schwarz '14 developed a passion for cooking at a young age. His first professional food service experience came in high school, where he served as a waiter at a café, managed its front-of-house operations, and worked the food prep line on the busiest brunch days. While Schwarz wanted to go to the Culinary Institute of America upon graduating from high school, his dad insisted Schwarz attend a liberal arts and sciences college for the breadth and depth of knowledge it would offer.
Although he applied to several colleges, Schwarz said his Gettysburg College campus tour gave him the feeling of the community he sought, and he committed to attending Gettysburg.
At Gettysburg, Schwarz witnessed the community connection through Servo Thanksgiving firsthand: students from across the College interacting with College staff and professors outside the classroom. Servo Thanksgiving, he said, demonstrates how food brings people together.
"Sharing food, being served, and serving others is a genuine act of hospitality," he said.
"Sharing food, being served, and serving others is a genuine act of hospitality."
— Sam Schwarz '14
As a French major and business minor at Gettysburg, Schwarz honed the French language and communication skills he had developed since he was 7 years old while immersing himself in French culture through film and literature classes.
After graduating from Gettysburg, Schwarz moved to Boston. There, he worked as a claims adjustor for Liberty Mutual, but after 10 months, he felt called to return to the kitchen. Leaving Boston for Nashville, Schwarz worked at several restaurants in the city, including Rolf and Daughters, owned by Chef Philip Krajeck, where he furthered his culinary skills.
After two years in Nashville, Schwarz wanted to explore another world culture. As he thought back to his French studies and the intercultural fluency he developed at Gettysburg, he decided to pack his bags and spend time in Paris for a month. But before he left the United States, Schwarz contacted French Prof. Florence Ramond Jurney, who helped him translate his resume into French. Once in Paris, Schwarz knocked on many restaurant doors, looking for a job offer and visa sponsor.
In January 2018, Schwarz found both. From 2018 to 2020, he worked at Ellsworth and Septime, ranked as the 15th best restaurant in the world on the San Pellegrino World's 50 Best Restaurants list. At Septime, Schwarz served in every position in the kitchen. The teamwork, adaptability, and problem-solving skills he acquired at Gettysburg proved invaluable as he handled increasingly more levels of responsibility. Schwarz also found that the economics, finance, and marketing courses from his Gettysburg business studies helped him apply course knowledge to the business of the culinary arts.
Following a brief return to the United States from 2020 to June 2023, Schwarz now resides in Paris, serving as a sous chef at Soces in Paris. He aims to open his own restaurant, where he can serve simple food prepared with the highest quality, responsibly sourced products.
Chandra Kirkland '13: Building connections one plate at a time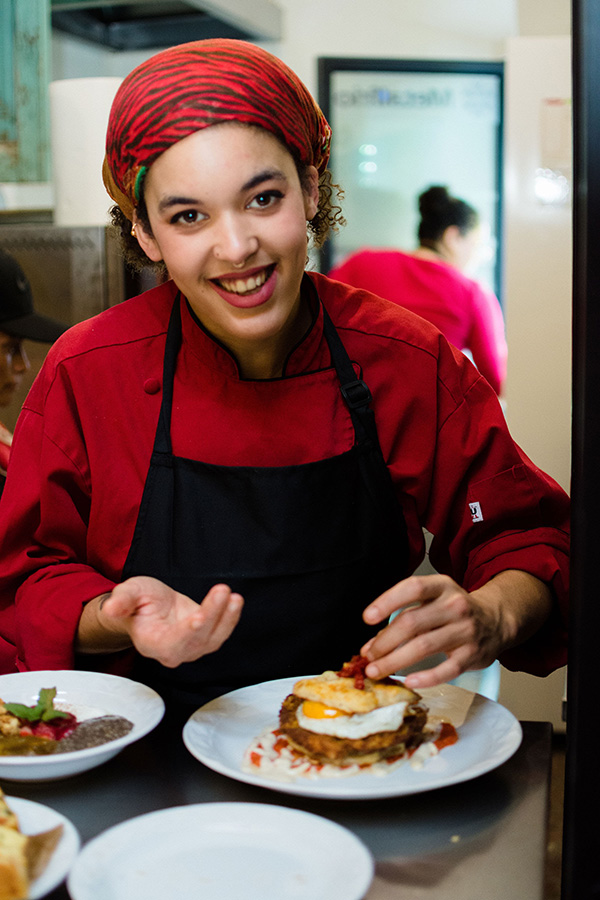 "Thanksgiving for me was always a huge family event," said Chandra Kirkland '13. "We would get up early in the morning and cook all day. I come from a family of seven, so it was a lot of food."
Being away from her home in Mifflintown, Pennsylvania, during her first year at Gettysburg College, Kirkland found Servo Thanksgiving an inviting way to meet members of her new College family.
"Being able to go in a big group and wait in line—you'll all excited when you get to your table. It was a different way to experience a familiar tradition," she said. "Even people I didn't know at first, I got to know by being at the table with them."
At Gettysburg, Kirkland, a sociology major and writing minor, demonstrated her love for food by working at The Dive, Ike's, and the Bullet Hole. Students affectionately called her the "sandwich girl" for the random sandwich combinations she created. In 2012, Kirkland secured a Heston Summer Experience internship through Gettysburg College's Center for Public Service (CPS). During her internship, Kirkland's service at an Adams County senior center opened her eyes to the power of nourishing people's needs.
"That's when I had my first connection with feeling how important it was to offer food and community for those who maybe didn't have a lot left [and something] that they could feel happy or excited about during the last step in life," she said.
"Gettysburg opened doors to connect with groups of people I normally would not have the means to connect with."
— Chandra Kirkland '13
The Heston Summer Experience also connected Kirkland with Gary Brautigam, who was the executive chef at the College for close to 10 years and later served as assistant director and director of Dining Services. Kirkland credits Brautigam with inspiring her pursuit of a culinary career.
"He invited our [Heston Fellows] group to his home and prepared us a meal. I never imagined being a chef, but from that moment, I knew I wanted to do this," she said.
Further work on farms and in her hometown restaurant's kitchen gave Kirkland the practical experience she needed to land her first job at a Baltimore restaurant after graduating from Gettysburg.
"Living in a big family, being responsible for my younger siblings, and working since I was a kid made me very hardworking and detail-oriented," said Kirkland, who went on to serve as director of dining services at Brightview Senior Living and as a banquet chef for Hilton Worldwide in Baltimore. "Gettysburg opened doors to connect with groups of people I normally would not have the means to connect with."
While participating in the Heston Summer Experience program, Kirkland met Melanie Meisenheimer '14, and the two organized a volunteer kitchen serving meals to Gettysburg-area families in need. They also led cooking classes in Spanish to teach families how to prepare simple, nutritious recipes, such as a vegetarian chili inspired by Kirkland's upbringing.
"It challenged me to get over my fear of public speaking. Spanish wasn't my first language, and I barely spoke it," she said. "Years later, when I visited [the families I taught], they knew I was coming, and they would prepare the dishes. I could smell the food as I walked through the door."
Today, Kirkland focuses on running her private chef business and meal preparation service in Guanajuato, Mexico. She looks forward to the day when she can open her own restaurant, bringing people around her table to share food and feel a part of the family among them.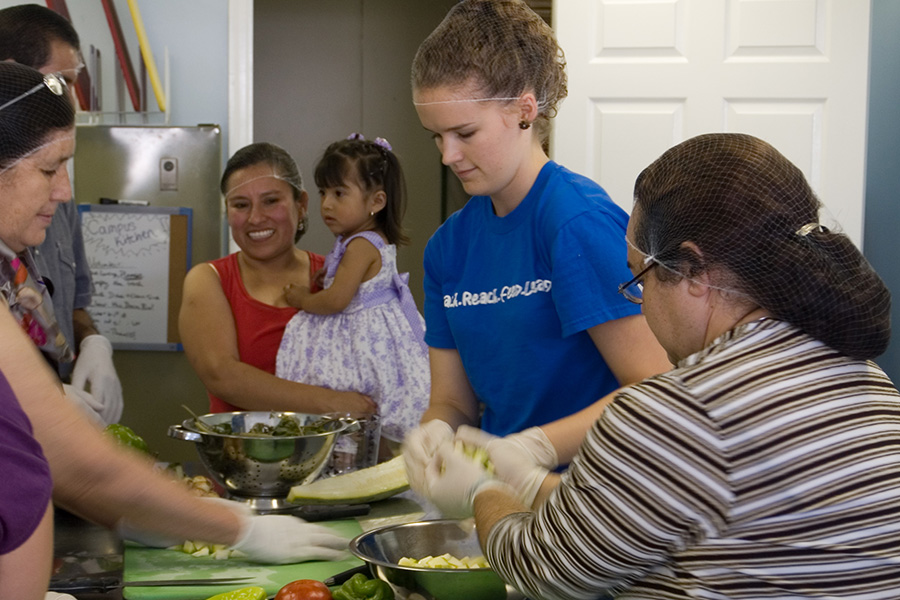 Melanie Meisenheimer '14: Commitment to creating stronger food systems
Melanie Meisenheimer '14 arrived at Gettysburg College seeking opportunities to meet new people and explore a new place. Servo Thanksgiving gave her a chance to do both while providing a welcome break from her classes and activities. "Servo Thanksgiving was a time when we were encouraged to pause, get all our friends together, and appreciate the amazing feast that Servo put together," she said. "I think that's a great way for students to feel like part of a community even if they may be far from home. Personally, I couldn't go home during Thanksgiving as a student, so it was nice to have the opportunity to celebrate with friends."
For Meisenheimer, who majored in globalization studies and public policy at Gettysburg, getting involved in Campus Kitchen and food system partnerships through the CPS helped launch her career in food security policy.
During the summer of 2012, she participated in the Heston Summer Experience program. Working with Campus Kitchen and Casa de La Cultura, Meisenheimer explored the various organizations that serve diverse populations of the Gettysburg community by providing them access to food.
"Food is not just a biological necessity, but it's also important for building your cultural connections and sense of community. I found my sense of community at Gettysburg through the Center for Public Service," she said. "It connected me with other students interested in doing good things for the community."
"Food is not just a biological necessity, but it's also important for building your cultural connections and sense of community."
— Melanie Meisenheimer '14
Upon completing a study abroad experience in France and Cameroon during her junior year, Meisenheimer led The Gleaning Project for the South Central Community Action Programs (SCCAP) in Gettysburg in summer 2013. Through her service to SCCAP, she coordinated the collection of gleaned fruits and vegetables from Adams County farms and the distribution of food products to emergency food service providers serving low-income families. Meisenheimer also served as one of the program coordinators for the Campus Kitchen project during her senior year.
After graduating from Gettysburg, Meisenheimer participated in the Bill Emerson National Hunger Fellowship, which trains and supports emerging leaders in the movement to end hunger and poverty in the United States. She fell in love with working in food security policy, advocating for efforts and programs to ensure everyone has access to food. Today, through her work as the SNAP (Supplemental Nutrition Assistance Program) Analysis Branch Chief for the U.S. Department of Agriculture's Food and Nutrition Service, she continually evaluates the program's efforts. She also works to ensure SNAP benefits are accessible to people in communities across the United States.
Meisenheimer's goal to help people achieve the highest level of well-being by having access to food guides her in her career—the product of her consequential education at Gettysburg.
"To this day, I'm inspired by all the wonderful people I was able to work with through CPS, including the partner organizations they worked with," she said. "It's a fertile learning ground for students interested in learning more about how we can build stronger food systems."
Learn more about how our traditions connect us and inspire pride in our Gettysburg community.
View our Flickr gallery from Servo Thanksgiving 2023.
By Michael Vyskocil
Posted: 11/17/23