Can you imagine climbing the Great Wall of China? Do you see yourself mentoring school-aged children in Senegal? Are you dreaming about camping under the stars in Tanzania? It's not only possible but affordable.
At Gettysburg College, we encourage our students to be inquisitive thinkers who ask important questions and seek meaningful answers. Through partnerships in countries like China, Senegal, and Tanzania, our students have the opportunity to engage in global study abroad experiences, unleashing a desire for a lifetime of curiosity and positive impact within their communities.
Study abroad enables you to experience a meaningful, consequential education by making lifelong connections to the world around you—connections that will benefit you at Gettysburg College and throughout your lifetime.
Study abroad program fast facts
Semester-long study abroad programs cost as little as $3,000 before scholarships.
Sixty percent of students study abroad for at least one semester.
Students may choose from among study abroad programs in:

Africa
Asia/Pacific Islands
Europe
Latin America
Middle East
North America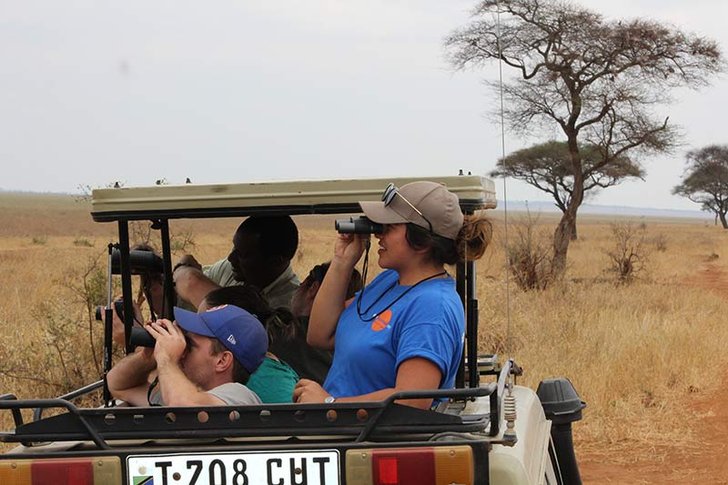 We rank No. 3 in the nation for study abroad
Gettysburg College consistently ranks as No. 1 in Pennsylvania and No. 3 in the United States for semester-length programs at a baccalaureate institution by the Institute of International Education (IIE).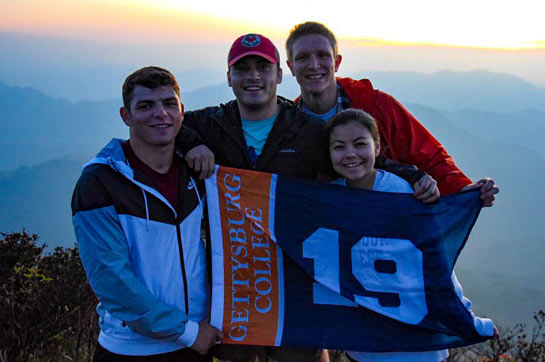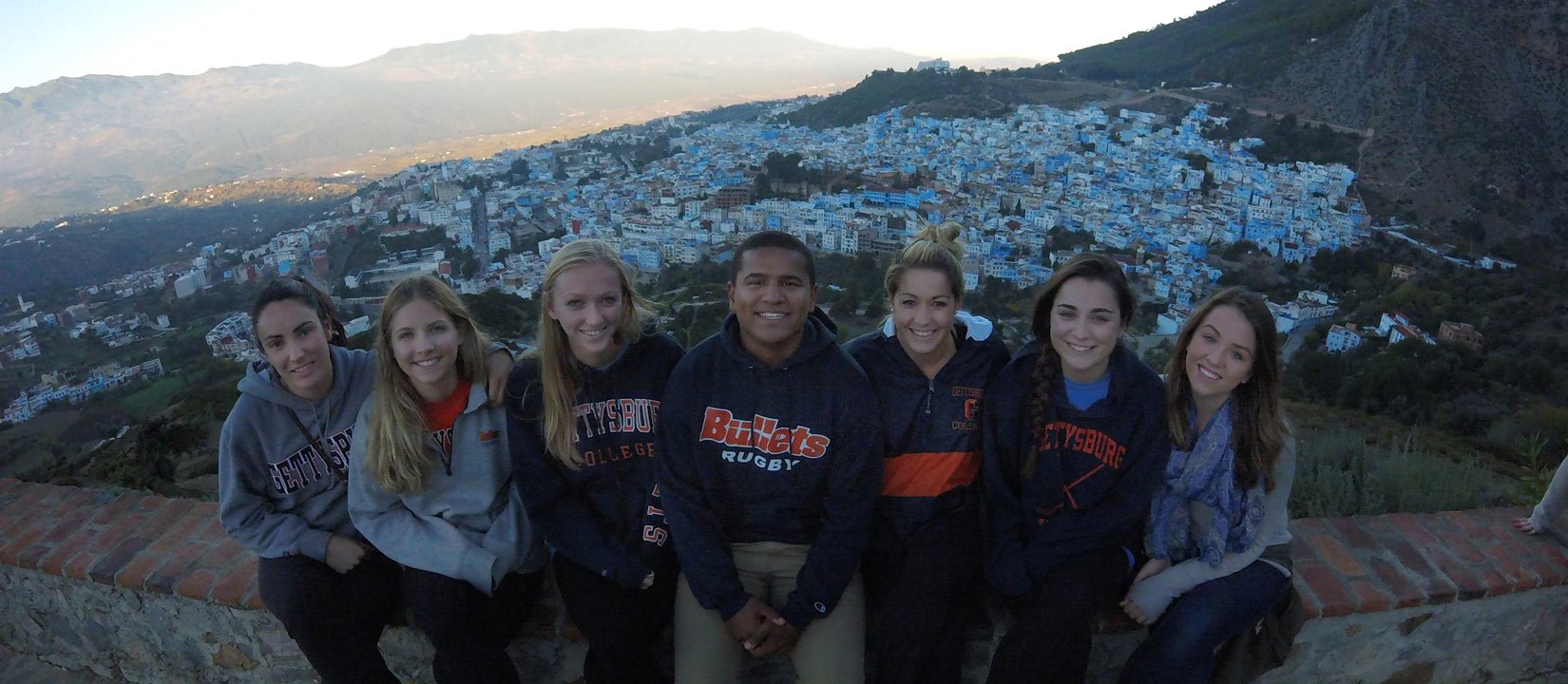 Students in Chefchqouen, Morocco
Who can study abroad?
Students of all majors are welcome to study abroad and have full flexibility to study abroad for one semester or during the summer. To meet these requirements, students must:
Have a declared major.
Be a second-semester sophomore, junior, or first-semester senior.
Be in good disciplinary standing.
Spend a minimum of one year in residence with a minimum of three courses the semester before their study abroad application at Gettysburg College.
First-semester sophomores and second-semester seniors may petition to participate in a study abroad program by contacting the
Center for Global Education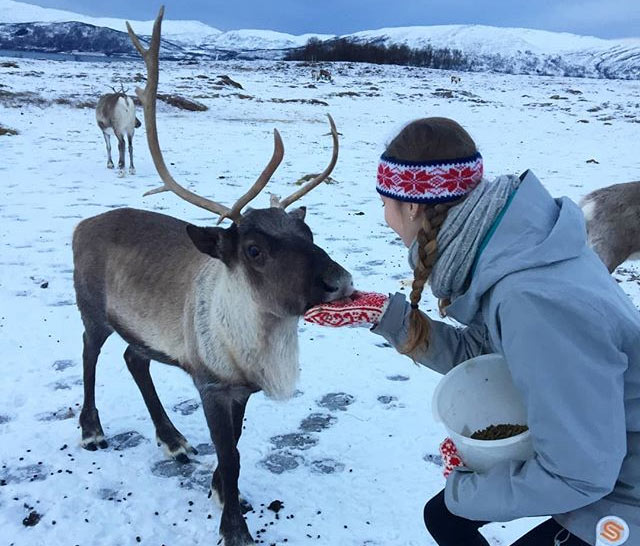 The Center for Global Education advises Gettysburg College students on all aspects of study abroad.
The Center for Global Education
Types of study abroad programs
Students who seek a Gettysburg College study abroad experience may participate in various programs reflecting their educational needs.
Affiliated Programs
More than 97% of Gettysburg students who study abroad do so through Affiliated Programs. These Affiliated Programs not only save time and money but provide students various travel opportunities to remote regions within Africa, Asia, Europe, Latin America, or the Middle East. These domestic and international single-county academic year and semester global study abroad programs have been carefully selected and vetted by Gettysburg College faculty to meet the unique academic needs of students and departmental goals.
Non-affiliated Programs
Students attending a Non-affiliated Program pay all costs directly to the sponsoring program and cannot use Gettysburg grants, scholarships, or loans for payment. Students interested in Non-affiliated Programs must meet with an advisor at the Center for Global Education.
Discover Non-affiliated Programs
Summer programs
Students may participate in summer programs as early as May or the beginning of August.
Learn more about summer abroad programs.
Financial aid
Students receiving financial aid from Gettysburg College may apply their financial aid to fund a relevant study abroad program.
Financial aid for Affiliated Programs
Eligible students are encouraged to apply for financial aid through Gettysburg College. Students may receive up to $6,000 in financial aid to cover study abroad costs.
Outside awards and scholarships
Eligible students are encouraged to apply for financial aid from sources outside Gettysburg College. These scholarships may often cover the full costs of a study abroad program.
Learn more about financial aid.
Applying for study abroad
Before submitting a study abroad application, students should:
Speak with a Center for Global Education advisor by completing an appointment request form.
Meet with their academic advisor(s).
Select a program and the relevant semester(s) of study abroad.
Application deadlines for Affiliated Programs
Semester Deadlines
October 1 for spring semester
March 1 for fall semester
Non-affiliated Programs petition deadlines
Students seeking to enroll in Non-affiliated Programs must submit an application and a petition. Petitions are due by these dates:
September 15 for spring
February 15 for fall
Program Provider application
Along with a study abroad application, students must fill out a Program Provider application. Since Program Provider application deadlines may fall before the Gettysburg application deadline, we recommend working with a Center for Global Education advisor throughout the study abroad application process.
Study abroad through Gettysburg College
A Gettysburg College education empowers students to be inquisitive lifelong learners. That's why more than half of all students enroll in at least one semester of a study abroad program.
If you want to make the world your classroom, schedule an appointment with the Center for Global Education to start your study abroad experience or request information.