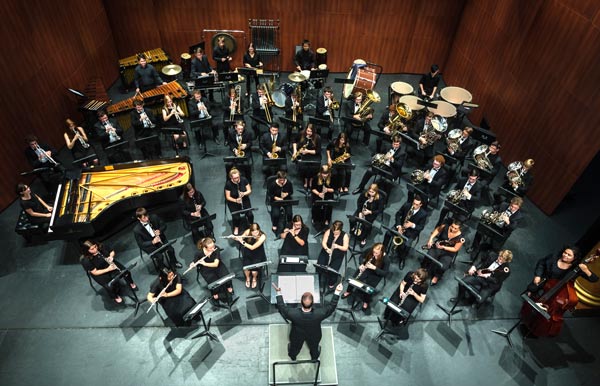 The Wind Symphony is the premier wind and percussion ensemble in the Sunderman Conservatory of Music. Conducted by Director of Bands Dr. Russell McCutcheon and comprised of a select group of 40-50 musicians including music majors, music minors, and dedicated musicians from all majors. The Wind Symphony rehearses and performs some of the best new literature and wind band masterworks in five concerts each year. The Wind Symphony is designed for the development of the professional performer, the professional educator and the dedicated musician.
The Wind Symphony has toured Pennsylvania, Washington, D.C., and in 2014 embarked on a two-week performance tour of China and Singapore. In 2018, the Wind Symphony toured Berlin, Leipzig, and Prague, performing a feature concert in Mendelssohn Hall at the Gewandhaus and a festival concert at Smetana Hall by invitation as part of the Prague Instrumental Music Festival. In 2019 the ensemble performed its Kennedy Center debut in Washington D.C. as the invited feature college/university ensemble for the Sousa Band Invitational. In 2023, the Wind Symphony completed a tour of the Baltics, performing in the Kaunas Philharmonic Hall in Kaunas, Lithuania, the Great Guild Hall in Riga, Latvia, and the MUBA School of Music and Dance in Estonia.
The ensemble has hosted many guests including composer Steven Bryant and Carl Kasell of National Public Radio. In 2013, the Wind Symphony released a CD commemorating the Sesquicentennial Anniversary of the American Civil War and the Battle of Gettysburg, which was named eligible for GRAMMY® nominations in two categories. In 2020, the Wind Symphony released "The Music of Brian Balmages, Volume 1," which was named eligible for GRAMMY® nominations in four categories including Best Orchestral Performance, Best Classical Instrumental Solo, Best Engineered Album-Classical, and Producer of the Year-Classical. The Sunderman Conservatory Wind Symphony and conductor Russell McCutcheon actively promote new music for wind ensemble, with nineteen commissions and premieres since 2009.
Rehearsals
The Wind Symphony rehearses on Mondays and Wednesdays from 4:00 p.m. - 6:00 p.m. Membership in the Wind Symphony is by audition. It is open to all Gettysburg College students and is not limited to music majors.
Wind Symphony Resources: