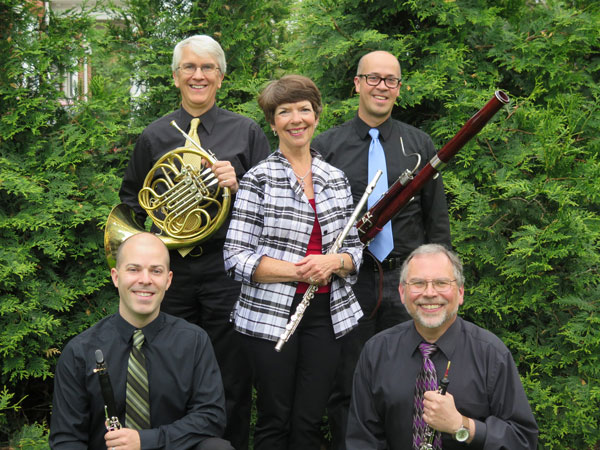 The Sunderman Wind Quintet is comprised of artist faculty at the Sunderman Conservatory of Music, Gettysburg College. Members include Ken Bell, French horn, Sarah McIver, flute, Lynn Moncilovich, bassoon, Aaron Scott, clarinet and Noelle Drewes, oboe. The quintet is active in presenting concerts, clinics, and symposia, captivating audiences with their rich tone quality and innovative programming. Performances have included regular appearances on the Sunderman Conservatory of Music recital series, the Musselman Library Notes at Noon series, as well as a recent appearance at the Eastern Regional National Association of Music Educators conference in Hartford, CT and concert tours throughout the East Coast providing educational concerts to school children of all ages.
The quintet has recently performed at the Pennsylvania Academy of Music and on the Music Gettysburg! Concert Series.
"Audiences regularly rave about the Quintet," said Mark Oldenburg, Chair of Music, Gettysburg!, "and we are delighted to present this superb ensemble of musicians in our 30th anniversary season."
The quintet performs an eclectic mix of repertoire that audiences find most appealing and is eager to promote new compositions for wind quintet by composers such as Libby Larsen, Eric Ewazen, Arne Running and Gettysburg alum Brian Wilbur Gundstrom.
For information on how to schedule the Sunderman Wind Quintet for a performance, contact Dr. Aaron Scott at ascott@gettysburg.edu.