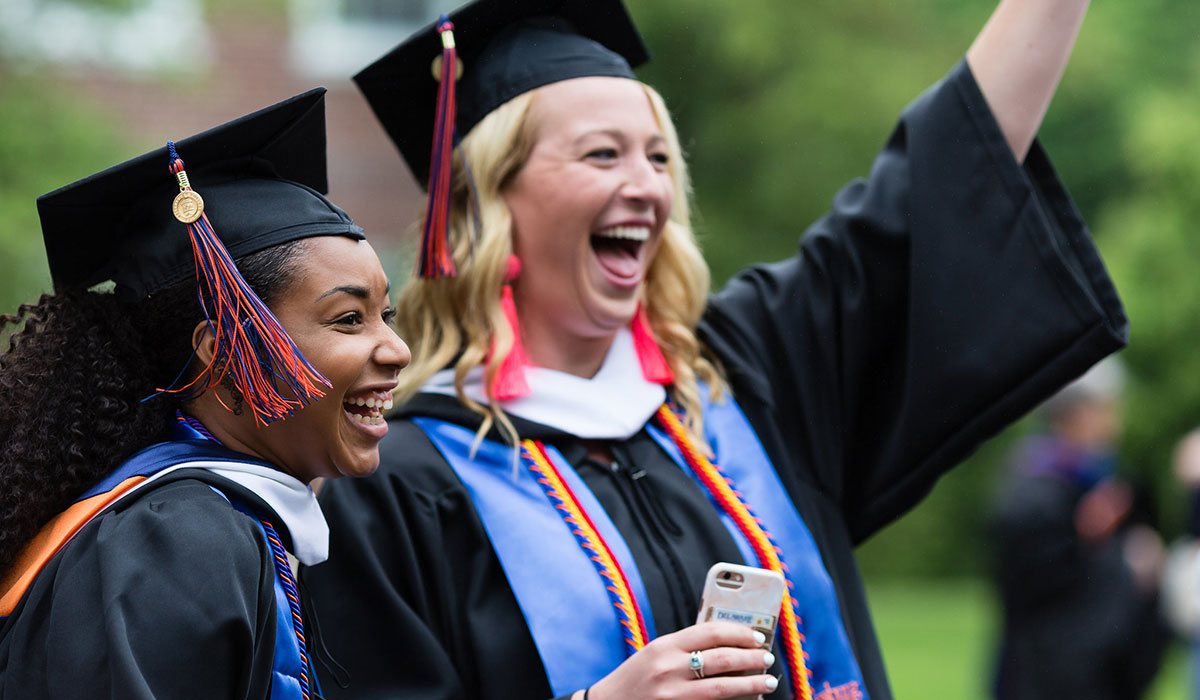 Gettysburg College will hold its 184th Commencement—rain or shine—during a May 19th ceremony that will take place on the Beachem Portico on the north side of Pennsylvania Hall at 11 a.m.
About the ceremony
Newbery prize-winning author Jerry Spinelli '63 will deliver the keynote Commencement address and will receive the Gettysburg College Medal during the Sunday ceremony.
Honorary degrees will also be conferred to philanthropist, community activist, and business woman Jane Rice; actor, director, presenter, author Levar Burton, best known for his roles on Roots, Star Trek: The Next Generation, and Reading Rainbow; and President Janet Morgan Riggs '77. Riggs, who retires as Gettysburg College's 14th president in June, is receiving the reward in in recognition for her excellence in teaching and administration, her leadership in the field of higher education, and her loyalty to her alma mater.
Chemistry and mathematics double major Josh Wagner '19 will speak on behalf of the graduating class.
The Gettysburg College Award for Distinguished Teaching will also be presented during the Sunday ceremony.
The Commencement ceremony will be livestreamed and indoor viewing locations will be set up in Masters Hall's Mara Auditorium and Brua Hall's Kline Theater. Following the ceremony, light refreshments will be served in the College Union Building and the Dining Center.
Commencement events and information
Graduates and their families can access all things Commencement, such as the complete schedule and information for graduates, on the 2019 Commencement webpage. Additionally, specific information for graduates is provided, along with information pertaining to the Baccalaureate ceremony, Departmental Receptions, Spring Honors Day, Army ROTC Commissioning Ceremony, and other Commencement-related events.
Internet-based Communication Access Realtime Translation (CART) service will be available, allowing anyone to see the closed-caption transcription in real time on any wireless device that can access the Internet.
There will be an American Sign Language interpreter. See an usher to have a seat with a sightline to the ASL interpreter.
Portions of the program will also be translated into various languages and will be made available to guests upon request.
Additional information about accessibility during the ceremony—including parking and shuttle services—can be found on the Commencement accessibility webpage.
You can join the Commencement conversation on social media with #gburg2019.
Pictures taken by the College will be posted on the website and social media platforms. GradImages will also be taking pictures during the ceremony. Students and their families can pre-register to receive a notification when those pictures are available to review and purchase.
Special Commencement for athletes in post-season
A Special Commencement ceremony for senior members of the Women's Lacrosse team—which will also be livestreamed—will take place on Thursday, May 16. Bennett Bruce from Organization and Management Studies will deliver the keynote address at the Special Commencement ceremony.
About Jerry Spinelli '63
One day in second grade Jerry Spinelli dressed up in his cowboy outfit, complete with golden cap pistols and spurs on his boots. He went to school that way. It was not Halloween. When the teacher asked if he "would like to do something for the class," he got up and sang "I Have the Spurs that Jingle Jangle Jingle."
Shortly thereafter he ceased to be a singing cowboy and decided to become a baseball player. In eleventh grade he wrote a poem about a high school football game. It was published in the local (Norristown, PA) newspaper. He traded in his baseball bat for a pencil and became a writer.
The story of his life to that point is told in his memoir Knots in My Yo-Yo String. His sixth novel, Maniac Magee, was awarded the Newbery Medal in 1991 for "The Most Distinguished Contribution to American Literature for Children." His eighteenth book, Wringer, received a Newbery Honor. Stargirl will be a Disney film on the company's new streaming platform, expected to launch in late 2019.
Jerry Spinelli's books appear in more than 40 languages. Anti-apartheid forces in South Africa recruited Maniac Magee to their cause. Loser travels through rural Japan as a stage play. There are Stargirl Societies around the world.
Jerry Spinelli lives with his wife and fellow author, Eileen, in Media, Pennsylvania. They have six children and thirty–six grand– and great–grandchildren. And counting.
He received an honorary degree from Gettysburg College in 2005.
For more information
For more information about Commencement, please refer to the Commencement website. It will be updated frequently as Commencement weekend approaches.