Residence hall living, a vital component of the Gettysburg experience, is intended to facilitate the personal growth and development of each student.
At home in the residence halls, students make friends, study, learn, relax, and have fun. Student learning occurs through students' active decision-making and engagement in the campus community, both in and out of the classroom.
Recognizing the influence of the environment on development, Gettysburg College requires all students (unless approved as a commuter student) to live on campus. All first-year students are housed in two residential quads.
Learn more about first-year living
Residential Program
The residential life program is designed to provide students with the opportunity to learn about themselves, others, and how to be engaged citizens on campus. First-year students work closely with professional and student staff to develop vibrant communities and capitalize on the teachable moments that emerge through the residential experience.
The First-Year Residential Experience (FYRE) plan is intended to prepare students to be active leaders who take purposeful action in service of the community.
"I wanted to become an RA because of the leadership and personal growth opportunities it offers, both for myself and for the students I hope to mentor. I love meeting and connecting with new people, as it helps me expand my own world view. Starting college can be a difficult adjustment for many, and being an RA allows me to directly help first-year students have the easiest possible transition."
— environmental studies major Julia Sharapi '22
Residential Life Coordinators (RLCs, professional staff members) and student staff members known as Resident Assistants (RAs), support students' development as self-directed young adults who are able to take personal responsibility over all dimensions of their lives.
RAs serve as a front-line resource for first-year students as they transition to college. They facilitate roommate agreements, provide guidance, lead community meetings, support wellness programming, and conduct focused conversations with residents called GChats.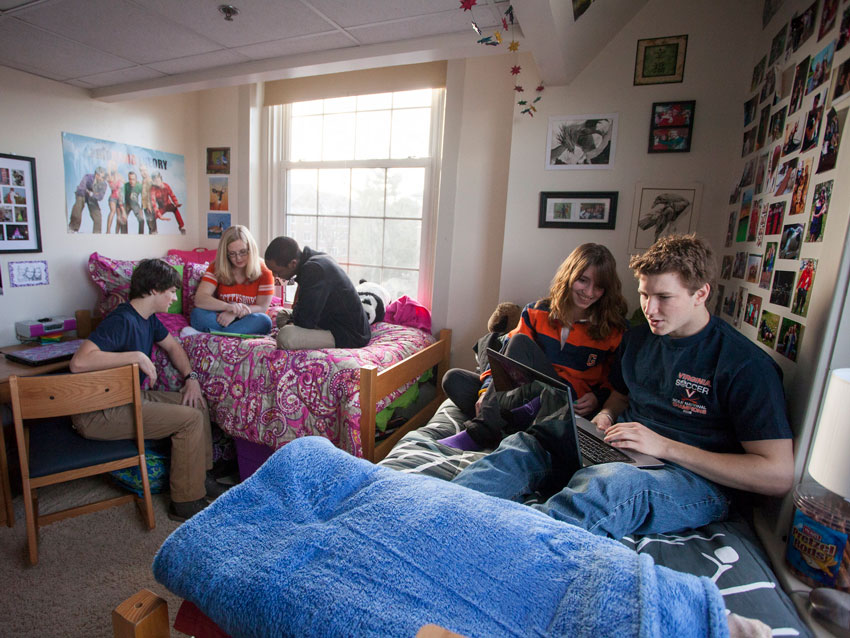 Housing Assignments
As all first-year halls offer similar accommodations, students may not request a specific hall assignment.
However, they may opt in to a number of residential programs including the following:
Alcohol & Drug Free Housing (RISE Program): Students who choose to participate in this program make a commitment to maintain a living environment which promotes and respects healthy lifestyle choices free of drugs and alcohol. As part of this program, we will make every effort to assign you to live with another member of RISE.
Gender-Inclusive Housing: This housing option allows students to share a double bedroom, regardless of students' sex or gender.
Medically-Necessary Housing Accommodations: Students who require certain housing accommodations due to medical diagnoses and conditions can request them through the housing accommodations process.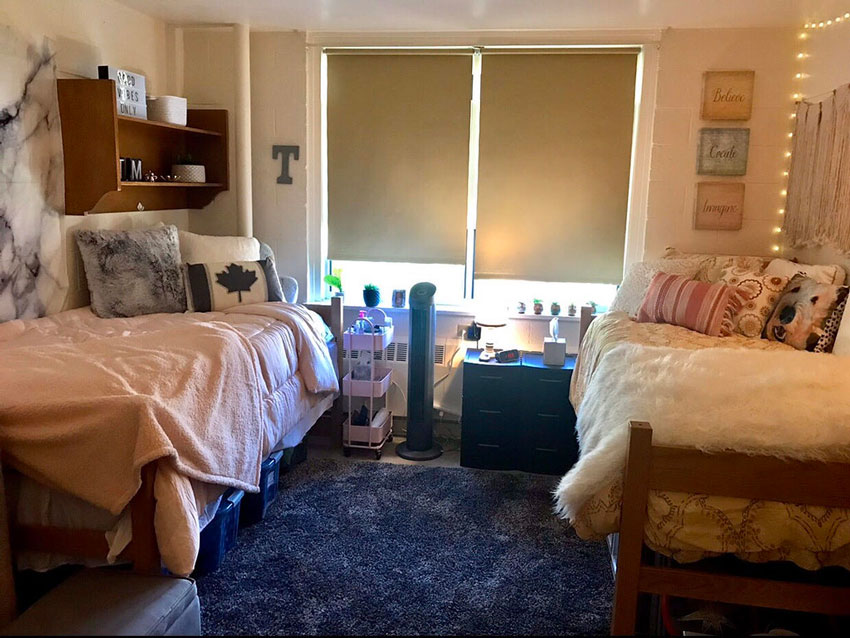 Personalizing Your Room
You can be as creative as you'd like in decorating your room! Residence hall rooms vary in size, but they are approximately 11 feet by 15 feet.
Each room includes the following:
Desks and chairs
Closets or wardrobes
Window shades
Dressers
Beds with mattresses that are loftable and bunkable (mattress size: 39 inches by 80 inches)
Bookshelf
MicroFridge, a combination microwave/refrigerator/freezer. Because of its energy efficiency, this is the only microwave approved for use in the residence halls.
Please note all residence hall facilities managed by the College are smoke-free, which includes electronic cigarettes. Gettysburg College also prohibits certain items on campus. You can find a complete list here.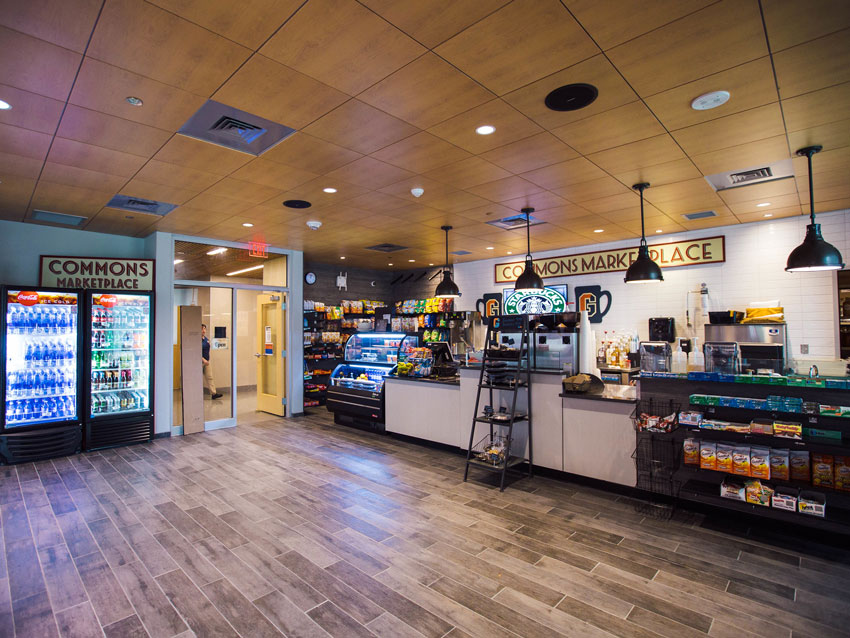 Campus Services
Gettysburg College provides a variety of campus services to help you transition to college. Learn more about each office that can provide additional guidance below.
About Your Student Account
The Student Accounts Office is responsible for processing billing statements and posting payments for students. Details, including deadlines, charges, payment types, and refunds, are available on the student account website. You can find additional financial information in your First-Year Dashboard.
Bookstore
Gettysburg College's bookstore is operated by Barnes and Noble College. Their offerings include affordable in-store and online course materials for students. The bookstore also reflects the College's brand, including an expanded selection for apparel, supplies, gifts, and more.
Campus Safety
The Campus Safety is responsible for law enforcement, security, and emergency response on campus. DPS is open and staffed 24 hours a day. You can obtain a Gettysburg College's Annual Security and Fire Safety Report online.
Dining Services
All first-year students are enrolled in the U.S.A. (Unlimited Servo Access) meal plan for their first year at Gettysburg. This meal plan entitles you to unlimited access to the Dining Center and also includes 50 Dining Dollars for the Bullet Hole, the Commons, the Dive, and Servo Express.
Health and Counseling Services
Health Services and Counseling Services are located in the Health and Counseling Center on campus. Their website and the First-Year Dashboard outline details and requirements prior to your arrival on campus.
ID Cards
All first-year students will submit a photo for use on their student ID through the First-Year Dashboard. ID cards are needed to access all first-year resident halls, 24-hour academic buildings, the Dining Center, the Jaeger Center, and other locations.
Information Technology
The Gettysburg College computer network is designed to work with all computers and most smart devices. You can learn more about connecting your devices online.
Student Employment Services
Handshake, which will be included in the First-Year Dashboard is Gettysburg College's online repository for job and internship openings. A student employee will typically work 10 hours per week.
Transportation Services
Transportation Services provides students with transportation, for a fee, to and from mass transit locations including Dulles International Airport, BWI Airport, Harrisburg International Airport, Amtrak at BWI and downtown Harrisburg, Harrisburg bus station, and Shady Grove Metro station.