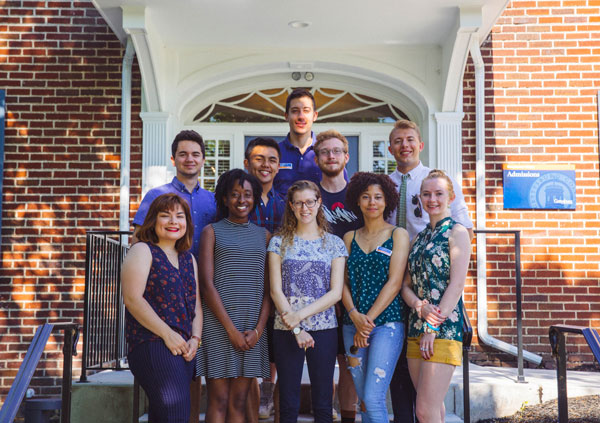 Lillian Cadet '22
Major: English
Minor: Teaching Certificate Program
Hometown: Philadelphia, PA
Why I Chose Gettysburg: I chose Gettysburg because it was a good fit for me socially and academically. Socially, it had clubs that I wanted to be a part of, such as Black Student Union and Surge. Academically, Gettysburg offered the major and programs I wanted-English, while doing the Teaching Certificate Program.
Giancarlo Castillo '22
Majors: Health Sciences and Public Policy
Hometown: Summit, NJ
Advice for prospective students: Don't be afraid to ask your tour guide questions about anything! We have all been through the college process and are happy to help and give advice.
Jane Fitzpatrick '20
Major: Religious Studies
Minor: Middle Eastern and Islamic Studies
Hometown: Bloomsburg, PA
Why I Chose Gettysburg: I am able to explore all of my interests, both academic and extracurricular, here at Gettysburg. The size is a comfortable fit for me. I also love to run on the battlefields!
Daniel Jones '22
Majors: Public Policy and Religious Studies
Minors: Middle Eastern and Islamic Studies, Peace & Justice Studies
Hometown: Blue Ridge, Virginia
Best Class I've Taken: AFS 246-Human Rights in the Caribbean with Professor Williams
Garrett Kost '21
Major: Interdisciplinary Studies: Experiences of War
Minors: Civil War Era Studies, German
Hometown: Freeland, PA
Advice for Prospective Students: Your college decision is entirely your own. If you love the campus you're on, and can envision yourself there four years down the line, the school is for you. Do not let anyone else influence your decisions.
Becky Montross '20
Major: English with a Writing Concentration
Minors: Peace & Justice Studies, Secondary Education Teacher Certification
Hometown: Long Valley, NJ
Why I Chose Gettysburg: I knew Gettysburg would provide me with an exceptional college experience, one with leadership opportunities around every corner, academics that would challenge me, and programming that would push me out of my comfort zone.
Austin Nikirk '20
Major: Music Performance
Minor: French
Hometown: Baltimore, Maryland
Favorite Spot in Town: I love going to the Ugly Mug Cafe to grab a cup of coffee and study, hang out with friends, or meet with my professors.
Nate Rell '22
Major: Biology
Minor: Computer Science
Hometown: Plymouth Meeting, PA
Best Class I've Taken: The History of Tea: an Experiential History with Professor Lowy. It was a super engaging First-Year Seminar that taught me not only how tea has become a popular beverage around the world, but also helped me strengthen my college-level writing skills in my very first semester on campus.
Angee Santos '21
Majors: English and Cinema & Media Studies
Hometown: Rockville Centre, NY
Favorite place to study on campus: The third floor of the library. There's a room with a round window that has an amazing view, and it is quiet and cozy - the perfect place to study.