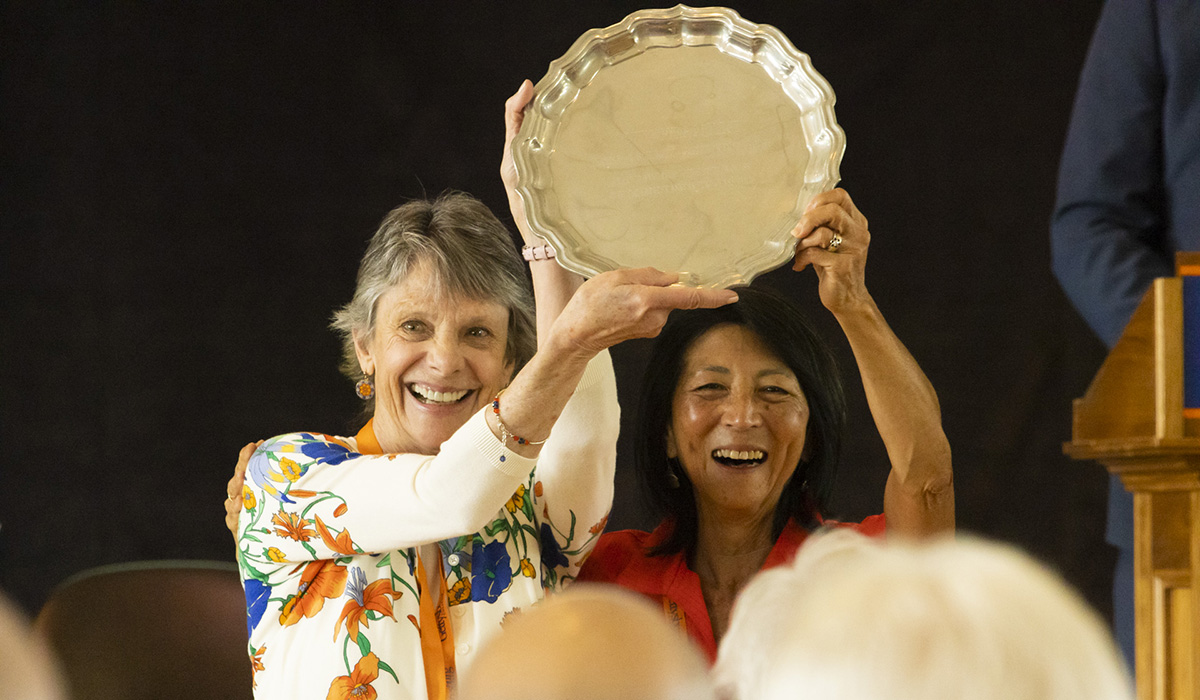 With feelings of nostalgia for the past and hope for the future, more than 1,200 Gettysburgians from nearly 60 class years returned to Gettysburg College to rekindle lifelong friendships, revisit favorite places on campus, and relive precious memories as part of Reunion Weekend from June 1-4.
From Alumni College classes taught by Gettysburg faculty to social gatherings in every corner of campus, the weekend was full of opportunities for alumni to engage with one another and reconnect with the institution as it continues to empower students to make a difference in the world around them. A number of alumni were honored for their volunteer and professional contributions to Gettysburg and their respective communities, while President Bob Iuliano spoke of the College's Strategic Direction and distinctive approach to education.
Check out some of the highlights below from an exciting Reunion Weekend!
Class of 1973 leads reunion returns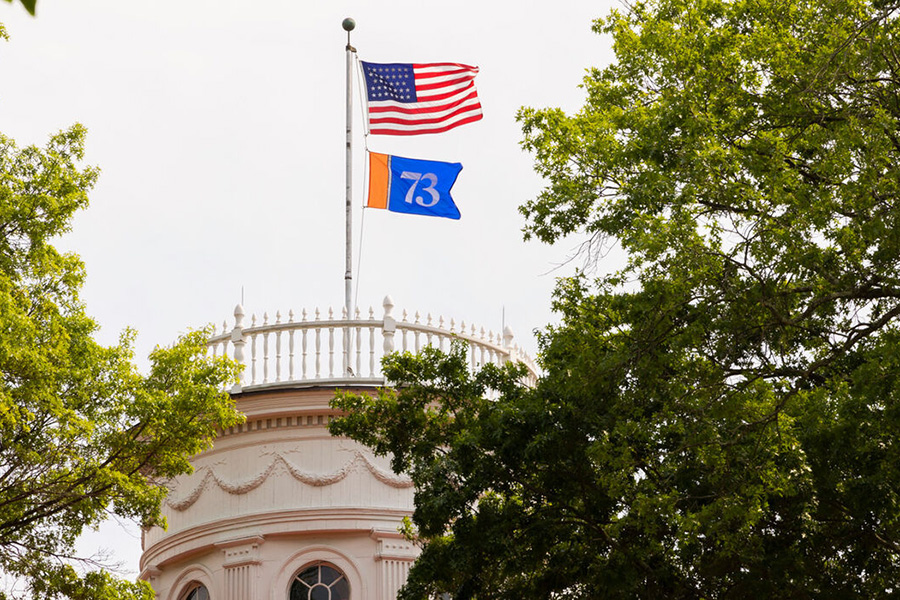 Graduates from nearly 60 classes returned to celebrate Reunion Weekend, but with 115 classmates in its 50th reunion year, the Class of 1973 hoisted the 1915 Reunion Cup, which goes to the class having the largest percentage of class members attending the event. The Class of 1973 also led the way in annual giving among reunion classes, amassing more than $500,000 in funds to support Gettysburg College since last June and claiming the Verna A. Schwartz '13 Reunion Fund Trophy for the Largest Annual Fund Class Gift. The Class of 1973 raised an incredible $5.2 million 50th Reunion Class Gift to support Gettysburg. Additional classes honored for their support of the College included the Class of 1988, which claimed the Charles W. Beachem '25 Reunion Fund Trophy for Most Improved Class in terms of dollars raised and the Class of 1978, which earned the 1925 Reunion Gift Participation Award for having the largest percentage of its class make a gift (50%).
Celebrating a 75th reunion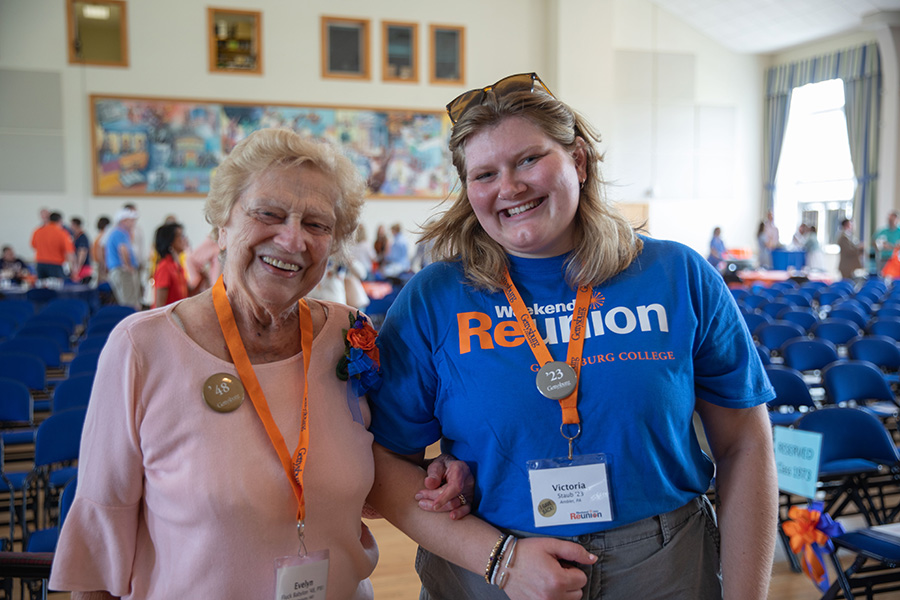 Reunion Weekend's oldest returning graduate was Evelyn Fluck Babylon '48, who relished the opportunity to engage with her alma mater and fellow Gettysburgians during the Presidential Address and Awards Ceremony on Saturday morning. Joined by her daughter Sarah Babylon Dorrance '81, Babylon, who majored in physics, spent time after the ceremony recounting the story of meeting her husband David Babylon '48 on Gettysburg's campus nearly eight decades ago, and later in the day visited Special Collections in Musselman Library. In addition to her husband and daughter, Babylon's father-in-law, David Babylon, Sr., Class of 1903, and granddaughter, Melissa Dorrance Cimbala '13, also attended Gettysburg.
Back to class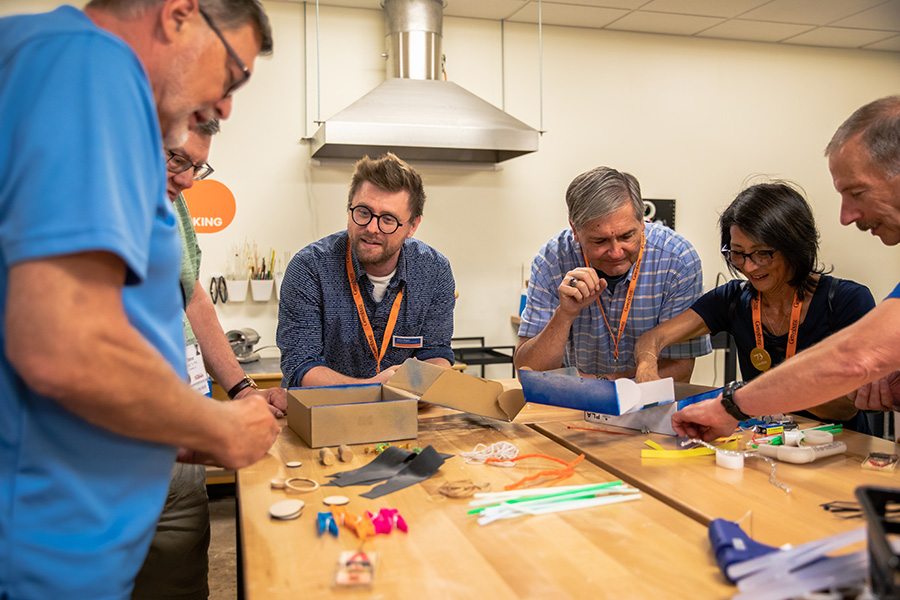 Throughout the first two days of Reunion Weekend, scores of alumni attended various college classes conducted by Gettysburg faculty and fellow alumni. The classes covered the breadth of the academic curriculum and spanned hands-on learning experiences in the Creativity and Innovation Lab and on the digital dissection tables in the Science Center to lectures on the 100th anniversary of the Battle of Gettysburg and the creation of the College's Land Acknowledgment Statement. A total of 15 classes were conducted over the first two days of Reunion Weekend. Concluding the academic offerings was a presentation by Cheri Hartman '73 and David Hartman '72—who was the nation's first blind person to complete pre-med and medical studies—about how Gettysburg helped them prepare for leadership roles in the medical field and the creation of a medical school and a clinic to treat addiction.
Other offerings during Reunion Weekend included an LGBTQ+ Awareness and Advocacy Training with the Gender and Sexuality Resource Center at Gettysburg College. The session was open to everyone, including alumni, parents of current students, and community members, to learn about the LGBTQ+ community, terminology, effective allyship, and more. Several College organizations also held open houses, including the Center for Career Engagement, enabling alumni to see the on-going opportunities available for students and alumni to work together. Schmucker Art Gallery and Musselman Library featured several visiting and student exhibits for alumni to view throughout the weekend, with the former offering a tour of the Adams County Arts Council Annual Juried Art Exhibition and the latter featuring "Educating Women at Gettysburg College: Progress and Pushback" in Special Collections.
Supporting athletics at the Orange & Blue Golf Classic
More than 200 golfers hit the links at Hanover Country Club on Friday, June 2, for the 31st Annual Gettysburg College Orange & Blue Golf Classic, presented by The Cly-Del Manufacturing Co. The event kicked off early Friday morning and carried on through the late afternoon with alumni and friends of the College enjoying a round of golf while engaging with volunteer staff working the event. One of the Athletics Department's largest annual fundraisers, this year's event raised more than $140,000 to support student-athlete endeavors.
Alumni honored with achievement awards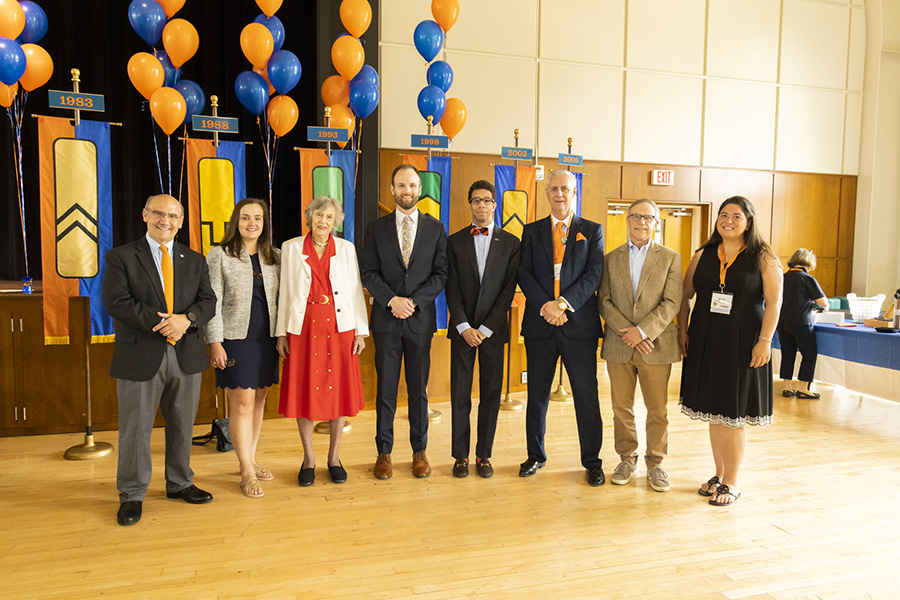 Several alumni were also honored during Saturday's awards ceremony. Sarah Cardwell '15 and James Russell '08 were presented Young Alumni Achievement Awards for Service. Caldwell has served as vice chair and president of the Burgians of the Last Decade (BOLD) Council and has been a dedicated volunteer with the Philadelphia Alumni Club. Russell has also been an active alumni club member in Philadelphia as well as an advisor for his fraternity, Phi Delta Theta. He served an eight-year term on the Alumni Board of Directors.
Nicole Holuba LaMarca '08 and David Moore '08 were honored with Young Alumni Achievement Awards for Career Development. LaMarca earned the Outstanding Humanism in Patient Care Award as a pediatric nurse practitioner at Columbia University Pediatric Spinal Muscular Atrophy Research Center and is currently the global medical director, data exploration and generation lead-subject matter expert at Novartis Gene Therapy. Moore made the most of his liberal arts degree, working as a staff assistant for a U.S. senator and as a director of research and external communications before joining the U.S. Air Force in 2014, where he has risen up the ranks and has earned numerous awards and medals. Unable to attend the event due to his military obligations as a Major in the U.S. Air Force, Moore sent in a thank you video from his deployment in Saudi Arabia.
Two Gettysburgians, Cal Anderson '73 and Fran Cannon '78, were lauded with Meritorious Service Awards recognizing their outstanding volunteer contributions to the College. More than 20 years ago, Anderson helped Gettysburg gain more visibility in Connecticut with the creation of the Gettysburg College Book Prize, which is given to more than 100 high schools in the state each year. Cannon was an active and engaged member of the Alumni Board of Directors from 2014 to 2022 and has been a resource to current students and young alumni through Gettysburg Career Connections and ConnectGettysburg.
Finally, Helen-Ann Souder Comstock '54 was presented with the 2020 Distinguished Alumni Award following a three-year delay due to the pandemic. Comstock founded the Association for Frontotemporal Dementias (AFTD) in 2002, drawing on her experience as a caregiver for her husband who passed away to a rare but devastating disease more than 20 years ago.
Gettysburgians then, now, and forever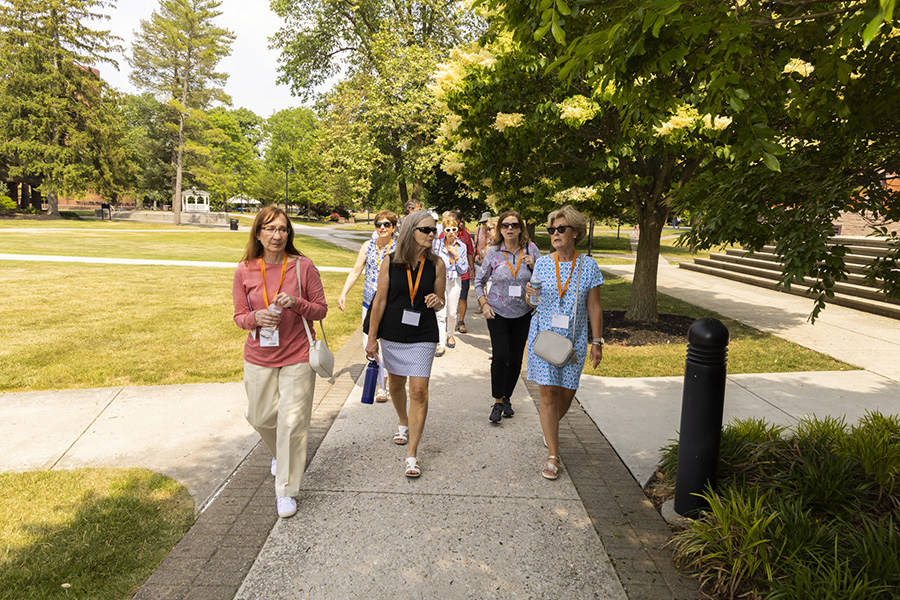 Alumni were encouraged to explore campus and relive memories from their days as students. Some spent the weekend staying in college residence halls and revisiting fraternity and sorority venues before enjoying award-winning dining experiences at The Bullet Hole and the Atrium. Campus walking tours took people past familiar buildings like Glatfelter Hall and Plank Gym and new edifices constructed and renovated in the years since they graduated. A Saturday morning walk on the nearby battlefield preceded a campus-focused Civil War tour conducted by Scheduling and Technical Support Manager John Rudy '07 in the afternoon, reminding those in attendance of the important role the College played in that distant conflict.
Social events and receptions took place in nearly every conceivable corner of campus and throughout the local community, including the north lawn outside Penn Hall, Majestic Theater, John F. Jaeger Center for Athletics, Recreation, and Fitness, and the Dining Center. The weekend's festivities wrapped up with the all-class party in the CUB Ballroom Saturday night.
Looking to the future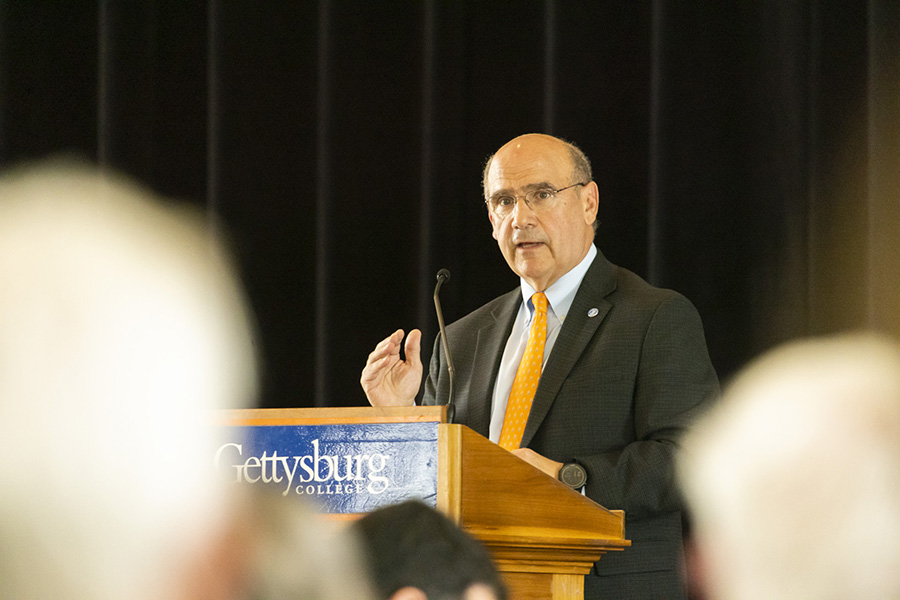 Through all the nostalgic moments and relationships revisited over the course of Reunion Weekend ran an underlying feeling of excitement for what remains ahead for Gettysburg as noted by President Iuliano in his address to alumni.

"In the years ahead, I want to see our institution take a similar courageous step," said Iuliano referencing the College's Commencement tradition of walking through Penn Hall before going out into the world as graduates. "From a college endeared by 32,000-alumni strong to a college revered across the country and around the world. Gettysburg is a special place and your alma mater is poised to impact society in immeasurable ways."
Relationships—whether between classmates, students and faculty, or alumni mentors and mentees—have helped Gettysburg carry out its promise of providing A Consequential Education to help prepare students to Do Great Work in the world. This distinctive approach to education—the Gettysburg Approach—has been a staple of the institution since its founding in 1832 and serves to empower students with a breadth and depth of knowledge and a set of enduring skills to help them live a consequential life.
As Iuliano concluded his remarks to the gathering in the CUB Ballroom, he implored the alumni in attendance to continue to choose Gettysburg when championing our education in their communities, engaging in institutional activities, supporting top philanthropic priorities, and living the College's mission in all that they do.
"If we continue to choose each other, if we continue to choose this community, I promise you there is nothing we cannot accomplish together—for our students, for our College, and for the broader good," said Iuliano.
Read President' Iuliano's full remarks from the Reunion Collation Address
By Corey Jewart
Photos by Abbey Frisco, Kailey White '21, Doug Huber '06 (ProArts Media
Posted: 06/08/23