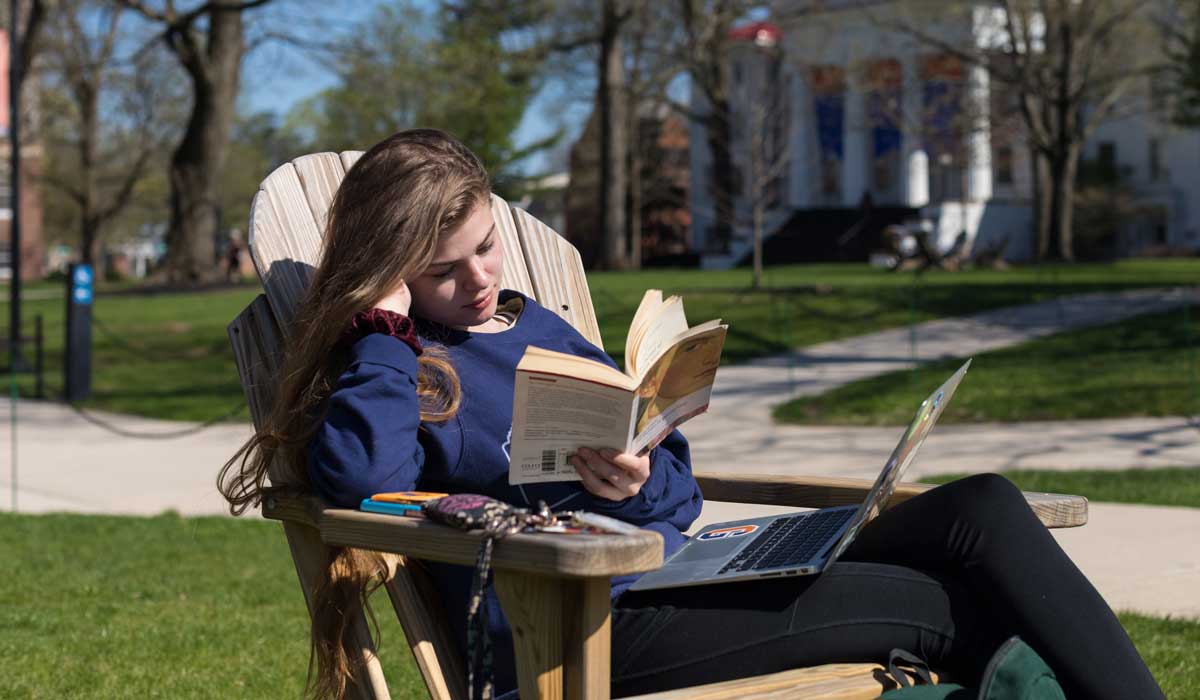 As Gettysburg College makes the transition to remote learning amid the global health crisis, our students, faculty, and staff are acting with perseverance, determination, and creativity to best navigate these unprecedented circumstances. We understand this is a very difficult time—particularly for our students and their families—but know that our community is here to support you, and we will overcome this situation together.
Below, read notes of advice from all corners of our College community as we prepare for a new approach to teaching and learning.
Dean Anne Lane, Dean Jennifer Cole, Dean Hannah Sollenberger, Carol Simpson, and Noelle Billand
"Now is the time for clear and honest communication with professors—about what you are struggling with, what's going on personally and academically, and what kind of help you need. We know that asking for help can be difficult for a lot of people, but we all need to do things a little differently right now. Ask us for help if you're not sure how to communicate with your faculty about what's going on.
"Moving to online instruction requires us all to act and operate with trust, respect, integrity, and honesty in everything that we are doing. This is a true test of the spirit and values of our Honor Code, and it is important that we all uphold these principles in everything that we're doing, big and small.
"Course registration for next year is around the corner, and we want you to work with your faculty advisors to make strong plans for next year. Your faculty advisors stand ready to assist you, and you need to be in touch with them in order to have your advising hold lifted so that you can register on time. Remember to register for the full academic year, fall and spring. Keep in mind that registration is one aspect of your academic life that already happens online, so other than how you communicate with your advisor, this isn't changing. To provide additional support, the academic advising deans will be holding virtual drop-in hours on Monday, March 30, and Monday, April 6. More details about how to access these drop-in hours will be shared soon.
"Take good care of yourselves and your loved ones!"
Rob Bohrer, Associate Provost and Dean of Public Policy Programs
"This is a transition for everyone—students, faculty, and staff—so we're all in this together. Don't be afraid to reach out for clarification from your advisor, faculty, or staff members if you need something or just want to talk. 'Social distancing' is physical, not emotional, and the Gettysburg community stands ready to help one another get through this.
"'Social distancing' is physical, not emotional, and the Gettysburg community stands ready to help one another get through this."
"Gettysburg College is about community and relationships. Switching to remote learning does not diminish those, and as a community we will move forward. Lean on the Gettysburg community and we will continue to build those relationships that last a lifetime."
"My advice on how to make it through this crisis is pretty straightforward and follows that of many other folks around the world: Communicate effectively and clearly with your students. Be flexible and adjust your expectations. Faculty, make sure you teach in a way that is accessible to all students. Most importantly, be kind.
"For Gettysburg, I'll add, 'Don't reinvent the wheel.' We are a group of incredibly creative, experienced, and innovative educators. Our colleagues in Information Technology, Musselman Library, and other offices have worked tirelessly to help us gain new skills and establish the resources we need to do what we do: provide an outstanding liberal arts education."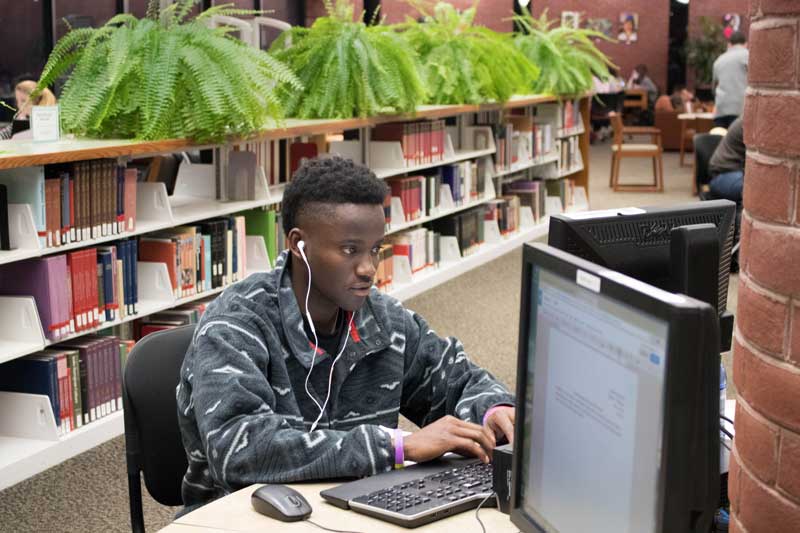 Jim Duffy, Associate Dean of College Life
"Continue to be curious and look for ways to engage virtually. The College Life Division has already started the process of identifying co-curricular initiatives that can be delivered in a remote learning environment.
"In addition to student engagement, we will also actively seek student feedback as we will refine our delivery methods to best serve our students. Students should be prepared to think creatively and act ambitiously."
Michele Dumois, Psychologist and Counselor
"There's a lot of changes occurring at a rapid pace, and there's a huge need for flexibility as we all navigate the ramifications of this virus. Implementing self-care, safe ways to connect, and being kind and compassionate toward ourselves and others is key to our emotional wellbeing.
"Check out the Health and Counseling Services' Emotional Wellness and COVID-19 webpage for more tips."
"In remote learning, clarity of expectations is especially necessary. I learned teaching an online class last summer that students do really well working independently if they know exactly what they're supposed to do. Faculty will be doing a lot of different things over the course of the next few weeks, such as: offering pre-recorded lectures, assigning films and online videos, assigning readings, setting up reading discussion forums on Moodle, and holding live classes via Zoom. It's really important for faculty to be very clear about what students must do, and when - and offer suggestions about how to fit all these different requirements together and into what are going to be very busy weeks for all of us.
"For example, it could be helpful to provide a detailed guide to how students should approach materials, what questions they might consider as they're working their way through materials, and even suggestions about how to spread tasks out over the week. When expectations are clear, students really do rise to the occasion!"
"The Center for Career Engagement team will continue to be available to our students and alumni for one-on-one appointments remotely and by phone, all of which can still be scheduled through Handshake. We are working to ensure that you have ongoing access to opportunities, information, and the Gettysburg Network through our website, Handshake, and connectGettysburg, among many additional online resources.
"What is helpful to keep in mind is that much of today's job and internship searching and networking occurs virtually already on platforms like Linkedin, so you are well-prepared for this experience—and the Career Engagement staff will be there to provide targeted advice and support the entire way."
"It's OK to find the humor in #therona while simultaneously taking it seriously! Many cultures have used humor to get through some of the most trying times in history."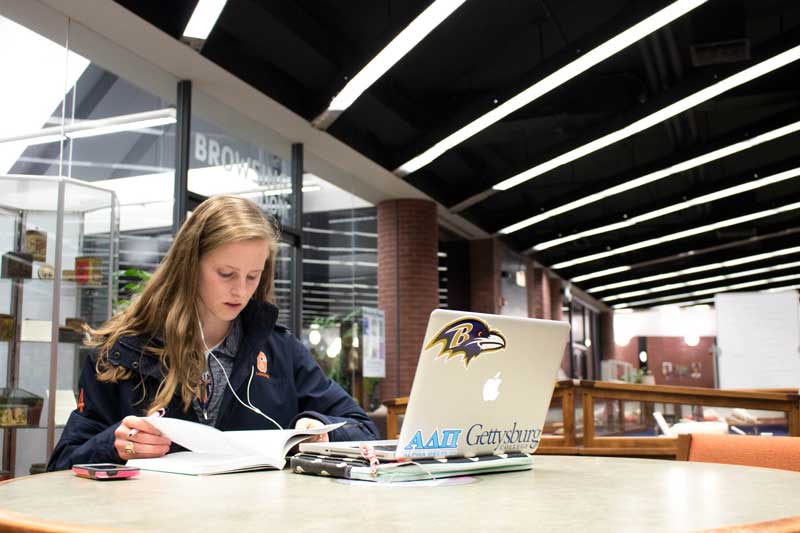 "My advice to students in the arts is to embrace the opportunity to be resilient and creative in an unprecedented circumstance. A working knowledge of software tools and digital platforms that enable global collaboration, innovation, and entrepreneurship, are invaluable in the 21st century.
"I'm confident that Gettysburg College will continue to educate leaders in the field, even if it's in a virtual format, and our students will rise to the challenge with resourcefulness and determination."
"My two pieces of advice are: (1) seek out an adult mentor, or continue to maintain your current mentor relationship with faculty and staff, and (2) find one or two things to get or stay involved with that have been part of your on-campus Gettysburg experience.
"Students now have to learn a new way to do that. Faculty and staff will have to learn new ways to do that. We are such an interactive community and crave personal connection, so doing this could be tough. It will be tough.
"But this community is also resilient, and our students are creative and innovative and will find new ways to do things. Already, departments are working on how to connect virtually for student meetings, clubs, groups, events, and more, so students should keep track of the website and College email."
Benjamin Kennedy, Mathematics Professor
"There will be a lot of instructions to read. Take a deep breath, go slow, and reach out for help if you need it."
"Understanding current events has always been an important part of being an engaged citizen, but suddenly it's become essential to protecting our communities. Making sense of the news, distinguishing facts from rumors, and talking with loved ones about social distancing is the exact sort of civic challenge that a liberal arts education prepares us for.
"At the same time, it's important to take care of our own mental health by taking breaks from the news and by staying connected to friends and family. We will get through this on the strength of our relationships and our community."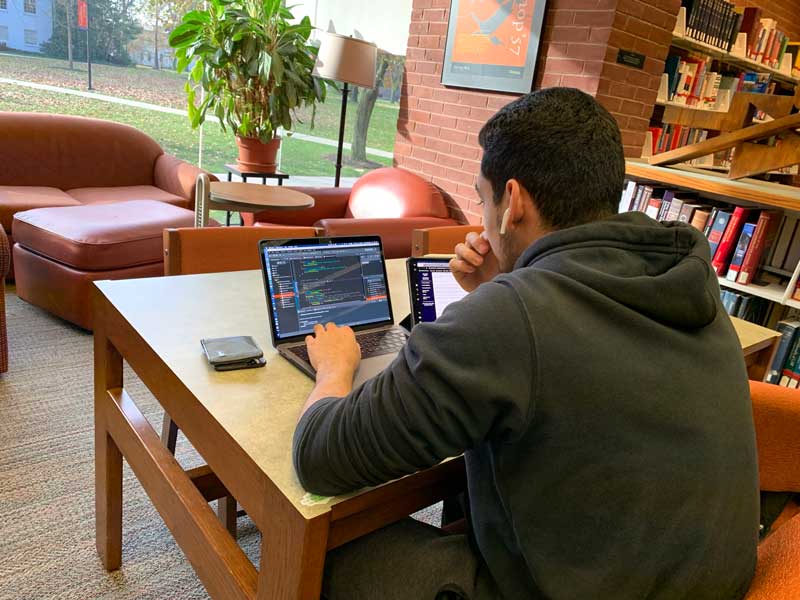 Heather Odle-Dusseau, Management Professor
"Now is a time students are really being called to leverage the critical thinking skills they have developed as members of Gettysburg College, and use those skills to think creatively about how to continue to learn remotely and respond to these unprecedented times. Know that your professors are all here for you, and also are relying on our own skills in critical thinking and adaptability in order to learn new ways of teaching our students remotely."
Chris Oechler, Spanish Professor
"Although your interactions will now be mediated by technology, remember that there is a human being on the other end, whether it be a professor, advisor, administrator, or fellow student. They may have the same questions and be feeling the same anxiety as you, so don't hesitate to reach out. In the languages, communication is key, and at this moment, it's one of the tools you can rely on to help you successfully navigate remote learning. We're all in this thing together!"
Alecea Standlee, Sociology Professor
"Remote learning is different from other kinds of education. It requires that students really take responsibility for their own learning. Here are some tips to help students do that:
"Be patient with your classmates, your professors, and yourself. None of us signed up for this, and we are all learning as we go along. You may face technical issues, classmates who are unavailable, and professors who are just doing their best. Be patient with yourself, and give yourself time to adjust.
"Be consistent, and make sure you log on to your Moodle class several times a week. Check for announcements, new material, and discussion postings. Go to Zoom meetings with your professors as often as you can, and communicate what is going on with you to your professors.
"Finally, be organized. Make sure you know what work you need to complete, and when it is due. Try to schedule time every day to complete tasks, and set reminders so you don't forget deadlines. And above all, be kind to one another. Even though you are not in classes together, you are still classmates. Stay in touch and treat each other with respect."
Alex Trillo, Biology Professor
"I've led several Tropical Field Biology courses, where I take students to the middle of the Amazons and back.
"Some of the things we deal with during these courses are ringing true during this time: we need to teach and learn while dealing with some level of uncertainty, we need to check on everyone's well-being often, and we all understand we need to work as a team and establish clear and direct lines of communication to be successful.
"These are all challenges my tropical students know about when they sign up. Unfortunately, in this case, you did not sign up for any of this. Trust me, I understand the frustration.
"But now that we are here, my advice is as follows: (1) accept the uncertainty, as things might change at an institutional, class, or personal level; (2) be conscious of your mental and physical states and be mindful of the state of others in class who might be working with you; and (3) if possible, be open and clear about how we can best support you. We will all try to do our best in these uncertain times."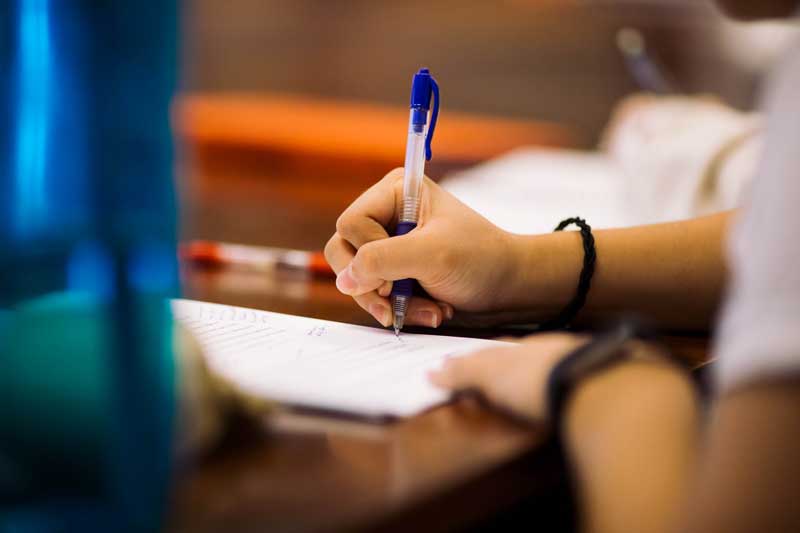 Hakim Mohandas Amani Williams, Africana Studies Chair and Professor
"I have eight pieces of advice for our students: First, as with in-person teaching and learning, communication is key. If there is anything that's hampering your learning, try to share that with your professor. You don't have to share all the details, but let your professor know that something is getting in the way.
"Second, there may be more writing that's occurring with remote learning because some teachers may rely more on discussion boards than before. This may stress some of you because you may consider your writing skills not at the level that you wish them to be. Express this concern to your professor and also see this as an opportunity to practice deeper introspection. I often hear from students who are more reticent in classroom discussions that the discussion has moved on by the time they form their thoughts. Online discussion boards sometimes allow you more time to craft the kind of response that is more thoughtful and congruent with your intent.
"Third, if you feel quite stressed or anxious at home during this time, if it is an option, consider switching to S/U.
"Fourth, use this time to visit your professors' online office hours. Get to know your professors.
"Fifth, for some, diving back into their academic work is a welcome relief. Be sure to pace yourself. Create a routine so that you're diversifying your schedule. If you're able to, make time to exercise a bit, to meditate and reflect, and to do something fun for yourself.
"Sixth, you're not immersed in a college environment anymore, so the things that kept you motivated and focused may not be there anymore. Reach out to classmates and form online buddy and group study sessions.
"Seventh, don't be afraid to connect what you're learning to this unprecedented time for the planet.
"And lastly, remember you are not a robot, and these are indeed stressful times. So while you're striving to be the best learner that you can be, give yourself and others some grace and patience to err and to take a breather every so often. I'm not saying to entirely ignore your grades, but try to decenter them and to shift your attention to learning itself. May this be a time of deeper discovery and exploration.
"We often cannot control the events that happen to us, but we do have control on how we will respond to these events. This is a wonderful opportunity to take a holistic view of what contributes to your joy and develop a well-being strategy.
"According to Gallup, there are five interconnected elements of well-being: career, social, financial, physical, and community. Explore these different dimensions and begin designing your best life."
For more information on the College's move to remote learning, listen to in the latest episode of Conversations Beneath the Cupola. Learn more about Gettysburg College's response to COVID-19.
Photos by Miranda Harple, Shawna Sherrell, and Phoebe Doscher '22
Posted: 03/23/20