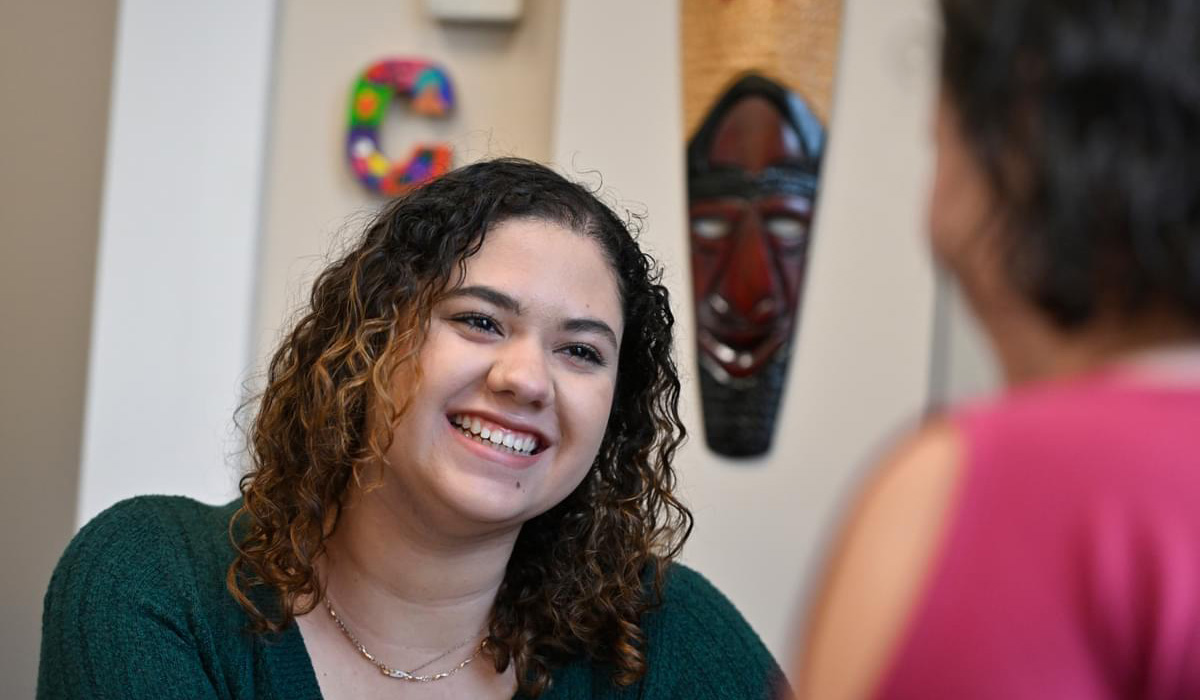 What shapes your time at college? You could say the courses you take, the relationships you build with fellow students and faculty, the internships and study abroad opportunities you pursue, or the performance ensembles, athletic teams, and clubs and organizations you join. All play a role throughout the course of your life as a student.
At Gettysburg College, our signature undergraduate experience consists of all these areas, and it's delivered through the Gettysburg Approach—how we put A Consequential Education into action. We build within every Gettysburg student a breadth and depth of knowledge and set of enduring skills to prepare them to thrive in a competitive and complex world.
Within our Guided Pathways, students deepen their knowledge and practice the enduring skills most valued by employers and graduate programs—adaptability, communication, creativity, intercultural fluency, leadership, problem solving, and teamwork.
The Guided Pathways position you to select your experiences in an intentional way, connecting activities with the skills you hope to strengthen. In doing so, you'll understand the meaning behind every engagement at Gettysburg and how over four years they come together to lead you toward the makings of a consequential life.
Explore three ways the Guided Pathways help you navigate your Gettysburg experience.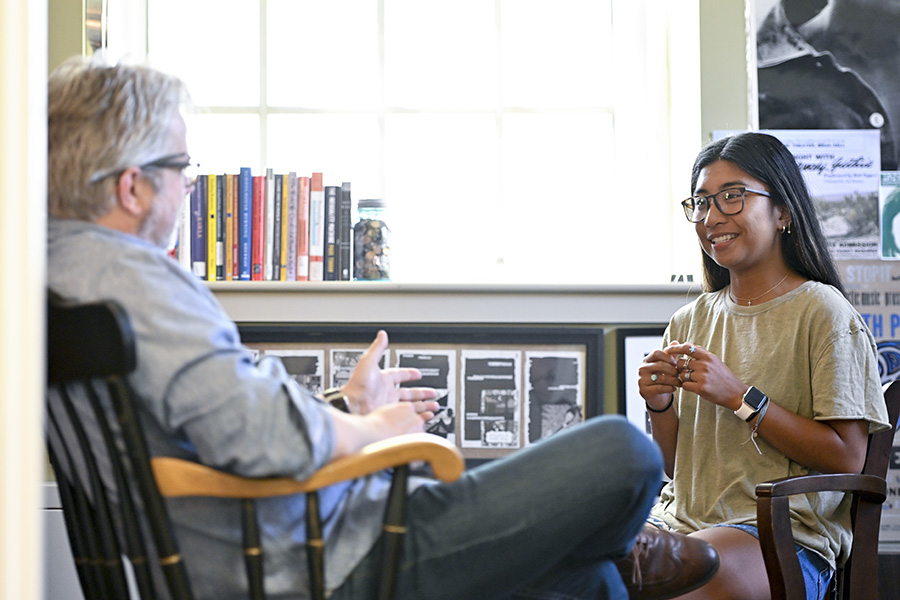 1. Support from a Personal Advising Team
To ensure you get the most out of your Gettysburg education through the Guided Pathways, you're supported by your own Personal Advising Team. Your team consists of a faculty advisor, co-curricular advisor, and career advisor. At the conclusion of their sophomore year, students can add an alumni mentor to their Personal Advising Team to help define their career goals and build their professional network.
The members of your Personal Advising Team are here to support you and help you chart the course of your college journey.
Community is at the heart of our educational approach. From the moment you arrive on campus, our faculty embrace you as a contributing colleague. This support extends to the athletic coaches, mentors, and staff members of offices and organizations who come to work each day because they care about you and want to empower you.
The Personal Advising Teams are an extension of one of the College's defining attributes: our people. Patrick McKenna Jr. '20, an associate in the Office of the CEO for the Climate Leadership Council, believes the mentorship he received during his time as a Gettysburg student was instrumental to his success on campus and now out in the world.
"At Gettysburg, I was supported by an excellent network of formal advisors; however, faculty and administrative support did not end there," he said. "My political science advisor, Emerita Prof. Shirley Ann Warshaw, was an incredible resource. She talked through potential career paths and helped me find internship opportunities using her informal network. This type of career advising was essential for me at Gettysburg, and without it, I would not have the career that I do today."
McKenna, a member of Gettysburg College's BOLD (Burgians of the Last Decade) Council, said that professors and administrative advisors for student activities and clubs were always willing to connect with students like him by discussing career opportunities and suggesting ways to make the most of opportunities on campus. "This willingness meant that I had a network of advisors from across disciplines and backgrounds who gave multiple perspectives that helped me think through and figure out what made sense moving forward in my career."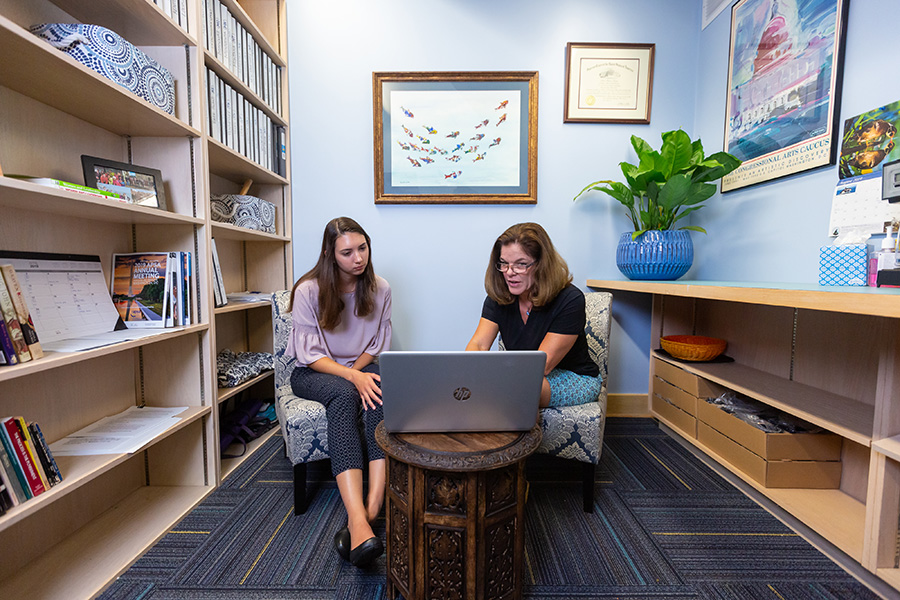 2. Opportunities for intentional reflection
Gettysburg College provides every student with an education in the liberal arts and sciences that is relevant, meaningful, and transformational. As you progress through the Guided Pathways, you'll discover multiple points to pause and reflect on what you've accomplished.
Whether you study abroad, take to the field with your teammates, engage in student-faculty research, embark on a career immersion trip through the Center for Career Engagement, or participate in the Eisenhower Institute, Center for Public Service, Garthwait Leadership Center, and Sunderman Conservatory of Music, your accomplishments through all of these experiences impact and influence one another through the Guided Pathways.
Gettysburg is intentional about providing you with opportunities to reflect on your education. Your Personal Advising Team will provide you the space to think about what you're doing, why you're doing it, and how you're preparing yourself for what you'll do next.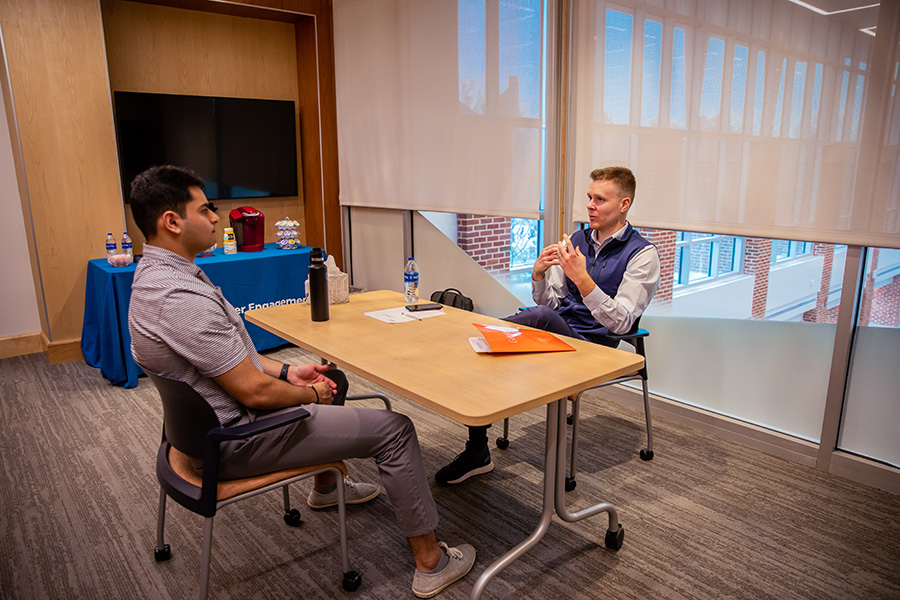 Public Policy Chair Anne S. Douds explained the power of reflection: "Taking time to reflect is part of the organic process of learning," she said. "Reflection is about moving forward. It allows you to be better and stronger. That's what the Guided Pathways are all about. We want to give you not only the space but also the tools to do meaningful reflection to give you the deeper, more nuanced learning that you want."
For Douds' public policy students, reflection could involve creating a reflection paper after seeking stakeholder feedback on a public policy plan they're drafting. It could involve journaling, a way to process experiential learning projects, such as internships or externships, aligning them with their personal and professional objectives. Douds often reflects while running, which she shares with her students.
"For me, I need physical activity as part of my reflective process," she said. "The Guided Pathways give you those spaces and places to reflect so you can be even more effective at what you're doing."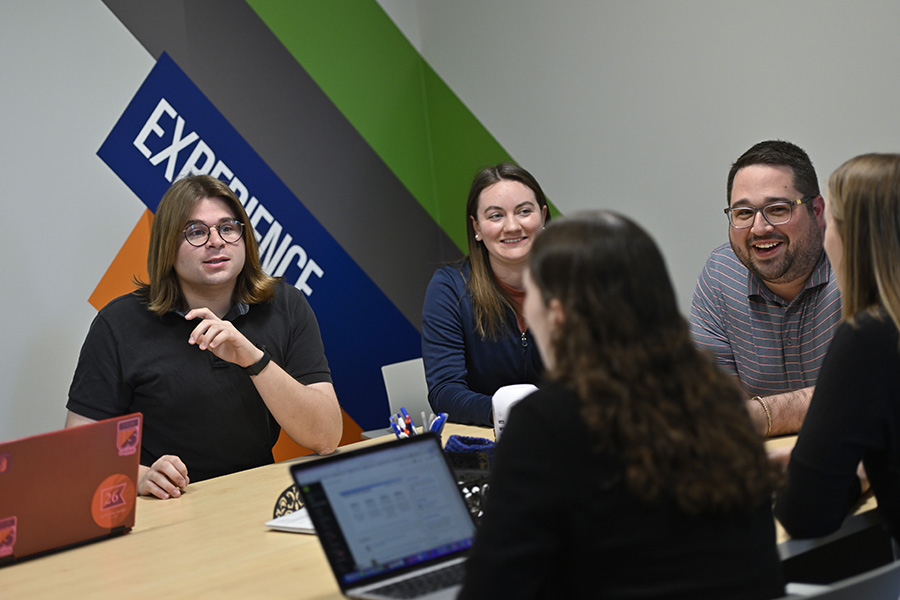 3. Identifying meaning behind every experience
Four years go by quickly. You want to make every moment count, and we want that for you too. Our Guided Pathways help you to discover the meaning behind every experience you have at Gettysburg, carrying you through college and beyond.
With the support of your Personal Advising Team, you'll discover how the work you do inside and outside the classroom aligns with your personal and professional interests. You'll learn how your courses, activities, and skills you build here connect with and support one another. Ultimately, this interconnectedness will allow you to talk about how your education at Gettysburg has made a difference in your life and how you can make a difference in our world.
"The Guided Pathways offer an intentional way for students to connect a superior classroom experience with a robust co-curricular student experience," said Jim Duffy, associate dean of co-curricular education. "Pursuing the Guided Pathways will provide students with an intentional, holistic college experience, allowing them to articulate the values of their degree to potential graduate schools, employers, and other post-graduate experiences. I strongly encourage students to opt into the Guided Pathways."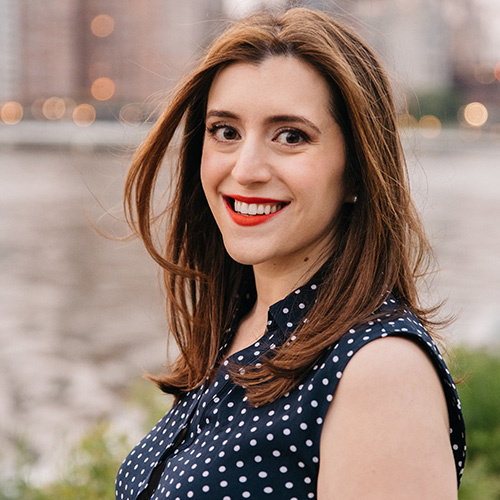 For Emily Orofino '10, teamwork, adaptability, and leadership have been the hallmark enduring skills supporting her career development throughout the last decade. As CEO of her own company, Aurora Industries, she consults for and works with a global clientele, including Proctor & Gamble, Dotdash Meredith, and Macy's. Through her work, she provides insights, industry knowledge, and brand and product storytelling expertise across beauty, skin care, and medical aesthetics.
"I pursued my music degree at Gettysburg College with the plan to become a music teacher, but while at Gettysburg, my goals shifted to business and writing," said Orofino. "I continued to stay in groups like College Choir and Camerata because I loved the camaraderie and teamwork of it all. In these groups, students bring their own talents and hard work to a greater whole. Regardless of the career path you choose to follow, honing your own skills and using them to contribute to and strengthen the outcome of collaborative projects is an invaluable and critical aspect of being a working professional."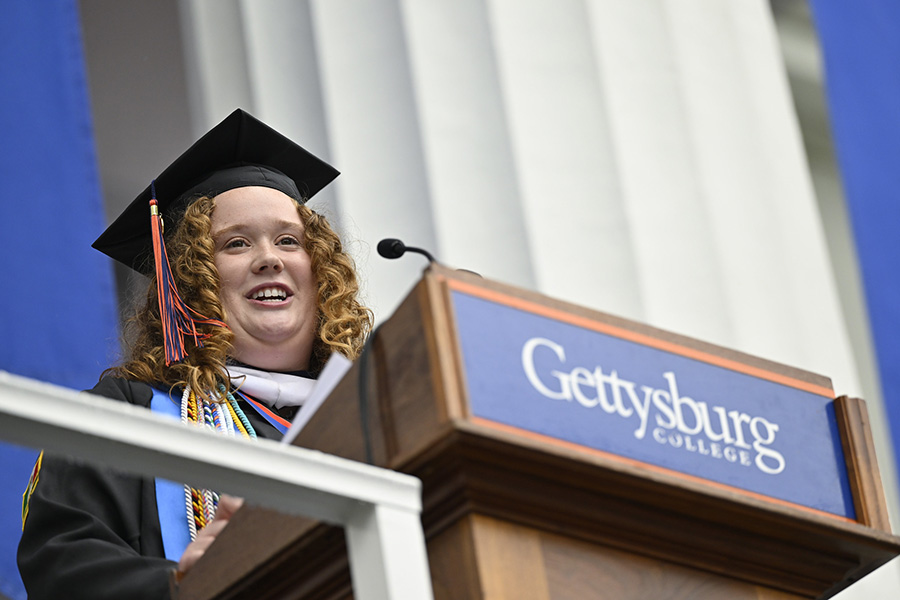 Connecting the dots
While addressing her fellow members of the Class of 2023 at Commencement, Anna Benson '23 reflected on how the strength of Gettysburg's community is reflected within the work of its students.
"On any given weekday, you can guarantee that McKnight Hall will be alive with the energy of El Centro volunteers, and beautiful melodies can be heard streaming through the Conservatory walls. Our community has worked its way into the heart of the nation's capital, as students collaborate with America's most prominent policy makers at the Eisenhower Institute office. The members of our 24 varsity sports teams bring pride to the Orange and Blue. … We are who we are because of Gettysburg, and this will help us a long way ahead."
At Gettysburg College, you will be involved, pursuing experiences that align with your interests. What makes our Gettysburg education unique is that we are purposeful about partnering with you—helping you learn how to connect all that you'll do here to your professional and personal aspirations. Through the Guided Pathways, you'll develop enduring skills and align your passions today with the expectations of tomorrow's employers.
Every incoming first-year student can participate in Gettysburg College's Guided Pathways. To learn more, visit the Gettysburg Approach page on the College's website and explore the Guided Pathways FAQs. For additional questions about the Guided Pathways, email pathways@gettysburg.edu.
By Michael Vyskocil
Photos by Abbey Frisco, Jason Minick, and Shawna Sherrell
Posted: 06/15/23