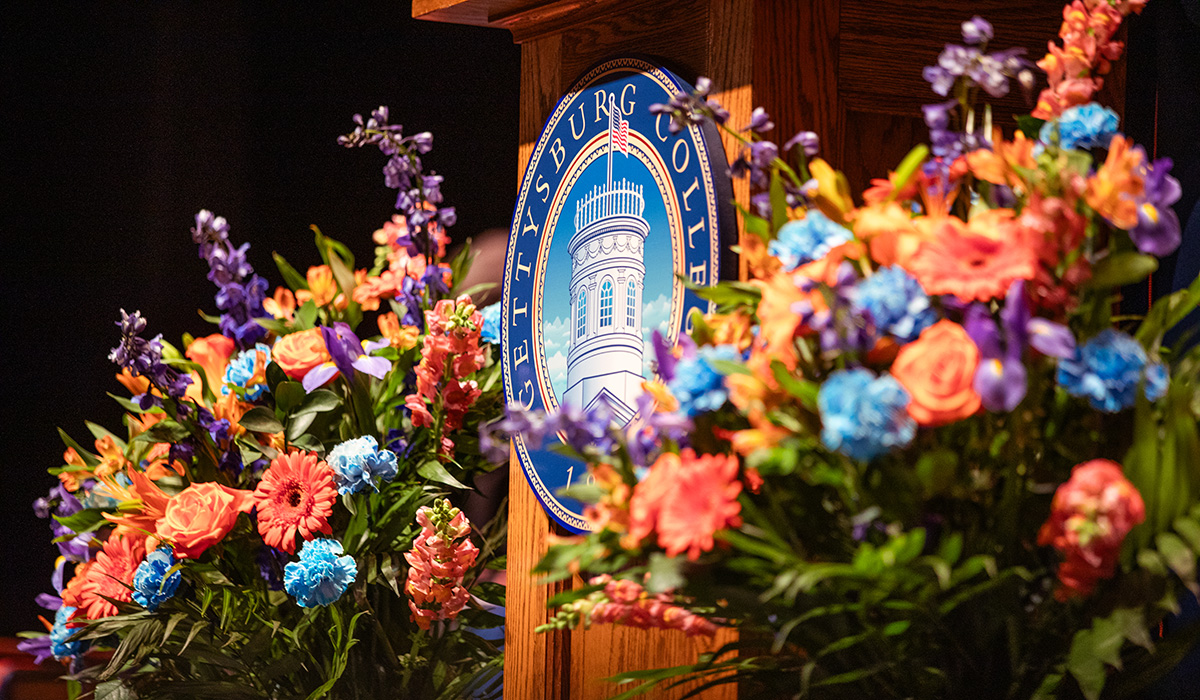 At Gettysburg College, we promise every student A Consequential Education—one that gives them greater insight into who they are, what they want to accomplish, and how they will define and lead their own consequential life.
We are committed to bringing this promise to life for today's students through our new Strategic Direction. Launched in February, Living Our Promise: The Strategic Direction for Gettysburg College has Four Areas of Focus: Academic Excellence, A Transformational and Integrated Student Experience, A Culture of Belonging and Wellness, and Institutional Effectiveness.
While this ambitious vision will be implemented over the next several years, our community is already hard at work to make our Strategic Direction a reality. Explore 20 new initiatives now underway to support the student experience at Gettysburg.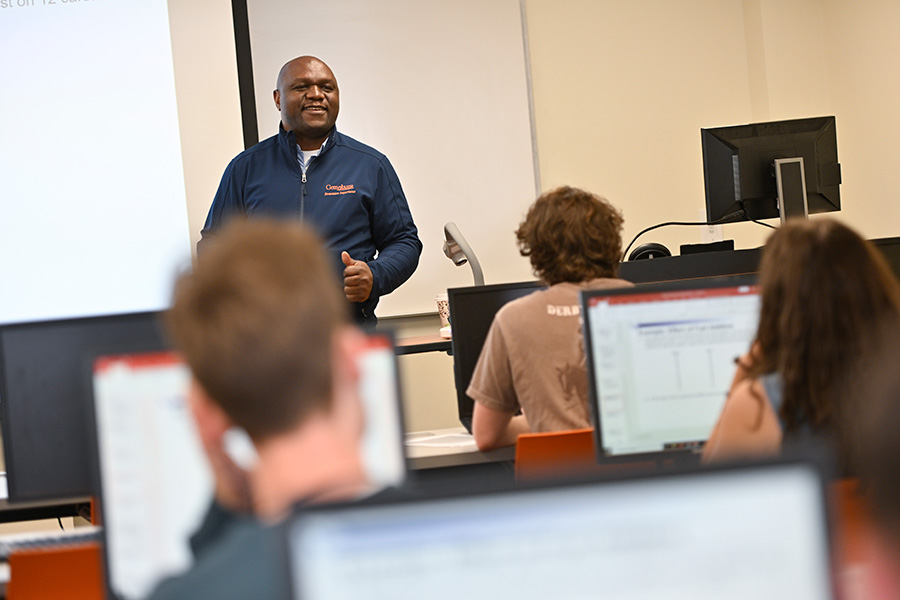 1. Passed a new core curriculum
This past spring, Gettysburg College's faculty passed a new core curriculum that will ensure students have a shared educational experience as they pursue diverse courses in the liberal arts and sciences, hone enduring skills like critical thinking and communication, and consider multiple modes of inquiry and knowledge.
"I applaud our faculty for thoughtfully revising the core curriculum so that it prepares students to be lifelong learners, fosters curiosity and open-mindedness, and encourages a commitment to strengthening communities and improving the world," said Provost Jamila Bookwala.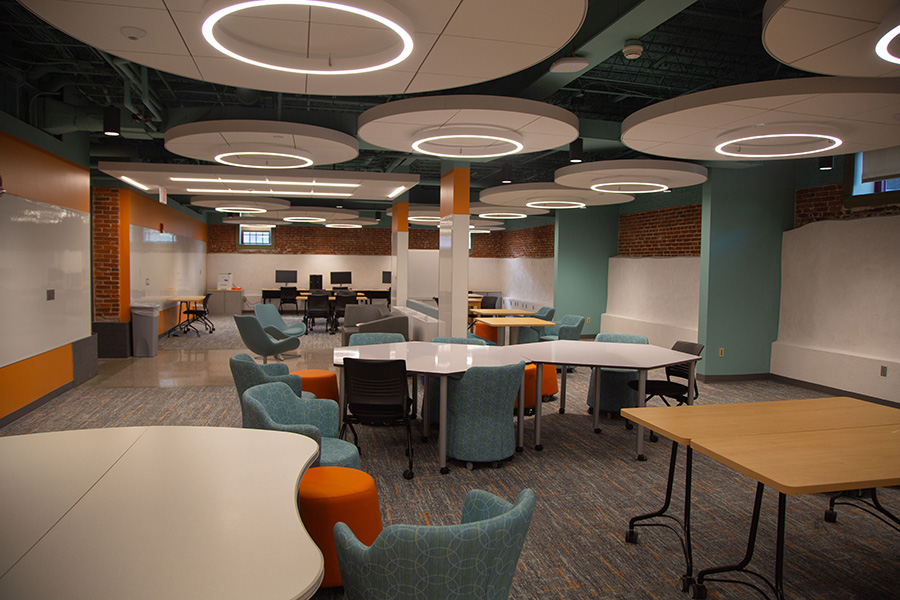 2. Established the Donna Jean Brogan Center for Quantitative Learning
Dedicated in October, the Donna Jean Brogan Center for Quantitative Learning is designed to help ensure that Gettysburg College students gain the knowledge and enduring skills in quantitative subjects needed to thrive in a society increasingly dependent on data literacy and discernment.
Funded by a grant from the George I. Alden Trust and a generous donation from Donna Jean Brogan '60, the Center for Quantitative Learning—located in the lower level of Glatfelter Hall—provides students with a spacious and accessible 24-hour hub to study, receive mathematics and chemistry peer tutoring, meet with faculty mentors, and tackle complex equations on the space's expansive whiteboard surfaces.
"Disciplines are becoming more quantitative in nature, but even more importantly than that, the world is becoming more quantitative in nature, and we are well aware that these are skills our students need," said Mathematics Prof. Darren Glass. "The Donna Jean Brogan Center for Quantitative Learning will provide a place and structure for getting support to make sure all those students succeed."
3. Developed the Center for Student Success
Our Center for Student Success supports students throughout their educational journey, partnering closely with faculty and other campus partners to remove barriers to students' academic and personal excellence.
"Education is more than just sitting in a classroom. It is an entire experience. It's that person figuring out life, and then being able to go off after graduation and be successful," said Keira Kant '95, dean of the Center for Student Success. "Our office is really designed to facilitate that understanding."
The Center for Student Success is a crucial component of the teaching mission of Gettysburg College. As our advisors engage students in conversations about their aspirations and challenges, they help them to more deeply understand and develop the habits of mind that will move them toward lifelong growth and achievement.
In support of this work, Gettysburg also recently instituted Navigate, a student success management system to help empower students—from contacting their advisors to accessing campus resources.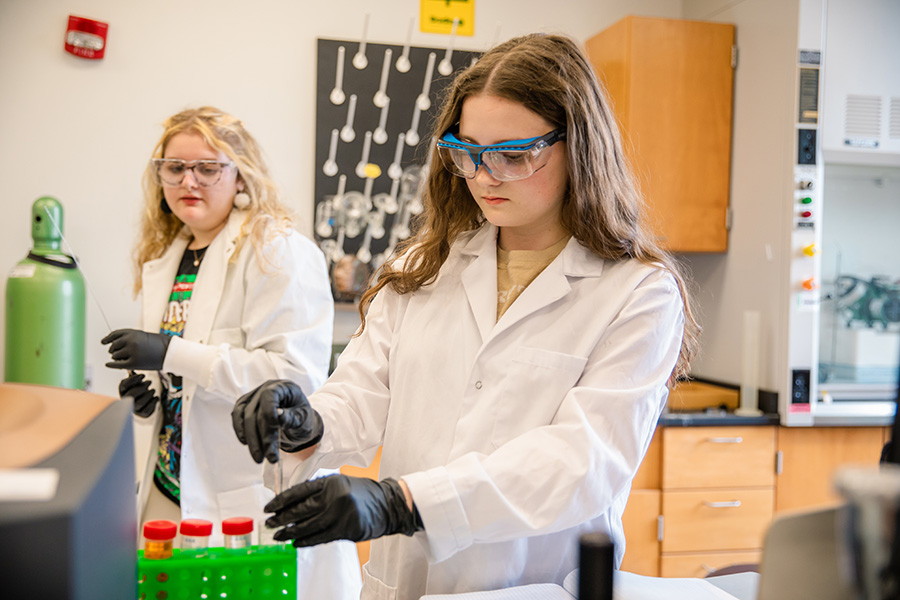 4. Launched the Guided Pathways
Gettysburg College's distinctive approach to teaching and learning—what we call the Gettysburg Approach—builds within every student a breadth and depth of knowledge and set of enduring skills that will prepare them for a lifetime of career advancement and personal success.
These two anchors—knowledge and enduring skills—are now practiced and deepened within our Guided Pathways. Beginning this fall, and moving forward, every incoming student will have the opportunity to participate in the Pathways program. The Guided Pathways are purposefully designed to connect students' personal and professional goals with high-impact activities, and to teach students how to reflect on and articulate their Gettysburg experiences in ways that resonate with today's employers and graduate schools.
The Guided Pathways are organized by themes: Creativity, Entrepreneurship, and Innovation; Global Citizenship and Intercultural Fluency; Justice and Community Change; and Leadership, Teamwork, and Collaboration. In addition, each Pathway intersects with a four-year Career Development Pathway, which provides students with direct career-related experiences and guidance.
To date, 76% of the Class of 2027 has chosen to opt in to the Guided Pathways—a testament to the program's appeal to today's students and their families. This early success has even garnered high praise from Inside Higher Ed, the American Council on Education, and the American Association of Colleges and Universities (AAC&U).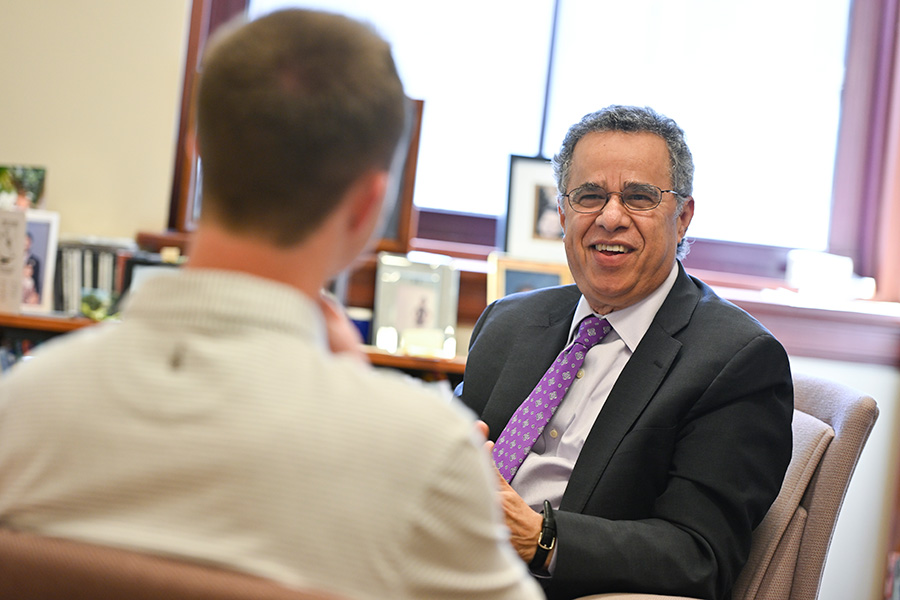 5. Created Personal Advising Teams
Every student who participates in the Guided Pathways is surrounded by their own Personal Advising Team, consisting of a faculty advisor, a co-curricular advisor, a career advisor, and, following their sophomore year, an alumni mentor.
Our Personal Advising Teams guide students through their academic progress, reflect with them as they navigate the Career Development Pathway and their Pathway of choice, and help them to more fully understand the impact of their Gettysburg experience—all through 360 degrees of support.
"Students' professional success is largely defined by the educational path they choose for themselves. At Gettysburg, they don't have to make that choice alone," said Anne Ehrlich, vice president for College Life. "With the support of a Personal Advising Team, students will intentionally select the out-of-class experiences that will equip them with the enduring skills that align with their passions and the expectations of tomorrow's employers—experiences that will transform their minds, build their confidence, and position them to have a consequential impact on the world around them."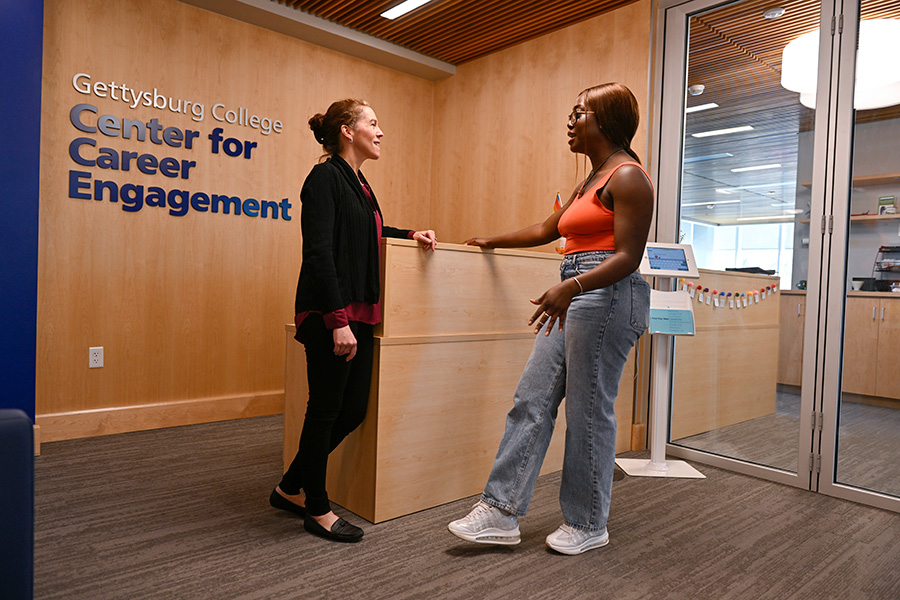 6. Increased capacity at the Center for Career Engagement
Gettysburg College is widely recognized for its exceptional outcomes and return on investment. It is a primary reason why The Wall Street Journal ranks Gettysburg No. 26 among the best liberal arts colleges in the nation. To continue to build upon this success, and to meet increasing student demand, the College has invested to increase the capacity of our Center for Career Engagement (CCE).
The strategy is already paying dividends, with overall student engagement with the CCE increasing from 46% to 63%. Importantly, this increase in engagement is also mirrored among our first-year students (47% to 65%) and first-generation students (51% to 62%)—two cohorts that research has shown benefit greatly from early and active career guidance.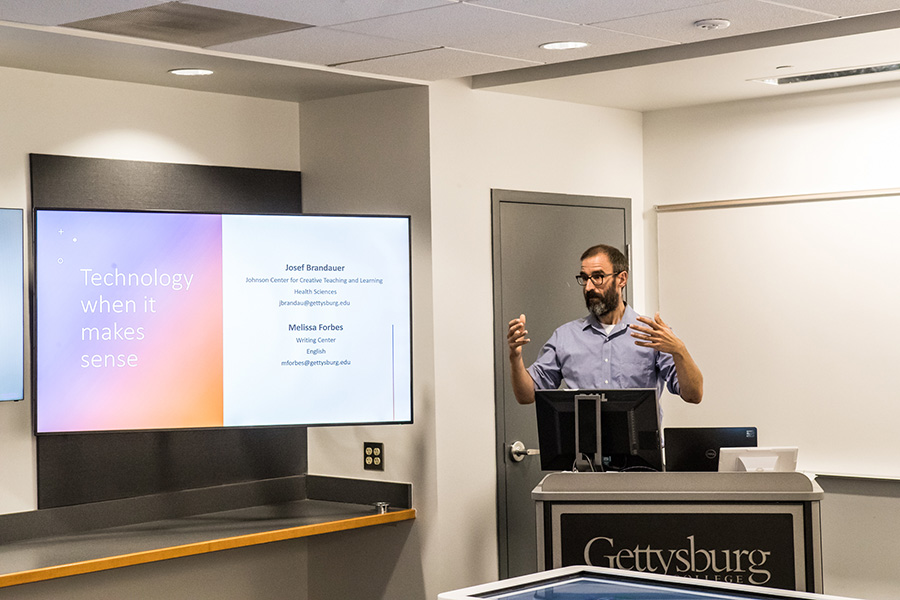 7. Explored genAI and its emerging influence
While this past year thrust generative artificial intelligence (genAI) into the mainstream, Health Sciences Prof. Josef Brandauer and English Prof. Melissa Forbes have been spearheading Gettysburg College's efforts to understand genAI and its implications on teaching, learning, and working.
"When we've spoken to representatives from other similar liberal arts colleges, it turns out that what we're doing actually puts Gettysburg pretty ahead of the curve," said Forbes. "We were in a lot of conversations in early August where people were asking, 'So, what are you guys thinking of doing at Gettysburg?' And I thought to myself, 'Thinking of doing?' We were already in action."
The Johnson Center for Creative Teaching and Learning (JCCTL), for which Brandauer serves as director, hosted several genAI-focused sessions this past summer to help Gettysburg faculty and staff become more familiar with the budding technology. In addition, JCCTL also created a genAI online resource for faculty colleagues to reference, touching on topics including how to determine and communicate whether their classroom is open, conditional, restricted, or closed in relation to genAI; developing genAI-embracing and genAI-resistant assignments; handling suspected undesired use of genAI; and tools that may streamline instructional preparation.
JCCTL's proactive approach to preparing our Gettysburg faculty for genAI and its emerging influence in higher education even garnered recognition from The New York Times. This important genAI work at the College remains ongoing.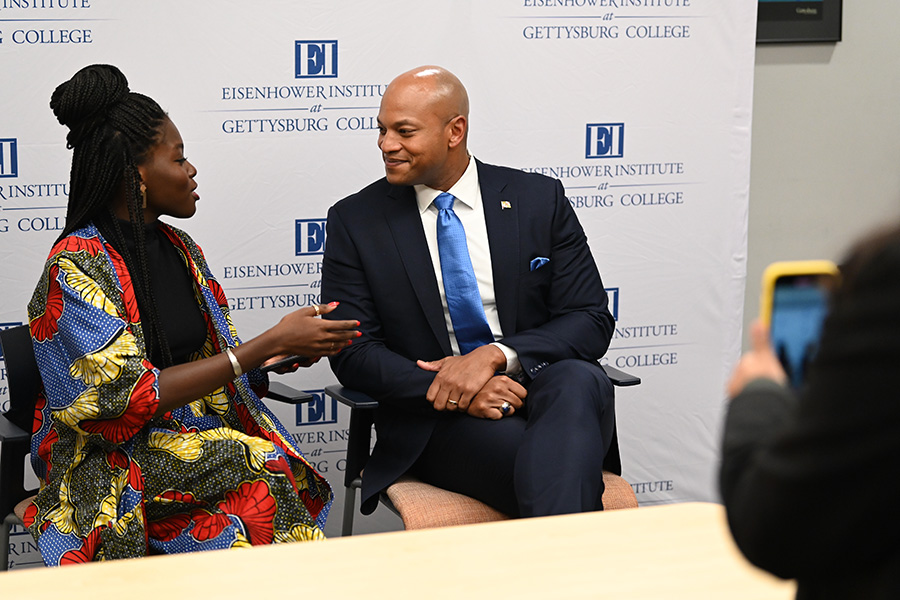 8. Expanded the scope of the Eisenhower Institute
The Eisenhower Institute (EI) connects aspiring young leaders with public policy experts to discover their passions and tackle society's most challenging issues. EI offers a wide range of experiential learning programs that help students develop practical skills for a lifetime of public, private, and non-profit service.
Augmenting annual programs like Inside Washington and Strategy & Leadership in Transformational Times are new offerings focused on domestic and global issues. This academic year, Building America is examining the state of education and housing in America, while Global Focus is tackling topics related to China and Europe. Students are also exploring the science, politics, and economics behind environmental issues through Environmental Leadership, which is currently focused on the central role of water in the Southwest.
In addition to its new programming, the Eisenhower Institute has expanded its fellowship program. This past summer, a dozen students worked with top government agencies and organizations, including CASA Virginia, Lockton Companies, National PTA, and the Middle East Institute.

"Through serving as an Eisenhower Fellow this summer, I gained a deeper understanding of multiple policy areas such as homelessness, national security, and foreign policy and the various career paths in these fields," said Caroline Jordan '24, who served as a fellow at the National PTA. "This fellowship allowed me to connect with Gettysburg alumni in similar career paths to analyze how my degree can impact society and learn about the opportunities available after graduation."
9. Prioritized the health and performance of our student-athletes
This fall, the Gettysburg College Athletic Department partnered with Cappo Health to conduct comprehensive cardiovascular testing of all student-athletes. Cardiac testing can help identify underlying conditions, risk factors, or abnormalities that may lead to sudden cardiac arrest. Early detection can lead to appropriate measures that help prevent these traumatic events and ultimately save lives.
The Athletic Department is also now collaborating with Gettysburg alumnus Tod Creneti '92, an accomplished mental skills coach. In his role, Creneti provides in-person and virtual mental skills coaching to our teams, coaches, and individual student-athletes. His focus is on improving performance in the classroom, in competition, and overall mental health by supporting the areas of communication, emotional intelligence, team building, leadership, and conflict resolution.
Creneti is a certified trainer for the Positive Coaching Alliance, a certified master trainer for USA Football, and he has been a presenter for numerous professional sports teams, including the Tampa Bay Buccaneers, Tampa Bay Rays, Tampa Bay Lightning, Miami Marlins, Arizona Cardinals, and Atlanta Hawks.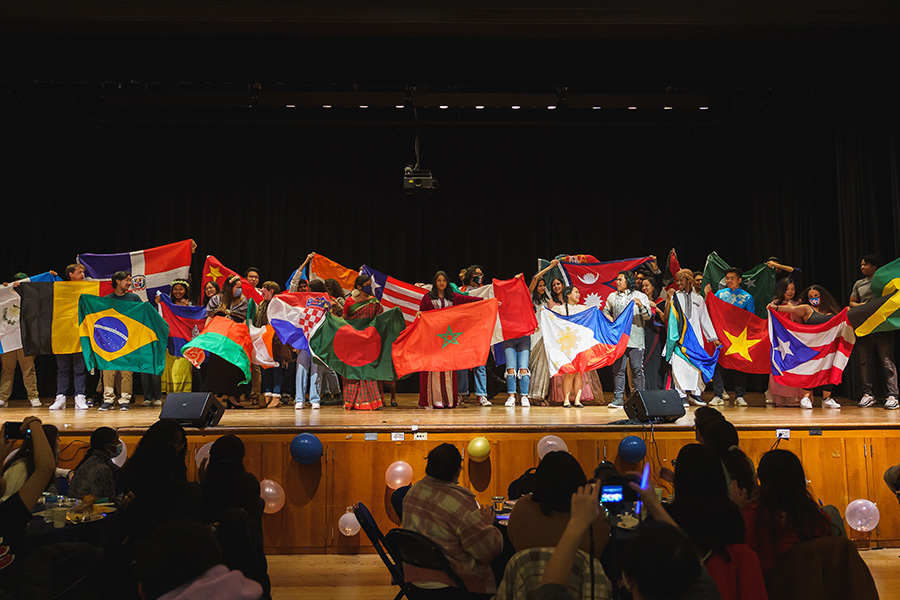 10. Bolstered International Student Services
As Gettysburg College's reputation continues to grow, so too does our international footprint. In each of the last two years, the College has welcomed its largest cohort of international students. Today, about 200 total students from around the world are members of the Classes of 2026 and 2027, all of whom have dreams of pursuing a Gettysburg education and making a lasting impact as global citizens.
In support of our international community on campus, the College has invested to bolster the staffing of its International Student Services team. Our dedicated staff help students with everything from maintaining their F1-status to celebrating their cultural traditions and ensuring our students feel welcomed within a new campus environment.
"It's a very exciting time on campus because we have more countries represented in the student body than ever before," said Brad Lancaster, director of International Student Services. "I appreciate the support the College has shown our office, which allows us to provide meaningful services to our international students to help them flourish. This in turn leads to more successful intercultural interactions among students and helps to build our community's intercultural fluency."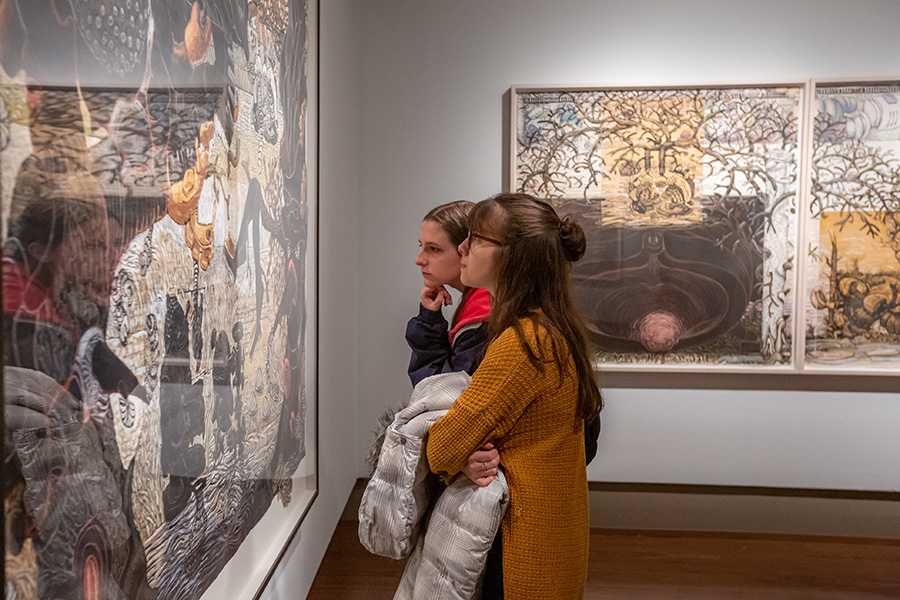 11. Created an Art History and Museum Studies Track
Gettysburg College has established a new Art History and Museum Studies Track. The track is ideal for students in any field of study who want to develop professional experience related to museum work or who want to amplify the powerful stories of art and material culture.
Through the new track, Gettysburg students engage in high-impact learning experiences with a skills-based approach, including opportunities to complete hands-on work at museum sites and curated exhibitions. The coursework focuses on developing creativity, communication, research, and visual analytic skills that students can apply to a range of career interests.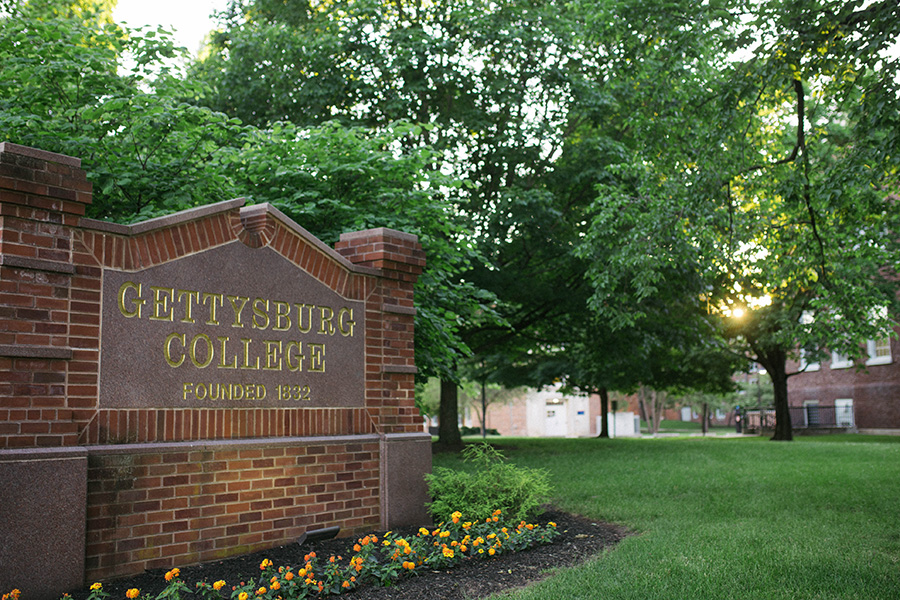 12. Introduced a pilot project to mentor and support underrepresented faculty
The Office of Diversity and Inclusion was granted a $10,000 grant from the Pennsylvania Consortium for the Liberal Arts and the Booth Ferris Foundation to initiate a pilot project to provide mentoring and support for underrepresented faculty at the College.
As part of the pilot, a group of senior or established Gettysburg College faculty, as well as faculty from other institutions, will serve as mentors to a selected group of untenured faculty or junior lecturers. The Gettysburg faculty are self-identified as belonging to an underrepresented group in the academe or a particular discipline.
The overriding goal of the initiative is to continue to structure a more purposeful mentoring and training outlook at Gettysburg that builds from participants' identified needs. This approach follows research-based findings that point to how underrepresented faculty often do not get exposure to the type of mentoring that can better guarantee their retention and sense of belonging. With this new pilot, Gettysburg College seeks to increase its support of a more diverse group of faculty that can serve as role models for our students.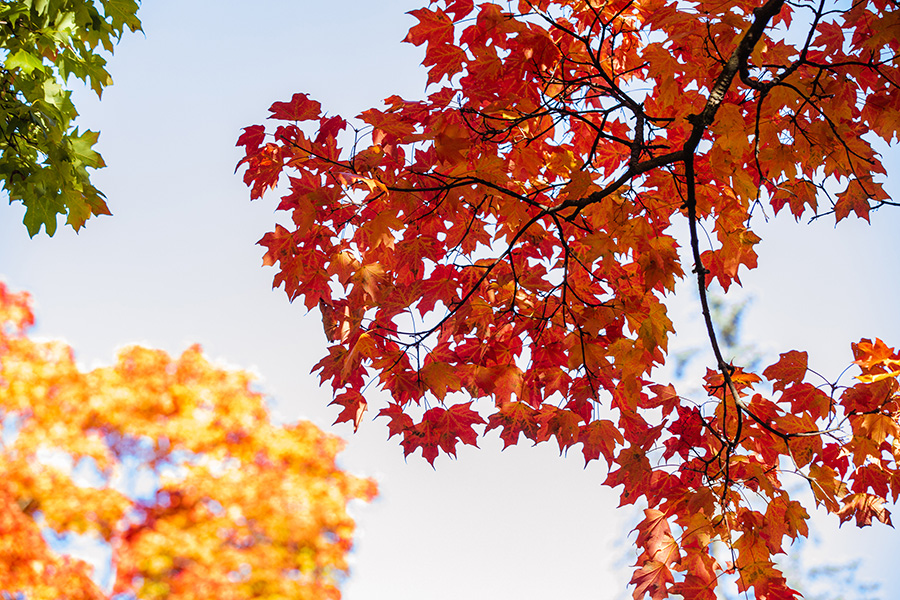 13. Invested in counseling access and care
Today's generation of students are confronting complex challenges, some of which simply did not exist for generations of students prior. At Gettysburg College, our Counseling and Wellness Services offers various supportive services that focus on students' emotional growth and well-being throughout their college years.
We provide students who are encountering personal challenges or mental health concerns with the opportunity to work with a staff clinician in a safe and supportive environment. Our clinicians are licensed mental health professionals who bring a unique understanding and appreciation for the developmental needs of undergraduate students. All our counseling services are free and strictly confidential.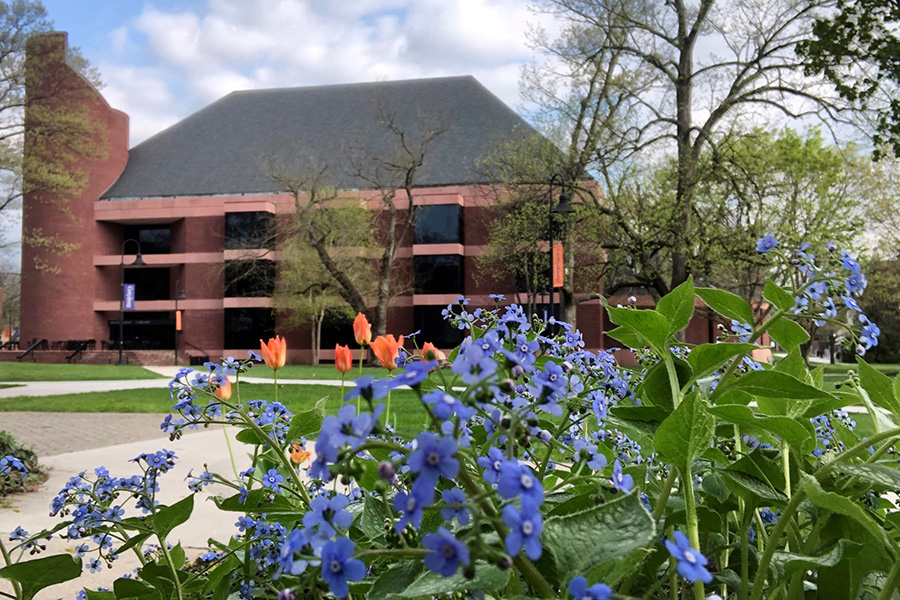 14. Deepened commitment to affordable course materials
The high cost of textbooks has had a negative impact on college-age students for years, particularly first-generation, international, and Pell Grant-awarded students. Through an innovative partnership between Musselman Library and JCCTL, however, Gettysburg College is tackling this problem by championing affordable course materials.
The library and JCCTL have offered professional development opportunities and incentives for instructors to learn about the prohibitive factors associated with textbook prices, as well as ways they can counter this impact by incorporating Open Educational Resources (OER) into their courses.
Today, the College's all-time textbook savings have surpassed $1.6 million, including $300,000 that Gettysburg students saved in the Fall 2023 semester thanks to 104 zero-cost course selections taken by more than 1,500 students.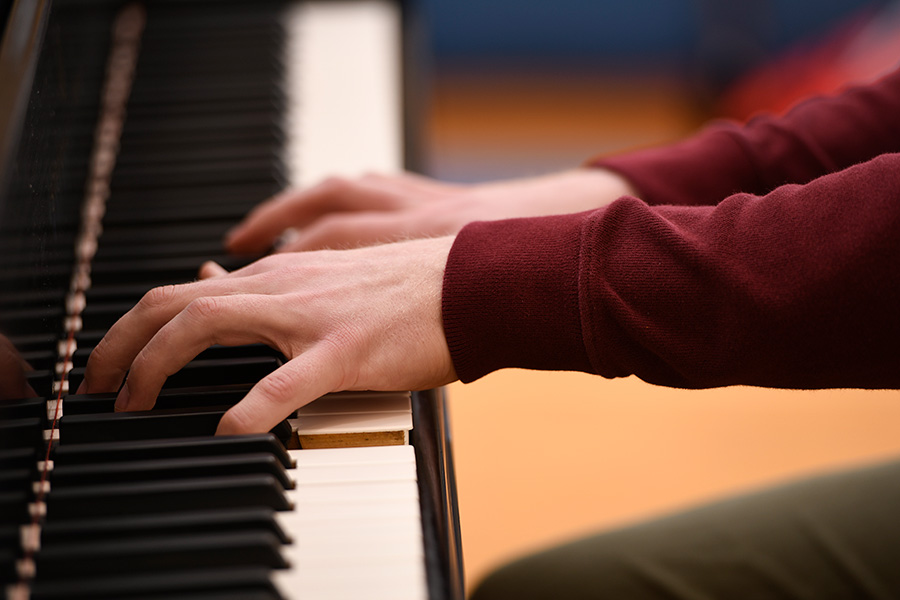 15. Established the Ann McIlhenny Harward Interdisciplinary Fund for Culture and Music
In honor of his late wife, Ann McIlhenny Harward P'86, P'92, Donald W. Harward P'86, P'92 and the Endeavor Foundation have partnered with Gettysburg College to establish the Ann McIlhenny Harward Interdisciplinary Fund for Culture and Music.
The $1.5 million endowed fund will be dedicated to the humanities and humanistic sciences, supporting interdisciplinary programming using music. Thanks to this fund, Gettysburg students will be able to explore and understand cultures and communities through transformative campus- and community-wide education experiences that highlight the ways in which music brings us together and binds us.
"The Anne McIlhenny Harward Program is exactly the kind of thing that motivated me to work at a liberal arts college," said Africana Studies Prof. Scott Hancock, who will serve as the program's inaugural director for a two-year term and lead a team of faculty and staff to advise the planning.
"Don Harward and the Endeavor Foundation have created the opportunity for us to weave together what at first glance may appear to be oddly matched threads from very different intellectual, cultural, and scientific practices. But the liberal arts tradition teaches us that the best kinds of critical thinking—by tying together diverse academic disciplines—lace seemingly disparate threads into a wonderfully breathtaking whole. I look forward to being a part of this creative process."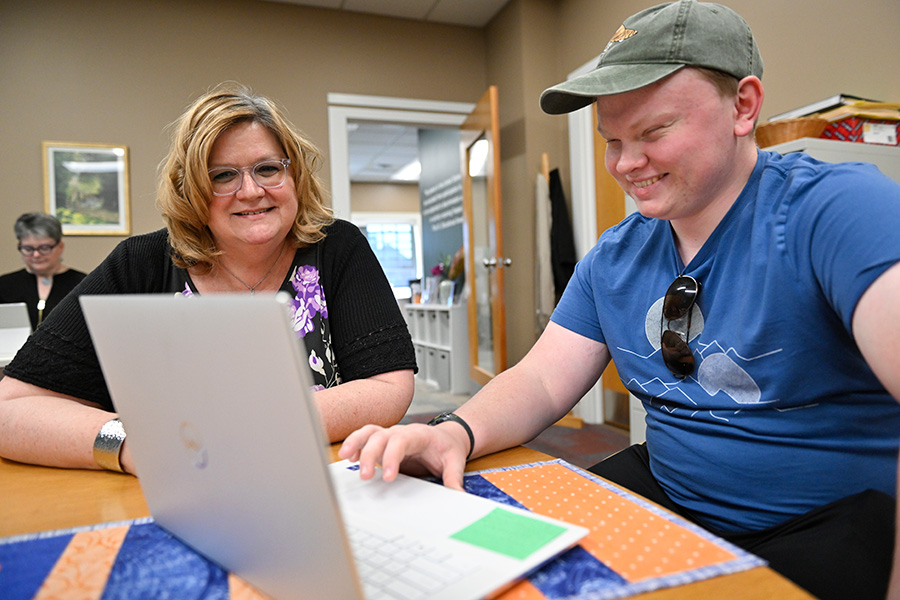 16. Supported initiatives around belonging and wellness
Following discussions with students, faculty, and staff about how to best support wellness initiatives on campus, the Wellness Advisory Committee established seven dimensions of wellness: community wellness, cultural wellness, emotional wellness, financial wellness, intellectual wellness, physical wellness, and social wellness. In support of these dimensions, the College launched dedicated wellness weeks and a Mental Health Fair to complement student-led programming.
Likewise, supporting our students' sense of belonging has extended to providing even greater support to neurodiversity and accessibility needs on campus. This past year, Gettysburg hired Theresa Hoover, assistant dean for student accessibility. She is the first Gettysburgian whose position is solely dedicated to supporting students with disabilities. In her first year alone, Hoover supported more than 200 Gettysburg College students.
"Coming to Gettysburg College at a time of change has been very exciting," said Hoover. "Working collaboratively with faculty, staff, and students, we have been able to update the process of requesting accommodations to better meet student needs. The commitment that the College has made to assisting students to receive reasonable accommodations has improved their experience while navigating the many aspects of college life."
Chief Diversity Officer Eloísa Gordon-Mora is also focused on belonging and wellness. Her efforts include prioritizing belonging and wellness initiatives as part of the College's new Diversity, Equity, and Inclusion Strategic Plan. "For us at Gettysburg College, this means the need to concretely create the conditions, spaces, and learning opportunities for our different communities to experience mattering and belonging," said Gordon-Mora.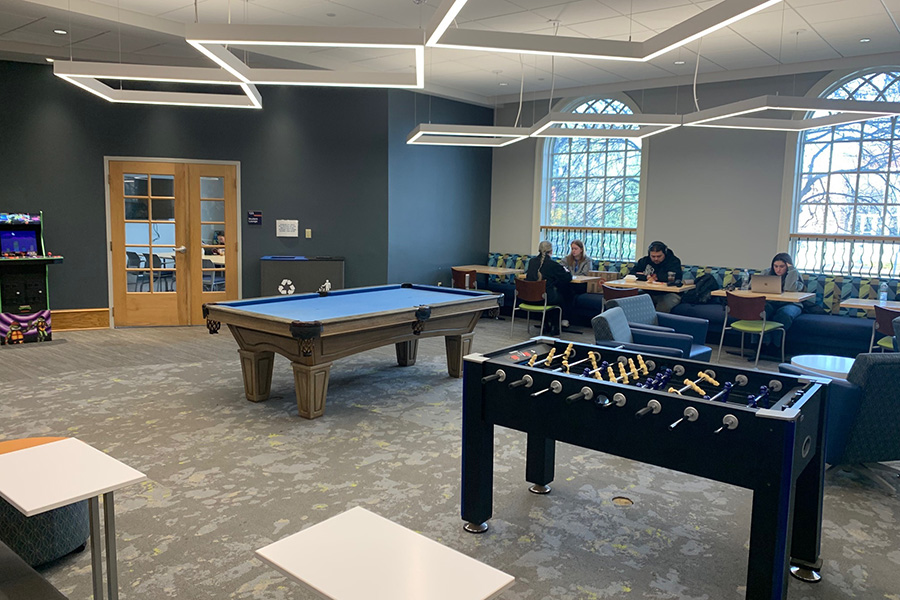 17. Reimagined student social spaces across campus
Guided by recommendations from Student Senate and the broader student body, the Office of Student Activities & Greek Life is reimagining spaces on campus to provide more areas for students to relax and socialize together.
Gettysburg clubs and organizations can now host events in The Attic, an on-campus social space where alcohol can be served. The Attic, located in the West Building, is open for student use every day from 8 a.m. until 11 p.m.
With feedback from commuter students, a commuter lounge was also added to the College Union Building lobby, complete with a pool table, foosball table, and arcade and video games. In the spring of 2023, Vice President for College Life Anne Ehrlich established a Social Venues Taskforce to continue revamping other locations across the College, including the ground level of Plank Gym.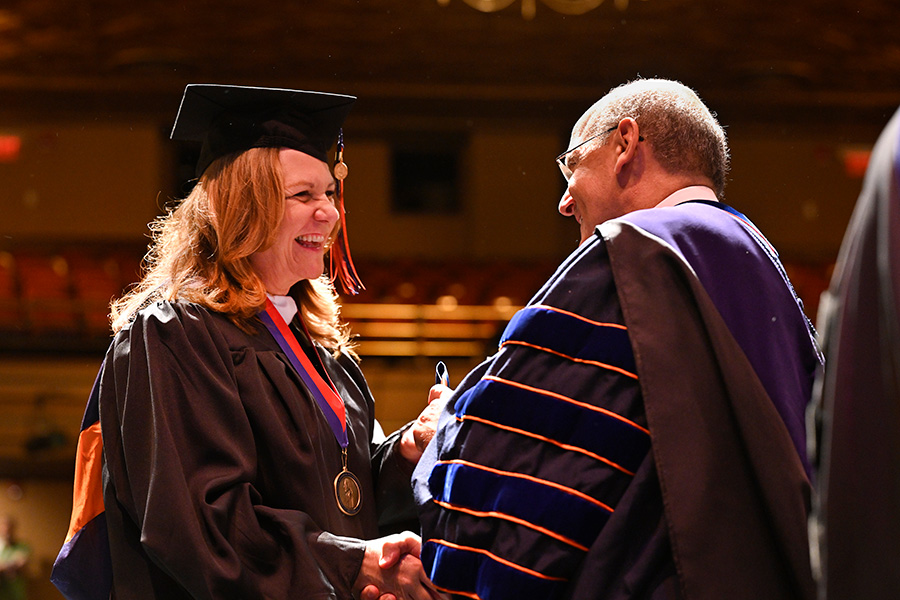 18. Graduated first class of MA in American History students
This summer, Gettysburg College celebrated the achievements of our first graduates of the College's new Master of Arts in American History program, offered in partnership with The Gilder Lehrman Institute of American History (GLI).
The inaugural Master's Commencement, held at Gettysburg College's historic Majestic Theater, recognized 76 graduates from 26 states. The fully online, fully accredited program is targeted to K-12 educators, district supervisors, museum professionals, and National Park Service employees affiliated with the GLI.
"What was great about the program is that it's inexpensive. It's total quality, and you could do it at your own pace," said recent Gettysburg graduate Lois MacMillian M'23, who teaches history at Grants Pass High School. She earned Oregon's 2006 History Teacher of the Year award. "I think that taking the [graduate] classes allow us to face the most difficult parts of American history and the most beautiful at the same time."
"We're living through so much now, so to be able to take these classes with that perspective was great," added Oscar Ramos M'23, who teaches history at Quince Orchard High School in Maryland. "It was a completely different experience than my undergrad."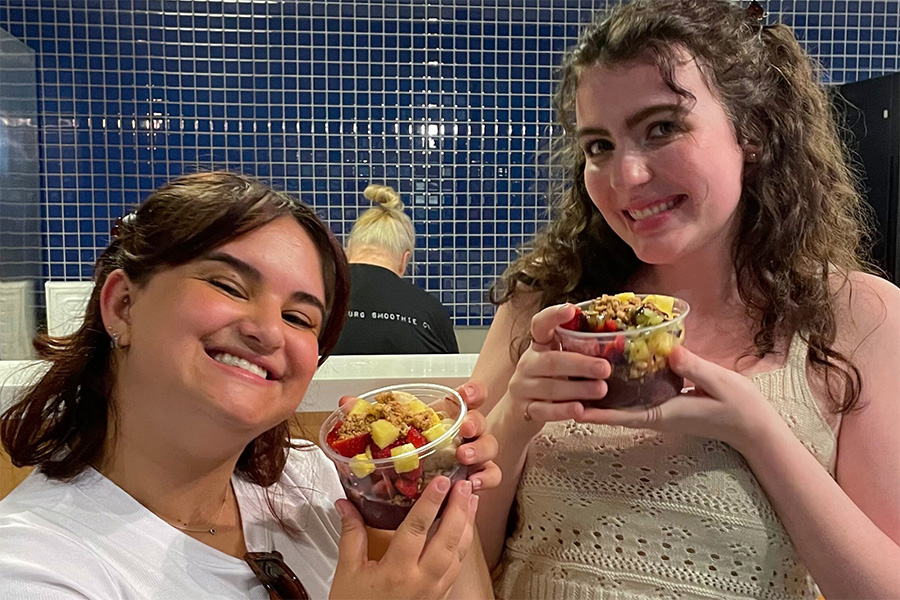 19. Opened Gettysburg Smoothie Co. in the Jaeger Center
The College recently partnered with Gettysburg Smoothie Co. (GSC) to open a new location in The John F. Jaeger Center for Athletics, Recreation, and Fitness. Students can build their own acaí bowls or choose from a variety of smoothies. All classic and specialty smoothies are dairy-free, gluten-free, and vegan.
"I'm a student-athlete on campus, and I have been loving the meal options at the GSC. There's no better way to start the day than with an acaí bowl," said Mike Maratea '24. "The GSC is a great way to fuel yourself after a workout as well, which helps with training and performance overall."
Emily Switala '25 added, "I like that the GSC has more smoothie options, as well as the acaí bowls. I also like that you can use a meal swipe on everything offered there."
Hours of operation are Monday through Friday, 11 a.m. to 6 p.m. The GSC is also open on select weekends.
20. Hosted the Summit on the Future
On September 22-23, Gettysburg College hosted the Summit on the Future, bringing together more than 200 key stakeholders for an interactive learning experience focused on how we will live our promise of A Consequential Education and respond to a series of impending challenges facing higher education, including demographic changes resulting in increased competition for talented students.
"One of higher education's greatest pressure points is the need for colleges to innovate in ways that effectively prepare students to succeed as professionals and citizens while also being authentic to their institutional mission," said Ashley Finley, vice president of research and senior advisor to the president for the AAC&U. "The Gettysburg Approach has nailed this balance. I'm excited to share this incredible model with other schools around the country."
At the conclusion of the Summit, President Bob Iuliano announced a $10 million commitment by distinguished alumna and member of the President's Advisory Circle Daria Lo Presti Wallach '76. The commitment—the largest by any living donor in the College's 191-year history—serves as a shining endorsement of Gettysburg's vision for the future and the ambitious path we are forging together.
To learn more about Living Our Promise: The Strategic Direction for Gettysburg College, visit www.gettysburg.edu/plan.