Love the outdoors? Preserve open spaces, urges Peter Williamson '79
Alumnus shares his passion for conservation with Gettysburg Magazine
Playing outdoors in suburban Riderwood, Maryland sparked my lifelong love of nature. Tree forts, illicit fires, and impounded crayfish were the fruits of my summer after-noons. It was that unfettered world — along with a high school biology teacher — that inspired me to study biology at Gettysburg, later earning my master's degree in landscape architecture at North Carolina State University.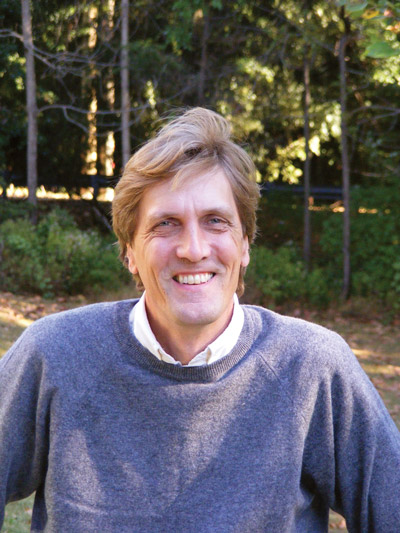 I've worked for Natural Lands Trust for more than 23 years, including the past eight as a vice president. I helped the Gettysburg National Military Park design an open space program for its "buffer zone" and have helped save more than 30,000 acres of the 100,000 Natural Lands Trust has preserved.
Like so many matters of public interest, open space preservation follows big national trends. It became more popular in the 1980s, likely in tandem with the beginnings of the housing boom. Bulldozers appearing in a favorite field or woods have a way of energizing those who care. Natural Lands Trust accepted donations of land and easements and used funds from taxpayers at every level of government to protect farms and forests in greater Philadelphia.
Today, I believe we are at the beginnings of a generational shift of focus — one that emphasizes conservation within already developed areas instead of pristine wilderness. People love trails, kayaks, and bikes. They look to open space to enrich their lives and want it close to where they live; they want both authenticity and access.
I welcome this change of focus and am heartened by the egalitarianism of the new emphasis and the ways in which all Americans, not just those who live in beautiful rural landscapes, benefit from parks and trails nearby. Natural Lands Trust's founder, Allston Jenkins, put it well: "Let us realize that the greater the development, the greater the need and the greater the value of those areas which we can preserve. Places of natural beauty serve the greater good where they can be enjoyed by the greater number of people."
Natural Lands Trust is dedicated to protecting the forests, fields, streams, and wetlands that are essential to the sustainability of life in eastern Pennsylvania and southern N.J.

Read this article and many more in the spring issue of the Gettysburg Magazine.
Founded in 1832, Gettysburg College is a highly selective four-year residential college of liberal arts and sciences with a strong academic tradition. Alumni include Rhodes Scholars, a Nobel laureate, and other distinguished scholars. The college enrolls 2,600 undergraduate students and is located on a 200-acre campus adjacent to the Gettysburg National Military Park in Pennsylvania.
Contact: Mike Baker, assistant director of communications, 717.337.6521
Posted: Wed, 7 Aug 2013

Next on your reading list
Economics majors find career success across industries
---
Enhancing our campus, fostering new learning
---
Unexpected connections lead Elise Sondheim '15 to Under Armour
---
Share this story: