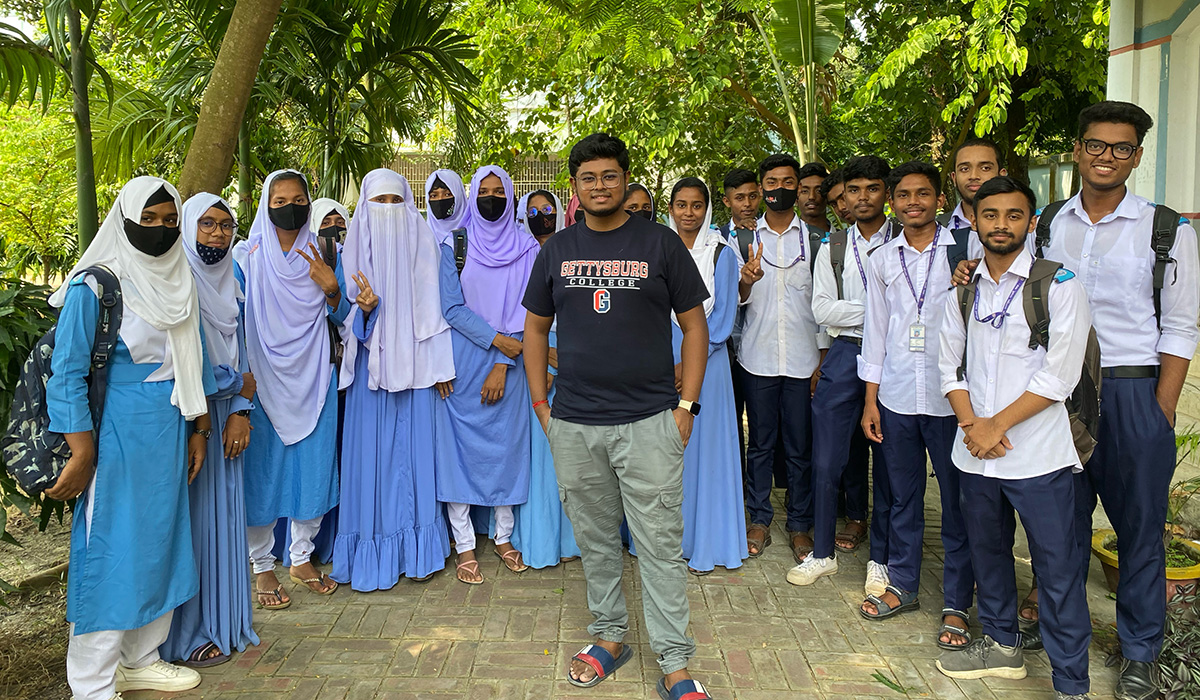 From working at the Pentagon for the Office of the Secretary of Defense to teaching digital literacy skills to rural students in Bangladesh, Gettysburg College students spent this past summer making an impact around the world. They put their knowledge and skills to practice in a host of professional fields—including healthcare, education, historical preservation, research, economic development, virtual reality, and immigration law—and gained invaluable hands-on experience with industry leaders.
As part of Gettysburg's promise to provide A Consequential Education—one that guides students to gain greater insight into themselves, their passions, and their aspirations to leave the world better than they found it—these opportunities were made possible by connections across campus and beyond. Supporting these Gettysburgians were campus organizations, such as the Center for Career Engagement (CCE), Center for Public Service (CPS), Eisenhower Institute (EI), Civil War Institute (CWI), and Innovation and Creativity Lab; donor funding, including the CWI Brian C. Pohanka Internship, EI Summer Fellowship, and CPS Summer Fellowship; and committed partners in the global Gettysburg Network comprised of more than 32,000 alumni.
Below is a sampling of the great work accomplished by Gettysburg students this past summer.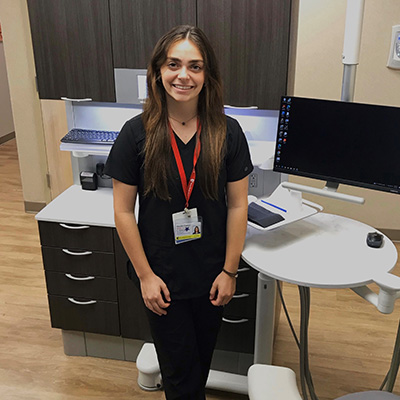 "It has been a privilege to learn the ins and outs of an ICU hospital unit. From the morning rounds, to medication hours, to treatment plans, coordination of patient care amongst hospital specialties, admitting/discharging patients, and bed changes, I have been able to witness the multifaceted daily duties of a nurse practitioner in a critical care setting. This further cements in my mind the desire to have a career in healthcare.
"Upon graduation from Gettysburg College, I aspire to attend nursing school in preparation for entrance into a nurse anesthetist program to become a CRNA. Although I have many years of hard work ahead of me, this summer internship has made me beyond excited for my future."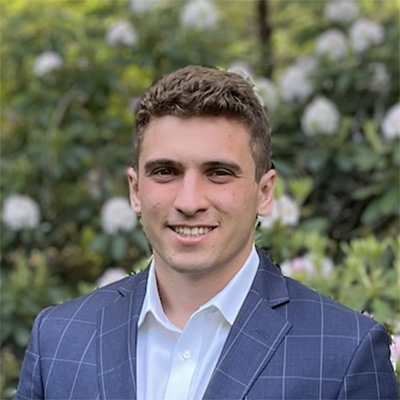 "I attained the position by reaching out to other young professionals on LinkedIn and inevitably getting contacted by Gartner recruiters, landing me the internship position. I ran daily conversations with expert analysts who specialized in fields such as Generative AI, CRM integration and management, software implementation, and more.

"The executive presence I gained from the class Policy and Strategy with Management Prof. Marta Maras gave me the credibility to speak with analysts and researchers, and my writing minor helped me articulate my thoughts properly. This experience has provided me with options for future employment opportunities that involve continued learning."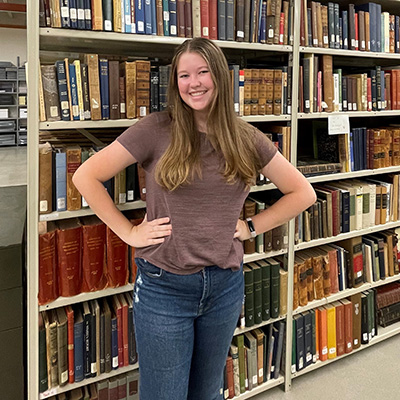 "My Gettysburg education has allowed me to be thorough and view objects and experiences through different lenses. It is difficult to view something from the past and not impose your current biases on it, but the education I have received at the College has allowed me to be more analytical, as well as understanding during my searches. Additionally, the College has taught me great relationship and marketing skills. Even with a short encounter with someone within the museum or at an event, I can create a meaningful connection. This is, no doubt, an important life skill to have.

"Overall, this experience has reinforced my passion for my current areas of study. I hope to work within a realm of public history or archaeology in the future, so this experience is great practice for these career paths. I want to thank the Civil War Institute for this opportunity as well as the Adams County Historical Society for an unforgettable summer!"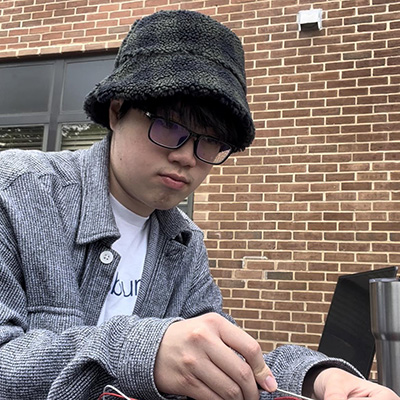 "The best part of this fellowship was the freedom and the fun I had to approach the project while simultaneously getting advice from Eric [Remy] and Josh [Wagner]. My time at Gettysburg has helped me build my work ethic, creating an organized system of work throughout the fellowship. The DTSF project has given me the opportunity to gain experience in an independent working environment and requisite skills to conduct research on any given topic in future pursuits."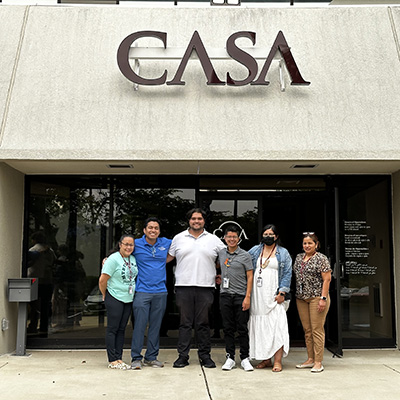 "The best part of my time with CASA was watching the community members interview political candidates. I was impressed by how engaged the community members were. Seeing how politically powerful a well-organized community can be made me want to recreate this in my own community.
"My time with CASA has opened my eyes to more of the struggles that the immigrant community faces. Seeing people who have lived through a similar immigrant experience as mine inspires me to keep working towards my goal of becoming an immigration lawyer."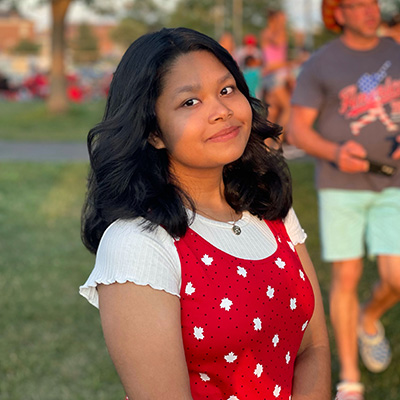 "During the first week of the fellowship, I volunteered at the Casa Alitas Welcome Center in Tuscon, Arizona, where I set up travel plans and translated conversations between migrants and supervisors. In the Farmers Market, I managed the Electronics Benefits Transfer/Supplemental Nutrition Assistant Program and Farmers Market Nutrition Programs transactions, conducted surveys to gain feedback from people regarding the new location of the market, collected data of grocery prices from different vendors on a weekly basis to keep track of trends, and organized events like Fairy Festival and Homesteading & Green Living Expo.

"As an international student, it is tough to move away from your home and adapt in a completely new environment. This fellowship gave me the chance to develop relationships far off the limitations of classrooms, professors, and friends and also encounter the taste of different cultures, values, and practices."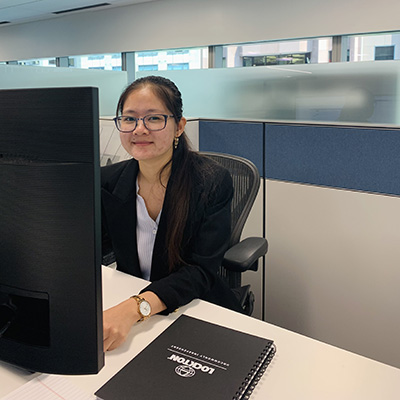 "The best part of this work experience was the opportunity to meet and connect with amazing individuals in the professional world. My time with Lockton and EI Washington Summer Fellows allowed me to bond and maintain meaningful relationships whether personally or professionally, and I am grateful for the opportunity. In addition, the work experience has introduced me to a new industry, which I would have never imagined before, and that is insurance brokerage and global benefit practice in countries around the world.
"My internship experience has solidified my interest in global and international economic development, especially focusing on the welfare of the people, both the employees and the employers. With new knowledge and experiences, I am excited to start my senior year at Gettysburg."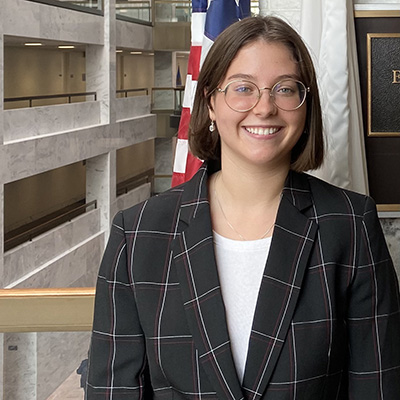 "Throughout the summer, I saw public policy in action and learned about education policy and how economics, politics, and advocacy intersect education policy. Throughout my time, I analyzed education policies, tracked proposed legislation in Congress, and created action alerts to inspire advocacy.

"This experience has helped me enormously as I saw the impact of public policy beyond an educational setting and explored a new sector of public policy: education policy. Through serving as an Eisenhower Fellow this summer, I gained a deep understanding of multiple policy areas such as homelessness, national security, and foreign policy and the various career paths in these fields. This fellowship allowed me to connect with Gettysburg alumni in similar career paths to analyze how my degree can impact society and learn about the opportunities available after graduation."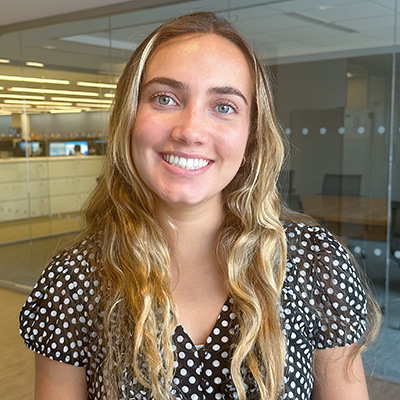 "The best part of the internship was definitely being able to grow my network with intelligent and inspiring people. Working at the global headquarters was both lively and highly interactive. I was able to meet employees working within the different businesses and different regions of Citi.
"I think my Gettysburg education better prepared me by providing me the ability to expand my knowledge across various fields of study. The tools I learned within each course were beneficial for both my interpersonal and technical skill development. This experience allowed me to gain a better understanding of the corporate environment and help me understand what roles I like and what I do not like. I was placed in a highly technical role this summer and was initially unsure if this would be a good fit, but unexpectedly, I loved my experience and the work I was doing."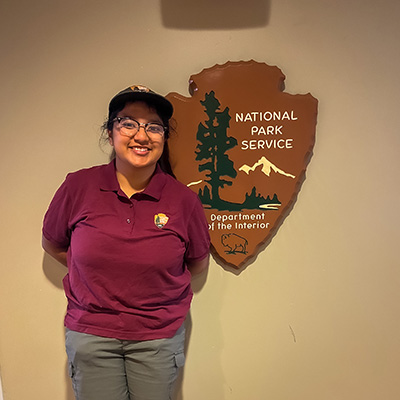 "The best part about my summer was interpreting and engaging with different audiences about the Black Heritage Trail because it is important to talk about these underrepresented and inspirational stories that have transformed not only Boston, but the U.S., before, during, and after the Civil War. Having this opportunity has shaped me to think about how people learn and interact with history and society. It is important to be an informed citizen and culturally responsive in the work that I do.
"Gettysburg has prepared me to be interdisciplinary while learning and while doing the work I do now and in the future. Whether that be working with athletic communications or being president of the Latin American Student Association, there is always a chance to learn and be a part of a unified team while having fun!"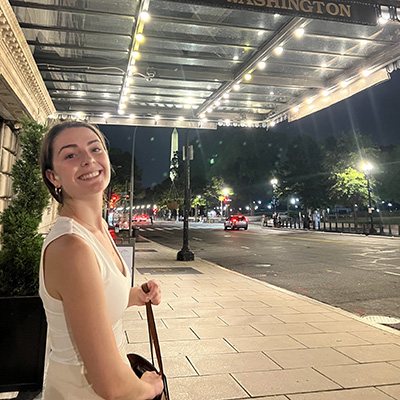 "The best part of this experience was working in the Pentagon where I was able to engage in meaningful conversations with various personnel about federal government careers and about the importance of history. My Gettysburg education was indispensable for this experience. As an intern, I was tasked with reading, cataloguing, digitizing, and creating finding aids for documents from the Cold War Era that have not been read in decades.
"My education provided me with the skills to engage in important conversations about my work as well as being able to analyze, read, and understand these documents. This internship provided me with the necessary experience and connections that will help me pursue a government career after graduating."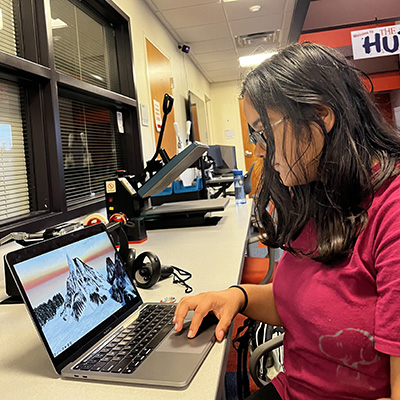 "For my project, I decided to make a virtual reality environment, building three different interactive scenes from my home country Nepal. The best part of this experience was that I was able to go in with a project idea that I had no clue on how to complete, but had the opportunity to learn about project development and project-specific tools and software with support and guidance from Josh [Wagner] and Eric [Remy], our mentors.
"This experience has helped me explore the world of 3D modeling and building a virtual reality environment and I really enjoyed it. This experience is going to be useful to understand programming concepts and to complete other projects throughout my technical career."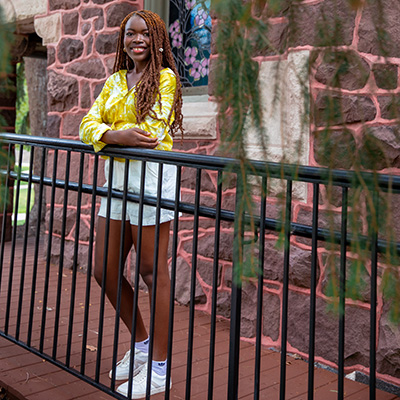 "During the summer, I completed a water justice project in Yeakpee Town, Monrovia, Liberia. I received grant funding from the Center for Public Service at Gettysburg College and SHECAN (Supporting Her Education Changes a Nation) to address health issues and environmental problems caused by insufficient water supply. Together with a contractor and members of the community, we renovated and installed three hand pumps. This led to easier access to water for residents of Yeakpee Town and tripled the amount of water each person could take home. The best part of this project was witnessing the positive impact of clean water on the health of children and the prevention of waterborne diseases.
"My education at Gettysburg College gave me the knowledge and problem-solving skills to tackle this problem. Through community engagement, leadership, collaboration, and communication, I was able to apply these skills and achieve successful results."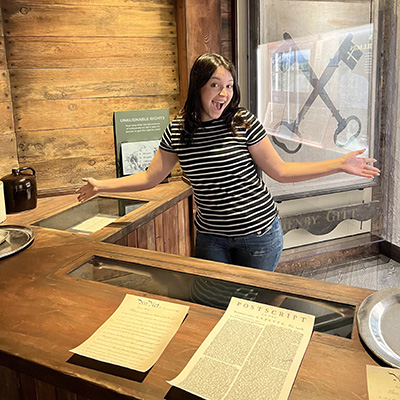 "The best part of my internship was getting to meet important figures in the field of history, as well as getting the opportunity to handle important artifacts. I am equipped with a fair amount of historical knowledge and critical thinking skills, which were easily applicable to my job. Working professionally in the field of my interest has helped me decide which direction I want to take when pursuing history."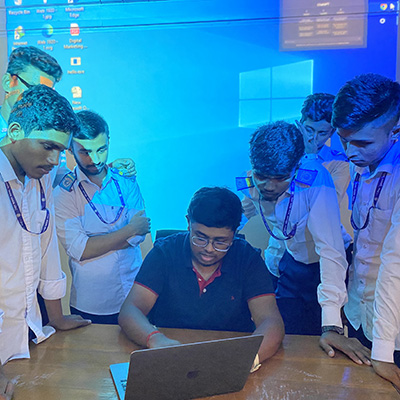 "The most rewarding aspect of this work experience was the opportunity to return and contribute to a cause that I had personally encountered and am deeply passionate about. Contributing to the development of digital skills among rural students, enabling them to navigate the global landscape with confidence and empowering them to access the resources and opportunities that were once a challenge for me brought me immense joy. These students exhibited remarkable determination and aspirations; what they lacked were the adequate resources and guidance to nurture their potential.
"My education at Gettysburg played a pivotal role in equipping me for this experience. The rigorous academic environment and emphasis on critical thinking honed my problem-solving skills, which proved invaluable when working with rural students to develop their digital literacy. This experience has provided me with a profound understanding of the human aspect behind technology and will undoubtedly empower me to be a well-rounded, empathetic, and impactful computer scientist."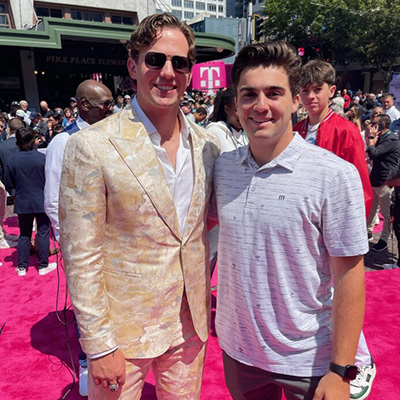 "I would say the best experience was researching various sources for key information in the prospects that were taken in the MLB Draft. I also loved traveling to different places to gather more notes, as well as network and meet new people in the sports industry. I made trips to Phoenix, Arizona, for the MLB Draft Combine, and then traveled to Seattle, Washington, to work behind the scenes at the MLB Draft.
"Gettysburg enhanced my ability to communicate and be more organized in my work. I am hoping to work in a major league front office with the goal of becoming a general manager for an MLB team later down the line. Between my experience with MLB, my fluency in Spanish, and my work in the classroom, I will be in a good position to attain a job in an organization."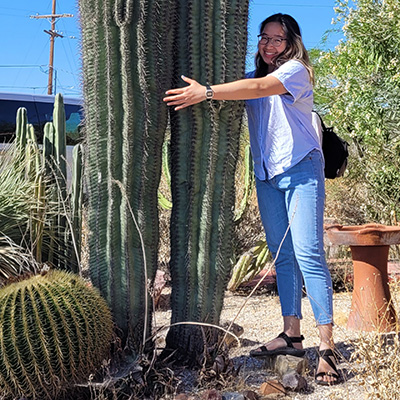 "Readings from my WGS classes opened my eyes to different systems of oppression, and more importantly to spot them, call them out, and challenge them. My time at Casa Alitas was the very first time I intentionally used this knowledge to not only make sense of the world around me but also stand up for the right thing in my capability.
"There were two invaluable things I took away from this summer experience. One, I learned how to be more confrontational and critical given these traits are not traditionally 'feminine.' Second, I learned to take the time to reflect on what happened, to record my feelings, and to form my opinions on social justice issues. I believe that CPS really deepens our learning by adding the reflection component to this program, and this skill will help me find the type of nonprofit organization I want to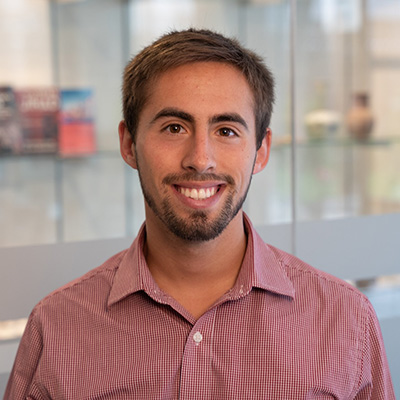 "This experience has helped me realize that I want to do foreign policy work in the future and study abroad during my spring semester. It was an unbelievable experience and I am so happy Gettysburg College gave me the tools to take full advantage of it."

Gettysburg prepares and empowers students to make an impact around the world when they graduate. Learn more about the wealth of opportunities and work experiences available through campus organizations.
By Corey Jewart
Photos courtesy of featured students
Posted: 09/11/23