A Gettysburg College biology classroom lab will receive major upgrades, thanks to a $150,000 grant from the George I. Alden Trust.
"Transforming the current space will provide a more engaging and contemporary laboratory setting for our science students to engage in collaborative research with each other and with faculty," said College President Janet Morgan Riggs '77.
The renovation of McCreary Hall 209 will include enhanced laboratory equipment, additional access to vacuum and Internet ports, and improved bench space. When the renovation is complete, the space will serve as a classroom, laboratory, study space, and summer research facility.
The project is part of a larger facilities upgrade of McCreary Hall, home to the College's biology and psychology departments. The $3 million project will include HVAC upgrades and renovation of three new faculty office and research spaces. Completion is expected in 2013.
"We are deeply grateful to the Alden Trust for their support," said President Riggs, who noted that the trust is a steadfast benefactor of science and technology at Gettysburg College. The Alden Trust's previous generosity provided five growth chambers for biology and environmental studies laboratories in 2001 and created a digital multimedia center in Musselman Library in 2005.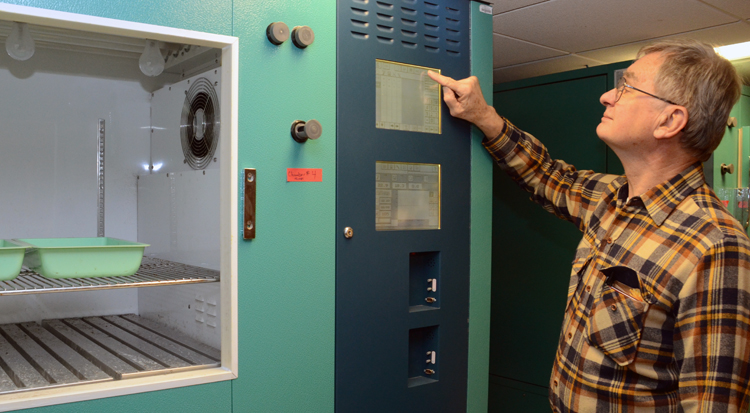 At right: Biology Prof. Emeritus Sherman Hendrix programs a growth chamber.
Below: The Alden Trust made the Digital Center at Musselman Library possible.

George I. Alden established the Trust in 1912. Based in Worcester, Mass., the trust focuses on the capital needs of educational institutions that "demonstrate a combination of educational excellence, exciting programming, and efficient and effective administration."
Founded in 1832, Gettysburg College is a highly selective four-year residential college of liberal arts and sciences with a strong academic tradition. Alumni include Rhodes Scholars, a Nobel laureate, and other distinguished scholars. The college, which enrolls 2,600 undergraduate students, is located on a 200-acre campus adjacent to the Gettysburg National Military Park in Pennsylvania.
Contact: Sue Baldwin-Way, director of development communications
Posted: Thu, 9 Feb 2012