Student's photos highlight study-abroad experiences in Bahamas, Denmark, Africa
To some travelers, the Bahamas, Copenhagen, and Africa might sound like a dream vacation: fun in the sun, clubbing, and a safari.
But for Katharine "GK" Hickey, Class of 2010, those three study-abroad destinations meant mapping coral fan distributions, studying functional genomics, and assisting an eye surgeon in rural Ghana.
An extensive photo gallery showcases images Hickey took while studying abroad.
Aboard a tiny island-hopper airplane, Hickey and other Gettysburg College students journeyed to an isolated research center in the Bahamas, where biology Prof. Istvan Urcuyo led a lab session required for his Tropical Marine Biology course. For two weeks in the summer of 2008, students snorkeled to observe organisms in habitats around the island of San Salvador, then presented their findings to the class. "It was an awesome opportunity," Hickey said. "I learn a lot more through hands-on experience."
The following semester, Hickey lived with a host family in Copenhagen and took classes through the Danish Institute for Study Abroad. While tackling topics like metabolic engineering, she found time to gather 600 pairs of used eyeglasses, raise $1,500 for the Unite for Sight eyecare charity, and organize her own service trip to Ghana.
There, she shadowed Dr. James Clark, the nation's sole ophthalmologist, as he traveled to mud-hut villages and served some 70 patients daily. For two grueling weeks, Hickey helped with vision testing and preparation between cataract surgeries. "It was the closest I've come to meeting a saint," she said of Clark, whom she first encountered at a conference at Yale University. Her semester also included joining a co-ed rugby team at the Technical University of Denmark and taking a side-trip to London and Edinburgh.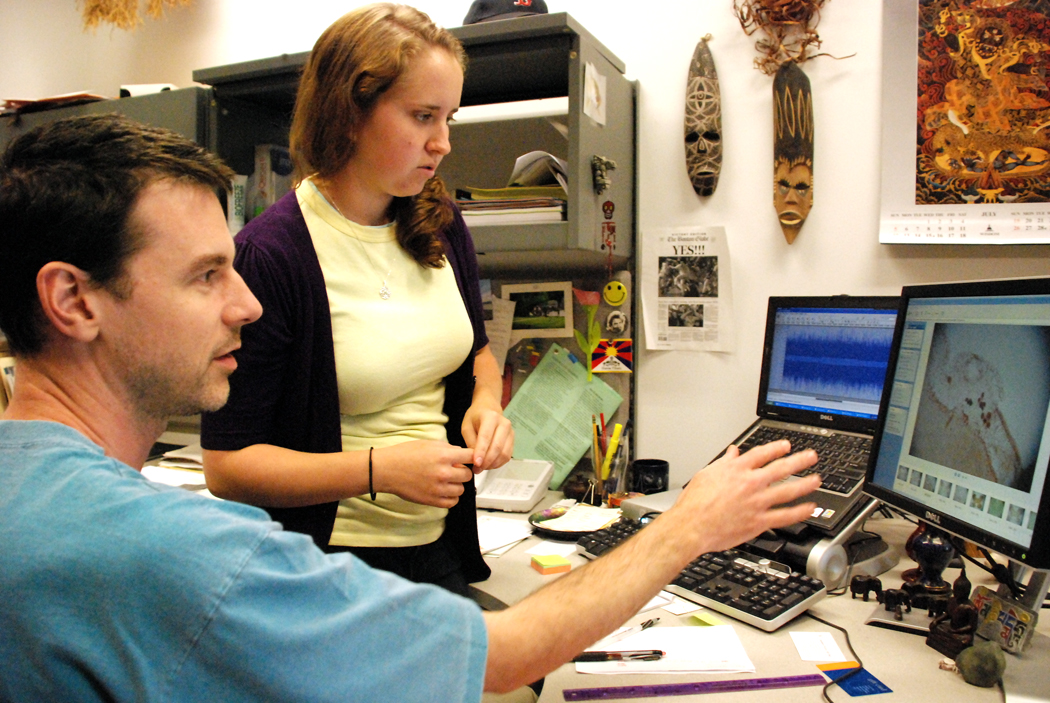 With two majors, biochemistry & molecular biology and health sciences, it's not easy to devote a semester to studying abroad. Hickey said she's grateful to Gettysburg College for helping her to make it all work.
She has also made the most of her on-campus experience. This past summer, a Mellon Foundation grant enabled her to collaborate with biology Prof. J. Matthew Kittelberger (with her in photo), who studies brain circuitry involved in communication among toadfish, which vocalize to attract mates and challenge competitors. Hickey not only assisted with antibody studies of brain tissue, but also learned that "it's really weird to walk into a room full of tanks of fish humming and grunting."
"I'm chronically over-involved," admitted Hickey, who is the treasurer of her class, president of the Sigma Sigma Sigma sorority, a vice-president of the Alpha Phi Omega co-ed service fraternity, and the residence life coordinator for theme housing.
Her plans don't point toward any slowing down: "I'm focusing on lab work to get ready for med school. I really want to earn an M.D./Ph.D."
Contact: Jim Hale, online content editor
Founded in 1832, Gettysburg College is a highly selective four-year residential college of liberal arts and sciences with a strong academic tradition. Alumni include Rhodes Scholars, a Nobel laureate, and other distinguished scholars. The college enrolls 2,600 undergraduate students and is located on a 200-acre campus adjacent to the Gettysburg National Military Park in Pennsylvania.
Posted: Fri, 18 Sep 2009

Next on your reading list
Creating social change: Ty Abdul-Karim '18
---
The antidote for ignorance: A liberal arts education?
---
Women's Lacrosse score back-to-back NCAA titles
---
Share this story: