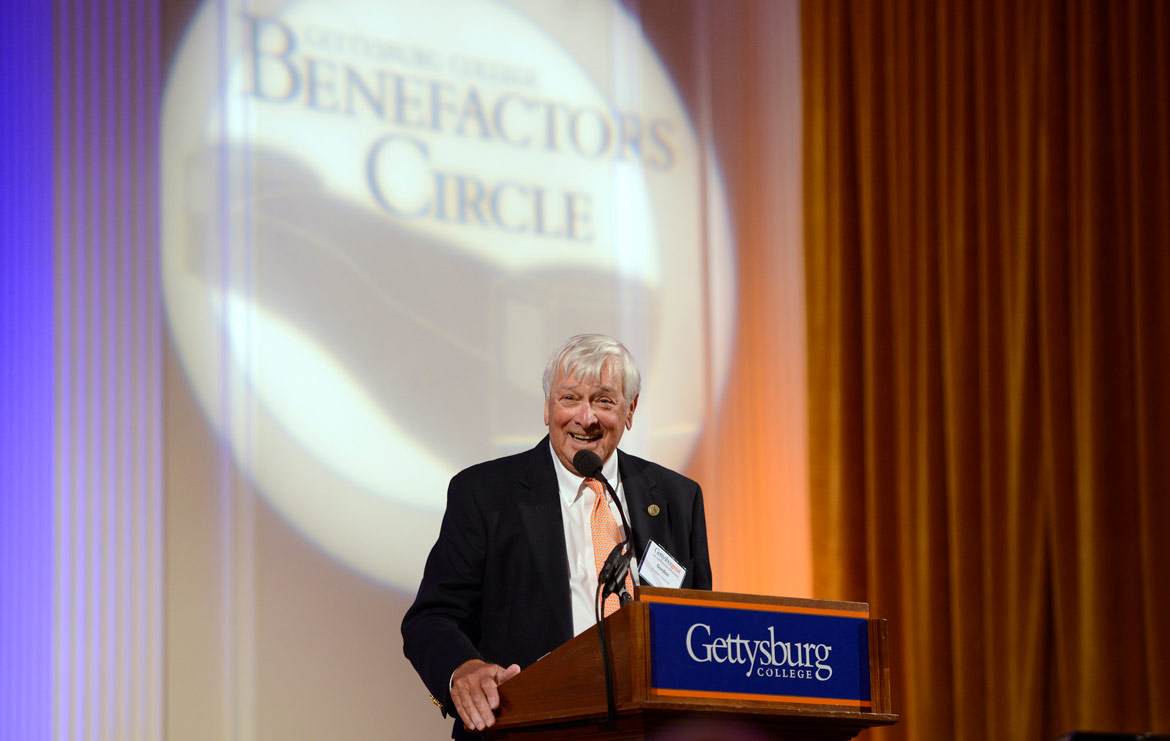 Campus celebrates life and legacy of President Emeritus Gordon Haaland
Emeriti trustees, current trustees, alumni, faculty, and friends from across the Gettysburg College community gathered on campus on December 10 in memory of beloved President Emeritus Gordon Haaland, who passed away in late October at the age of 77 following an extended illness.
Haaland was named the 12th president of Gettysburg College in 1990. Inspired by his vision and leadership, Gettysburg College strengthened its student recruitment and enrollment; enhanced its academic reputation and curricular offerings; and reinvigorated its campus grounds and facilities, all while advancing the College's community relations and fundraising efforts. Haaland left office in 2004 having achieved his major goals, including the completion of a $100 million capital campaign.
Over his 14 years as president, Haaland motivated our campus community to live up to its institutional values through his unwavering kindness, perseverance, humility, and belief that Gettysburg could ascend to become one of the premiere liberal arts college in the nation.
The ceremony featured a musical interlude by Sunderman Strings and remarks by Haaland's former colleagues and friends, including Janet Morgan Riggs '77, President of Gettysburg College; David LeVan '68, Trustee Emeritus and Former Board of Trustees Chair; Daniel DeNicola, Professor and Chair of the Philosophy Department; Lawrence Taylor, Former U.S. Ambassador to Estonia; and David Cowan, Retired Dean of Enrollment and Educational Services and Professor Emeritus of Physics.
"Gettysburg College owes so much to Gordon. He was a great leader, a great mentor, and a great friend to so many of us," reflected Riggs, who served as Haaland's assistant from 1991 to 1994. "As a community, we grieve over the loss of Gordon, but we also gather to celebrate his accomplishments. He left an indelible mark here at Gettysburg and a lasting legacy. Gordon will go down in our institutional history as one of our greatest presidents."
DeNicola echoed President Riggs' sentiments.
"Gordon was a strong leader and became a dear friend. Visionary and ambitious, he was always ready to support creative ideas. He trusted his senior staff and gave us enormous scope to advance our work," said DeNicola, who served as provost for eight years during Haaland's tenure. "He was Norwegian sturdy, steady, imperturbable—often to the annoyance of those who hoped to rile him. Yet despite all these accomplishments, his position, experience, and his handsome face, he never acted out of ego, and freely gave credit to others.
"His legacy is large in impact and in love."
The Haaland family has requested that memorials be sent to the Carol and Gordon Haaland Scholarship Fund at Gettysburg College, 300 North Washington St., Gettysburg, PA 17325 or made online.
Founded in 1832, Gettysburg College is a highly selective four-year residential college of liberal arts and sciences with a strong academic tradition. Alumni include Rhodes Scholars, a Nobel laureate, and other distinguished scholars. The college enrolls 2,600 undergraduate students and is located on a 200-acre campus adjacent to the Gettysburg National Military Park in Pennsylvania.
Posted: Mon, 11 Dec 2017

Next on your reading list
Biology Prof. Alex Trillo's research attracts international attention
---
Celebrating 2018 midyear graduates
---
Ben Tabor '13 on making connections at home and abroad
---
Share this story: